Airport Stocks List, Investment Theses & Detailed Analysis
I am a business researcher and I analyze business and share my research here, on my YouTube channel and research platform. Due to the impact of COVID-19, many airport stocks that were usually too expensive to deserve a deeper look have fallen. So, here is my initial sector analysis with first, the investment thesis on why airport stocks represent an interesting investment opportunity and below the airport stocks list per continent.
Airports stocks article content:
Airport stocks investment thesis
Airport stocks lists per continent with links to stock analysis
Airport stocks – Investment thesis and research on specific airport stocks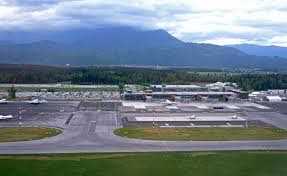 Here is the video discussion on why airport stocks are a buy alongside with the Fraport stock analysis explanation. Airport stock analysis written article continues below.
Airport stocks ownership pros and cons
Owning airport stocks is one of the most loved investments by many because of the following:
Airports Stocks Offer a Competitive advantage
Airport stocks offer a competitive advantage as airports usually have a monopoly within a certain geographical area. Nobody is going to build a new airport next to yours as it is extremely difficult to get approval and it isn't economically viable to do so if you are not in a really high growth area. Thus, you have little competition. Do you know of a better business than one where you have little competition and you can slowly but steadily increase prices. Plus, once you build it, the maintenance expenses are just a small fraction of the initial investment.
Airport stocks offer exposure to global megatrends
Airport stocks offer exposure to global megatrends that are likely to continue no matter the temporary interruptions like the current COVID-19 one. Prior to the COVID-19 situation, global airline travel growth was expected to at a rate of 5% per year over the next decade because still today, 80% of the global population never used a plane.
As the global middle class goes from the current 3.5 billion to 5.5 billion over the coming decade, there will be much more demand for air travel and consequently more traffic at airports.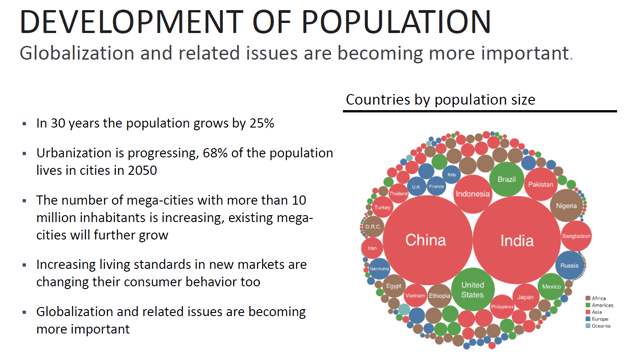 Airport stocks offer relatively fixed costs compared to high growth potential.
Airport costs are relatively fixed or low – more people more money. Once you build it, you have depreciation as your main cost, which is not a cash cost and then the more people fly, the more money you make. I think the parking costs of when you stay a bit longer at an airport to enjoy a coffee before your loved ones depart hunt us all😊.
Airports make money from fees on each flight and passenger, from renting space out to various shops and businesses, from airplane maintenance to the candy store and parking.
The following chart is an example of the Vienna International Airport and how it substantially increased profits even if traffic didn't quintuple.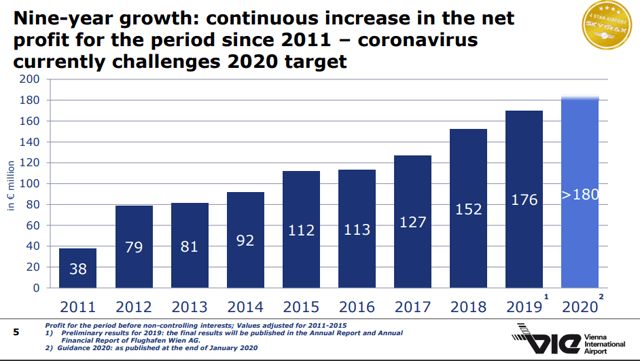 When it comes to airports, you can always be capacity issues, but one can deal with that by increasing prices. Something again good for investors. Or, you can invest to add a new runway which is what many airports are doing.
However, there are also negatives.
Airports are a regulated business
An airport is a regulated monopoly given by the government which means the government will tell you how much money you can make. This leads to various regulatory issues and requests. For example, Gatwick Airport, South of London, has two runways but they are not allowed to use one due to environmental or whatever reasons, despite the fact that they are over capacitated.
Further, you might only have the rights to operate an airport for a certain amount of years and I usually don't like businesses with expiring concessions. So, check the concession period before investing in an airport if there is such a concession agreement.
Airport stocks are usually expensive
Perhaps the worst thing with airport stocks is that those are usually expensive. However, in times of crises, you might find some good opportunities. The Vienna International Airport stock is currently trading with a dividend yield of 4.6% (stopped for now) and a price to earnings ratio of 15 based on 2019 numbers. If things normalize, this will be a cheap stock at current levels.
Airport stocks drop in common crises
There will always be crises hitting the airline industry, from volcanos, viruses, wars and who knows what. However, despite the ups and downs, the number of passengers traveling has been constantly on the rise.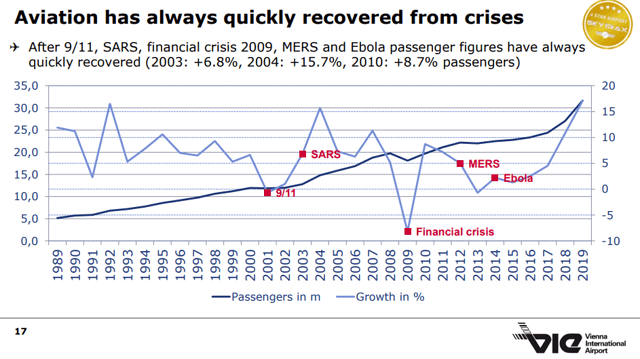 At the right price, airport stocks are very attractive
All in all, if you can find the right airport at the right price, it could easily become a portfolio crown jewel that will keep on giving and giving. Perhaps it will give a little bit less in bad years, but the trend is clear; in 2030 we will have 5.5 billion people in the middle class and what do middle class people do?
Travel.
Within this airport stocks article I'll share my research on airport stocks, give the key points on them and then it will be easier to follow on when something might be a good airport stock to invest in or not.
Airport stocks list with analysis
I will be updating the following airport stocks list wish analyses as I make them, so sign up below for the newsletter updates if you haven't yet.
Airport stocks Europe List
Here are the airport stocks traded in Europe with related stock analysis.
Airport stocks UK
Here is the list of UK Airport stocks that I have anlyzed:
Airport stocks NYSE & Airport Stocks Latin America
Here is a video summary of the NYSE listed airport stocks:
Airport stocks Asia
Airports of Thailand Public Company Limited
Beijing Airport Stock (0694.HK)
Japan Airport Terminal Co.
Airport stocks Australia & New Zealand
This airport stocks list with related analysis is made by Sven Carlin for the Sven Carlin Stock Market Research Platform.
I love to research businesses and the respective stocks. My goal is to research a few hundred of them each year and then hopefully find a few good investments. The only way to do that is to turn as many stones as possible and follow the interesting businesses closely. I am happy to share the research process here and I hope you enjoyed this and the other stock analyses published here.
If you wish to receive such analyses to your inbox, please subscribe to my newsletter: