Zurich Airport Stock Analysis – Growth & Dividends
This Zurich stock analysis is part of my global airports stocks list with detailed stock by stock analyses.
Zurich Airport Stock Overview – SWX: FHZN
Zurich Airport Stock is like all other airport stocks, extremely volatile and can be categorized as a cyclical growth stock. The thing with cyclical stocks is that you have to buy them when things look bad, not good. Those that bough Zurich airport stock in 2003 (recession end + SARS outbreak), 2009 (Great recession) or 2012 (European recession) did extremely well.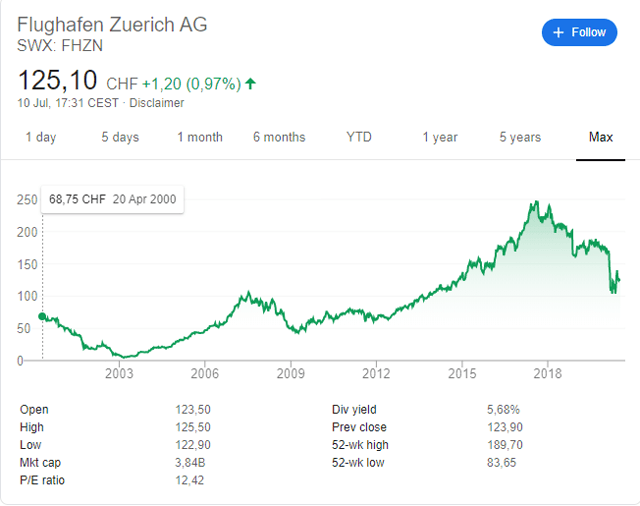 In this article, we'll analyse how the current COVID-19 crisis fits the opportunities created by bad situations described above, whether Zurich airport stock is a buy at this moment already or should one wait for perhaps more trouble and a second COVID-19 wave.
Zurich Airport stock analysis content:
Zurich Airport business overview – good growth prospects
Zurich Airport COVID-19 impact – opportunity if thing return to normal
Zurich Airport stock fundamentals – extremely cheap debt costs, 1.68 PB
Zurich Airport stock valuation – expect high single digit returns
Zurich Airport dividend analysis and outlook – dividend growth ahead
Zurich Airport stock investment conclusion – 100% up possible
Zurich Airport business overview
Zurich Airport has similar traffic numbers as the Vienna Airport which is good for comparisons. But, in addition, it invests heavily into real estate and the spread shown below, where they have a gross rental yield of 9% and a 0.2% interest rate on their bond, is insanely profitable.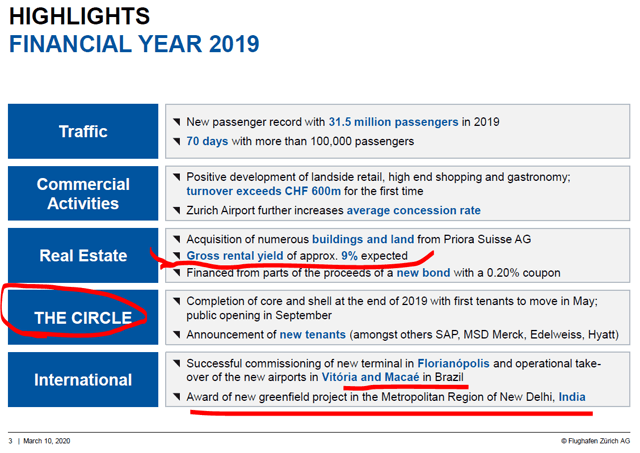 Over the past years, traffic growth has been slow and steady. But, Vienna Airport has been growing faster over the last years.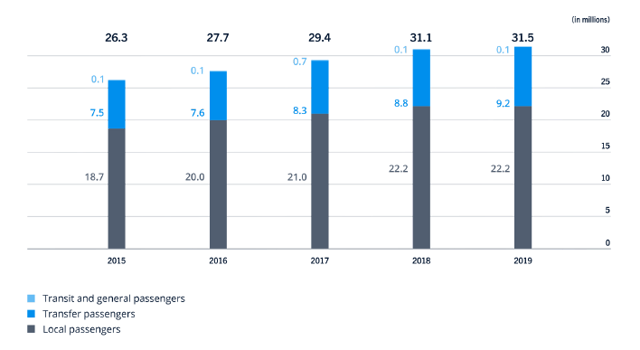 It is important to note that freight traffic fell by 8.4% in 2019 and the number of direct connections fell from 206 to 203. As the air travel industry is a cyclical one, the current cycle's peak has been reached in 2018, so those who nail the bottom part of the cycle, can be looking forward to good investment returns in the next cycle and its growth phase.
Revenues are at 1.2 billion CHF and most importantly, margins are high with EBITDA margins above 50%.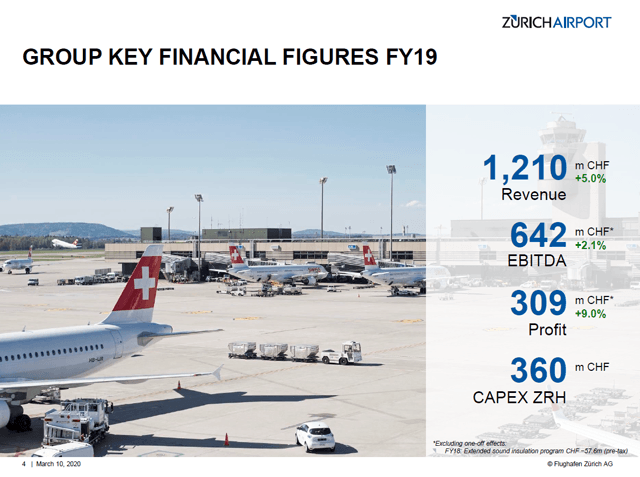 As we know from our overview of why to invest in airport stocks, airports are regulated businesses, practically a monopoly given by the government. Therefore, a lot depends on how much profit will the government allow for an airport to make and what will be the requirements. A new tariff negotiation is in progress for Zurich Airport. In 2019, the Federal Council lowered airport charges by 15% starting 1 April 2020. Another issue is noise, where the request is to bring forward the last available slots from 10:55 pm to 10.30 pm. This would lower Zurich's competitivity with other international hubs.
For runway extensions, it will be up to the voters in the Canton of Zurich to decide on whether the airport can go onward with those. The Vienna airport has already received approval for the 3rd runway if needed.
The good thing might be that the Canton of Zurich owns 33.33% plus one share, and the City of Zurich 5% of the airport, so it is unlikely they will kill their golden goose.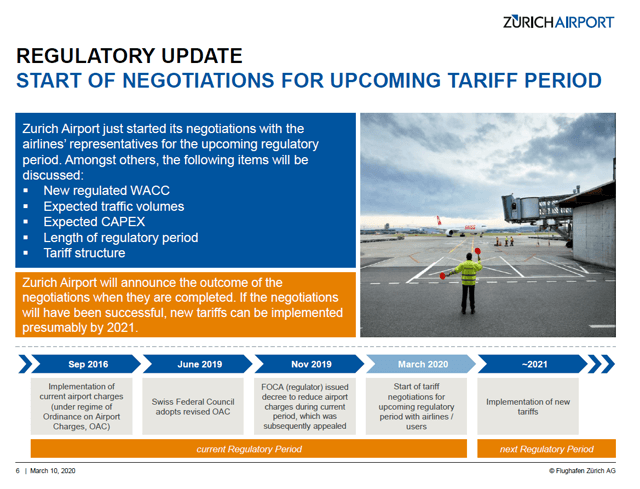 60% of the revenues are regulated while the rest is not. Here is a good overview of what investing in Zurich Airport stock comprehends.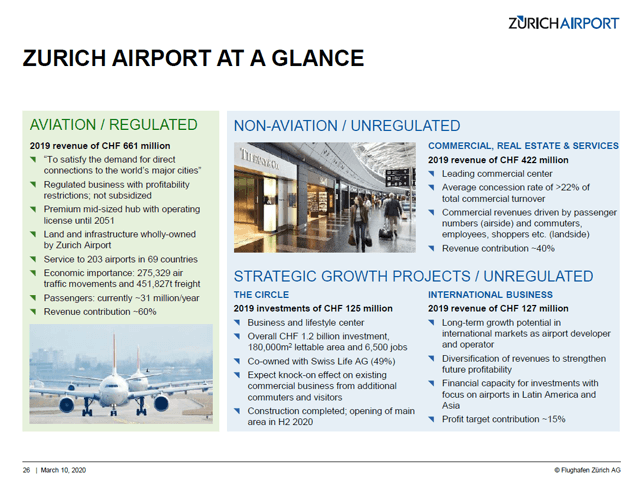 Apart from the airport business, investors investing in Zurich Airport stock also get a commercial real estate investment vehicle that ads almost 50% of revenues.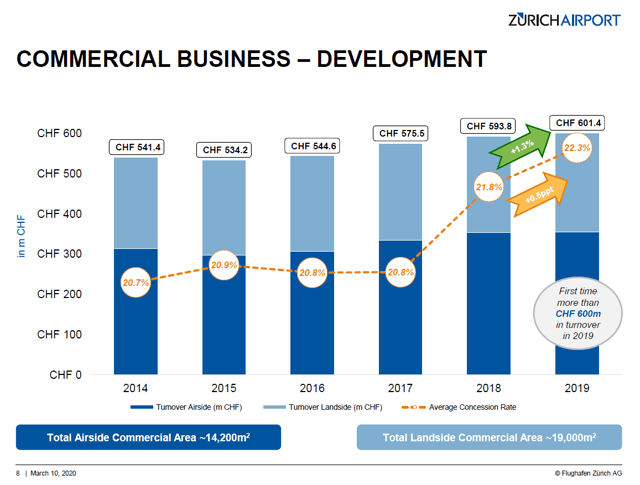 For example, at the end of 2019, Zurich Airport acquired 36 properties close to the airport at a gross rental yield of 9%.
Apart from real estate, the company is also investing in improving and enlarging the airport itself. They are is investing 500 million CHF in modernising and expanding the baggage sorting system where the completion is scheduled for 2025. Plus, 275 million CHF will be spent on the expansion of landside passenger areas scheduled for 2024.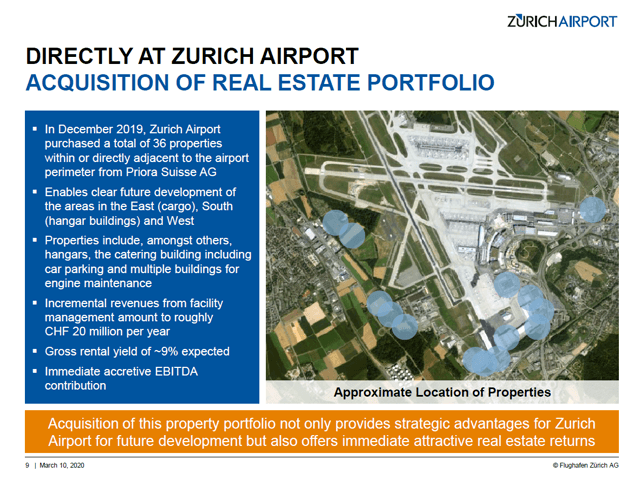 This might not be a good year to launch a new large real estate development plan like The Circle, but over the years, it should be adding to revenue and value, if the COVID-19 situation is just an interruption to the global economic growth trend. One billion CHF has been invested into the project.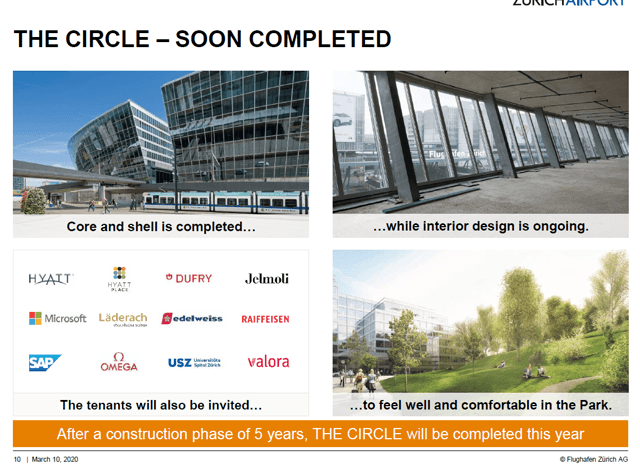 They have also invested 140 million CHF in Brazil, a country that is severely hit by COVID-19, so the timeline of the expected returns there will have to be changed too.
The below slide shows their capital expenditure expectations over the mid-term. About 300 million CHF for the Zurich Airport, no significant capex in Latin America further and the next big investment will be made in India of 650 million CHF.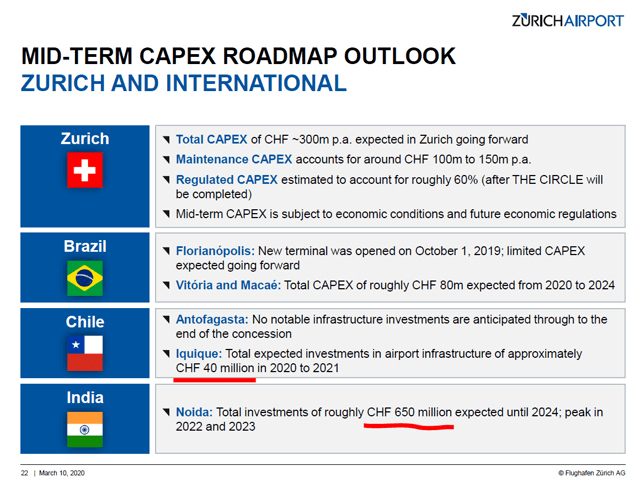 The good thing about the investments is that the company can borrow at ridiculously low costs and invest in areas where the return on capital is much higher.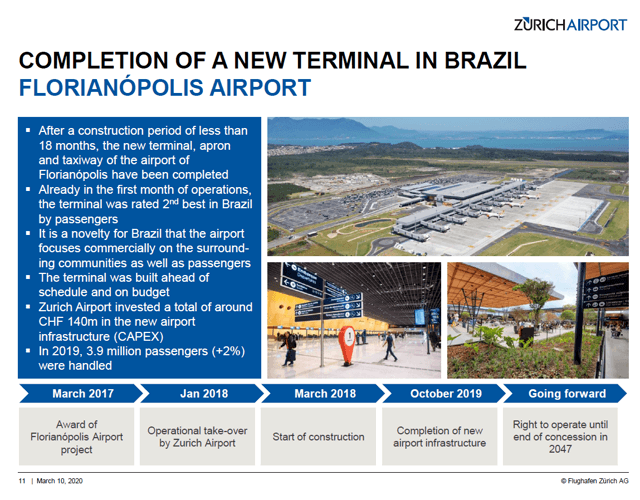 Further, Zurich Aiport stock is also a way to get exposure to India over the long-term given their new investment in Noida, 80km from New Delhi.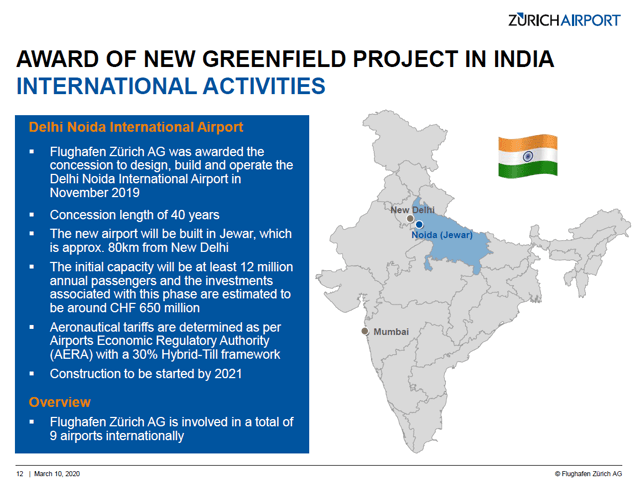 All in all, Zurich Airport owns and operates the following airports in Malaysia, Brazil, Chile and Colombia.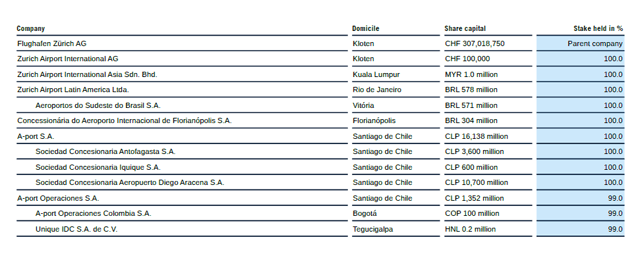 Zurich Airport Stock Analysis – COVID-19 Impact
Nobody is giving an outlook as it is really impossible to assess the situation at the moment. The first glimpse of the losses will be discussed in August when they give out the half year results. Until then, we can only guess and hope that the fundamentals are enough for them to survive. In Zurich Airport's case, I think given the governments ownership, extremely low interest rates and high available liquidity, it is unlikely that the ownership structure will be affected even if COVID-19 disrupts the complete 2020 year. But we will see.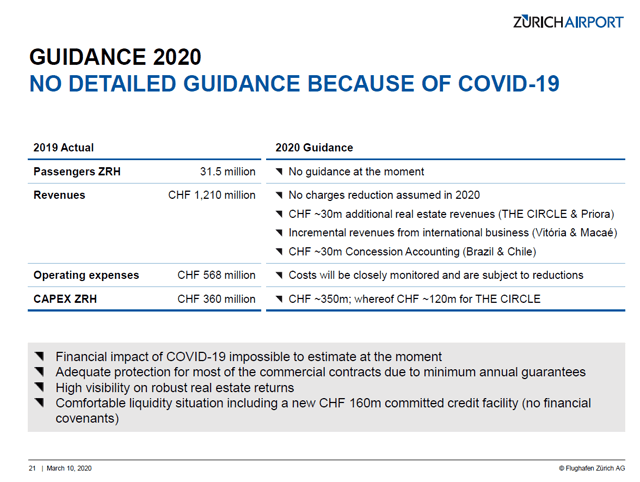 I will be following the earnings in August, alongside with what will happen at the other airports given Q2 2020 results and then, if the news will still be bad and the outlooks still negative, share prices might get hit and create an even better entry opportunity for the long-term.
Zurich Stock Analysis – Fundamentals
When looking at an airport stock fundamentals in difficult times, the focus should be on what the business can deliver in the form of cash flows over the long-term, compared to the current price level and to the power the business has to survive the current hardships without dilution, asset sales on unfavourable agreements for investors.
Zurich Airport's revenues will get decimated over 2020 and we will see losses, big losses.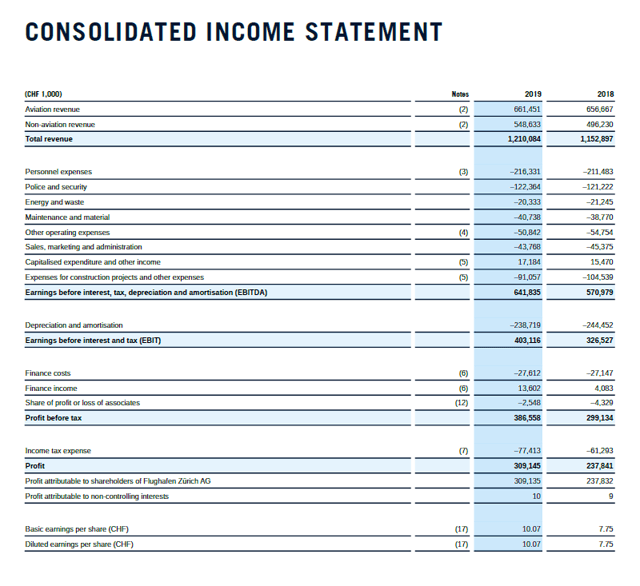 The good thing is that the margins are have been high and total costs amount to 641 million CHF. If we estimate savings of at least 25% on costs, the negative impact for the airport could be around 400 million CHF. There are some flights, so some revenue will be there and the COVID-19 impact will not be as terrible as one might expect. Especially because the balance sheet is very strong while the financing costs on the debt are minimal and just 27 million CHF for more than 1 billion in debt.
Additionally, shareholder's equity is at 2.46 billion CHF, mostly created through retained earnings which shows how the earnings capacity is significant and that to eat up the equity, the airport should have no traffic for 4 years and equal to 2019 costs.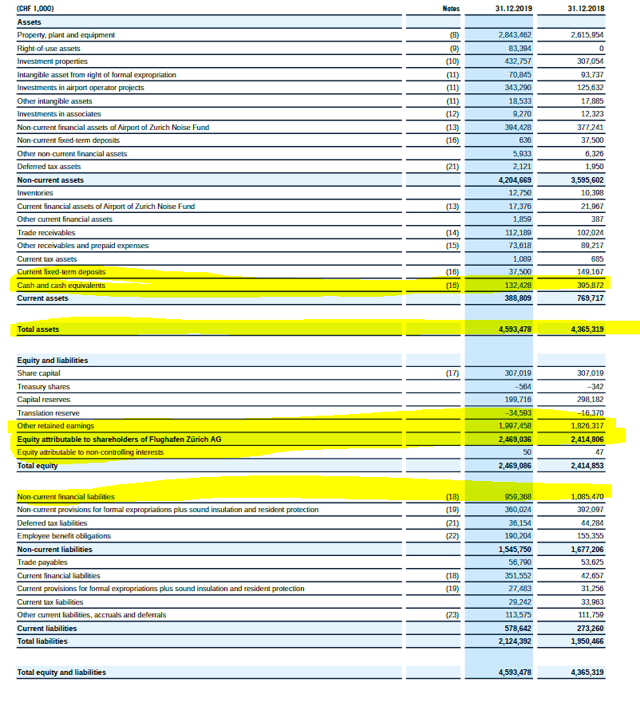 At the current market capitalization of 3.84 billion CHF, the price to book value is 1.42 which is not bad considering the depreciation was 238 million CHF in 2019 and once you build a building or runway, you built it. Thus, the key to watch for a valuation are cash flows when it comes to investing in airports.
Zurich Airport stock valuation
Zurich Airport's cash flow statement shows how in a good year like 2019 was, the company can make more than half a billion in operating cash flows. I am going to make this valuation based on one good future year given the cyclicality of the industry. If and when the next good years come, the market usually forgets about the bad and is willing to pay extreme ratios for good businesses like airports that offer high/growing dividends.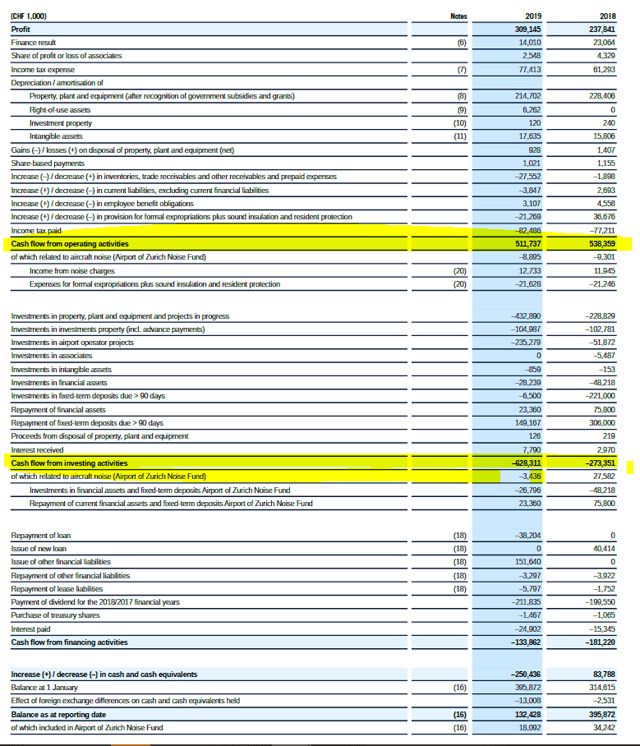 What we have to deduct from the operating cash flows are the investment cash flows. The management's plan is to spend 300 million CHF per annum on Zurich airport, 650 million CHF on the Indian greenfield project where the biggest chunk of expenses will be in 2022 and 2023.
All in all, we can deduct 350 million CHF from the operating cash flows and also assume the 650 million needed for India will be largely financed through cheap loans.
This gives us free cash flows of approximately 150 million that can be used for dividends. On the current market cap of 3.84 billion, that results in a 4% yield. If they take on more debt, there is potential for higher yields to shareholders but the key developments for investors will come from the growth side of things long-term; India and hopefully global traffic growth.
The Circle should add 40 million to the above cash flows, India something like that in the future too, and other properties alongside organic growth. Therefore, we can expect free cash flows to be above the 300 million CHF range towards the end of this decade and then growing more.
Zurich Airport dividend analysis and outlook
Zurich Airport's dividend yield for 2019 was 5.5% on the current stock price as the company paid out an ordinary dividend of 3.9 CHF per share and an additional dividend of 3.2 CHF per share. To pay out a dividend of 7.1 CHF per share, the company needs 218 million CHF per year. In a good year, even with the high capital requirements, that is easily achievable.

The key question is how are the coming years going to be for the company and what will be the growth rate. If we expect a return on equity of 10% for the Indian airport, then we could add 60 million to the above available cash flows, similarly one could add 30 to 60 million from the Zurich investments and soon the dividend could grow by 50% or even higher over the coming decades.
Zurich Airport Stock investment thesis
The investment results depend on the following:
Interest rates – as long as the Swiss company can borrow for almost free and invest in growth projects across the world at much higher returns, or real estate investments, the returns for shareholders will be extremely positive. Especially if the market continues to grow at 4% per year as many expect.
The above-mentioned growth rate is key. All major airplane producers and agencies expect traffic growth to be around 5% per year up to 2030 and then fall to 4%. This means that global air traffic would increase 140% over the coming two decades. If that happens, profits will likely increase 5 times or more and consequently dividends and the stock price.
The risks are that the growth is slower than expected, that new forms for travel are developed, from fast trains to autonomous vehicles or who knows what. But, given how much Elon Musk flew in 2018, the most likely scenario is for air traffic growth.
The Swiss frank is also a risk, because a stronger frank lowers the competitiveness of the airport from an international perspective.
The market capitalisation as I am writing this is 3.8 billion CHF. The 2019 free cash flows were 150 million. This gives us a cash flow yield of 4%. As they are investing into growth and also able to use very cheap credit lines, I would add a 4% growth rate to the 4% cash flow yield. Thus, over the long-term, as the cash flow yield grows, investors could expect investment returns in the high single digits.
From a stock price perspective, a yield of 5.5% is stellar in Switzerland and if things return to normal and the dividend is brought back, the stock will soon be where it was prior to the COVID-19 crisis. That alone would give investors a 100% return, but first the situation would need to return to the previous situation.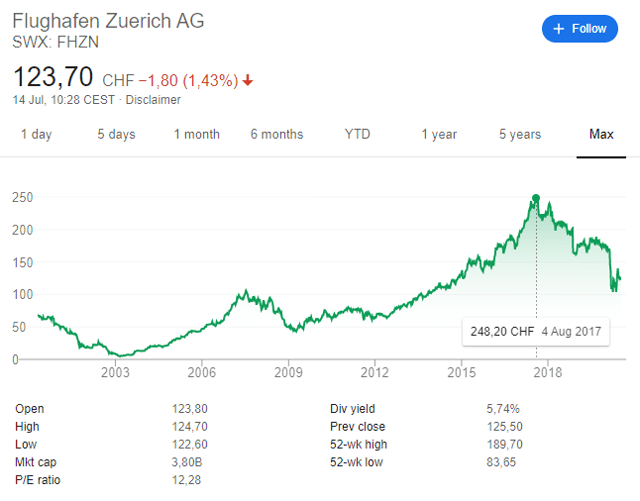 Airports are interesting investment opportunities at the moment. Zurich Airport is the most expensive of the European bunch I have analysed for now, but it is Zurich Airport, owned by the government alongside what comes access to practically free money. Plus, it offers interesting real estate exposure that should add to cash flows long-term. Just The Circle, should add at least 50 million to profits over the next few years if not faster.
The Zurich Airport Stock Analysis is part of my Airport stocks analysis made by Sven Carlin for the Sven Carlin Stock Market Research Platform.
I love to research businesses and the respective stocks. My goal is to research a few hundred of them each year and then hopefully find a few good investments. The only way to do that is to turn as many stones as possible and follow the interesting businesses closely. I am happy to share the research process here and I hope you enjoyed this and the other stock analyses published here.
If you wish to receive such analyses to your inbox, please subscribe to my newsletter: