Grupo Aeroportuario del Sureste Stock price analysis – 8% dividend return likely and 100% gain possible
This Grupo Aeroportuario del Sureste stock price analysis is part of my global airports stocks list with detailed stock by stock analyses. You can also read more about the Latin American airport stocks traded on the NYSE here: CAAP stock, OMAB stock, PAC stock. Here is a video summary, article continues below:
Grupo Aeroportuario del Sureste stock price overview – NYSE: ASR
As with other Mexican airport stocks that we have analysed, Grupo Aeroportuario del Sureste (ASR) stock has been severely hit by COVID-19 and is down more than 50% from its peak in January 2020. I have always considered ASR stock and other Mexican airport stocks to be too expensive but now the time has come to see whether there is an opportunity.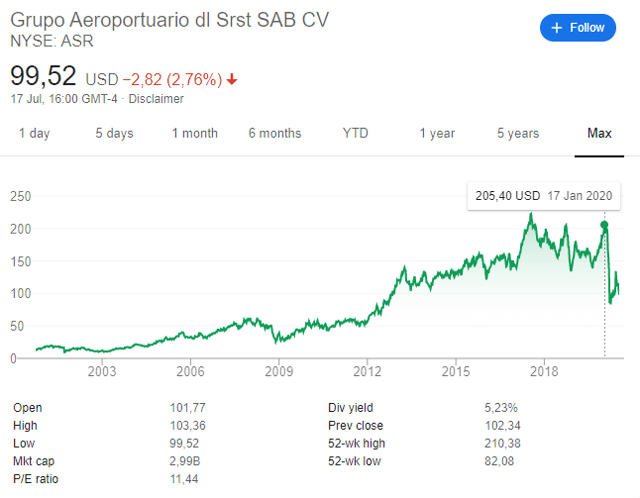 The stock ownership is 64.5% in free float.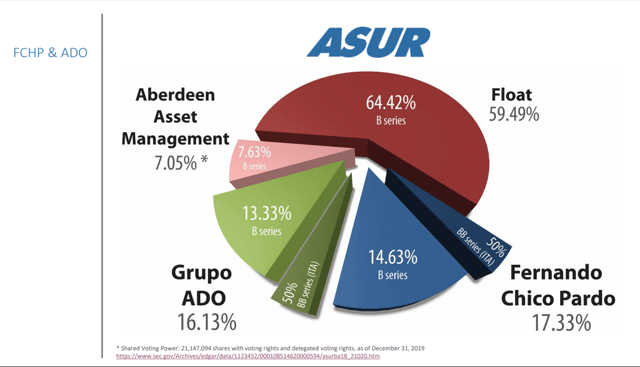 Grupo Aeroportuario del Sureste has 300,000,000 issued shares of which 1 NYSE traded ADR represents 10 shares.
This Grupo Aeroportuario del Sureste stock analysis comprehends:
ASR stock analysis – business overview
ASR stock fundamentals
ASR dividend analysis
ASR stock – investment thesis
ASR stock analysis – business overview
Grupo Aeroportuario del Sureste operates 9 airports in Mexico where the key airport is the Cancun airport, 6 airports in Colombia and one in Puerto Rico.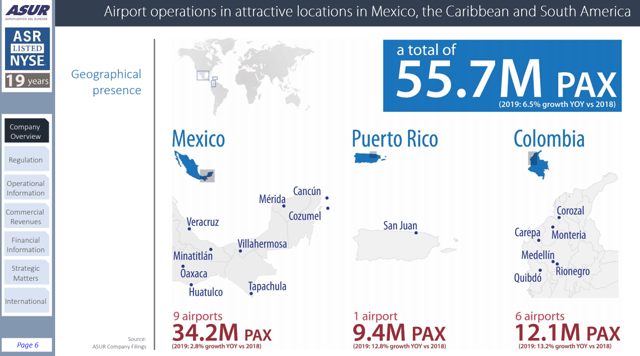 Most travellers are of international origin which means traffic strongly depends on tourism.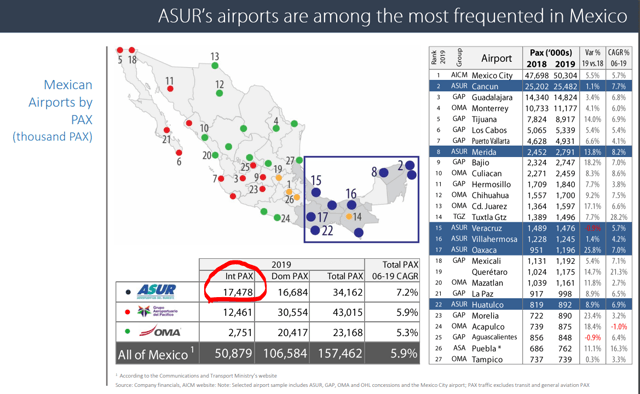 The growth in traffic has been staggering over the last decade, but the focus in mostly on Cancun airport.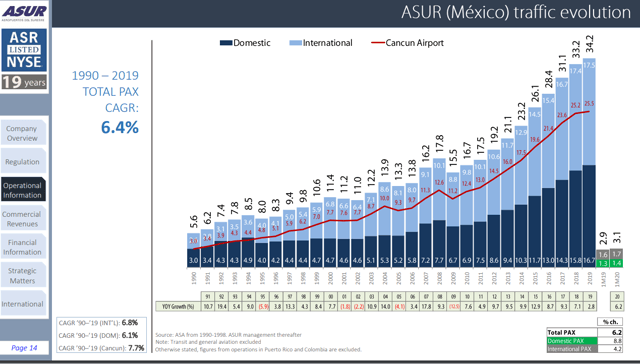 Historically, traffic has always recovered after crises, but it always took a few years and given the current situation combining a health threat with an economic downturn, it might take a bit longer for traffic to recover.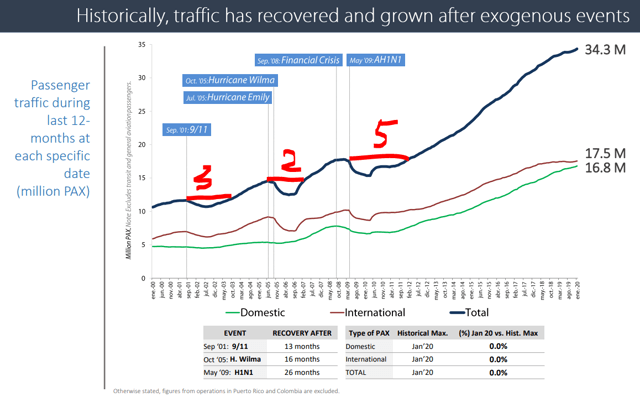 No matter what, the final hit will come in 2048 when the concessions in Mexico expire because, to quote from the annual report: "all real estate and fixtures in our Mexican airports are owned by the Mexican nation". Something to keep in mind when valuing airport stocks.
Grupo Aeroportuario del Sureste stock fundamentals
Over the last years, revenue growth has been amazing.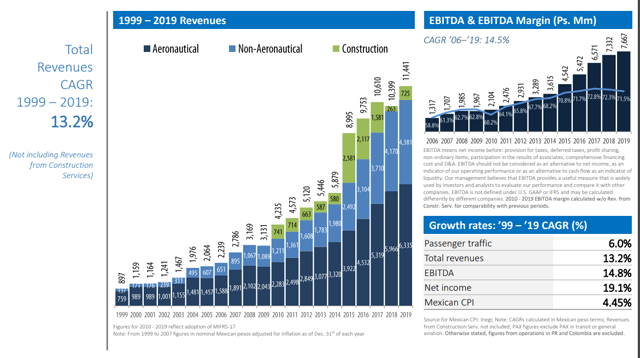 Similarly to PAC stock, there are high capital requirements coming ASR's way due to the Master Development Plan for Mexican airports based on the concession agreements.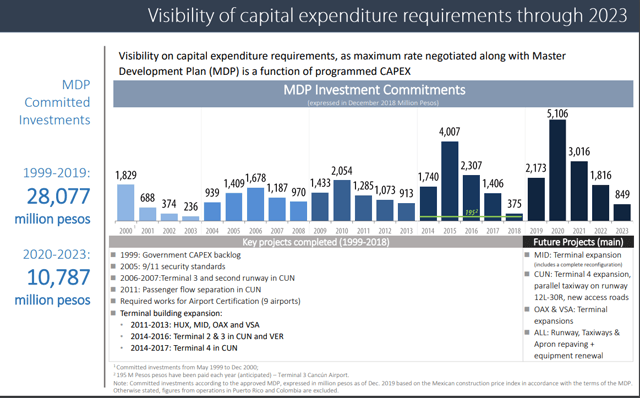 If we implement the above capex into the operating cash flows, it is unlikely, and especially with the current situation, that ASR will pay a dividend over the coming years.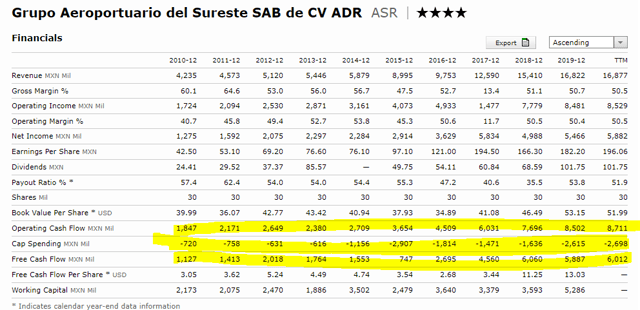 From 2023 onward, the capital expenditure pressure will ease and also revenues might return to pre-COVID levels and continue to grow, depending on the economic situation.
If we assume normal, 2019 like conditions to return by 2024, ASR will likely make around 6 billion pesos in free cash flows which is around $265 million USD, depending on the exchange rate.
Debt is at 13 billion pesos which is manageable as in one good year, the company can reach 9 billion of operating cash flows.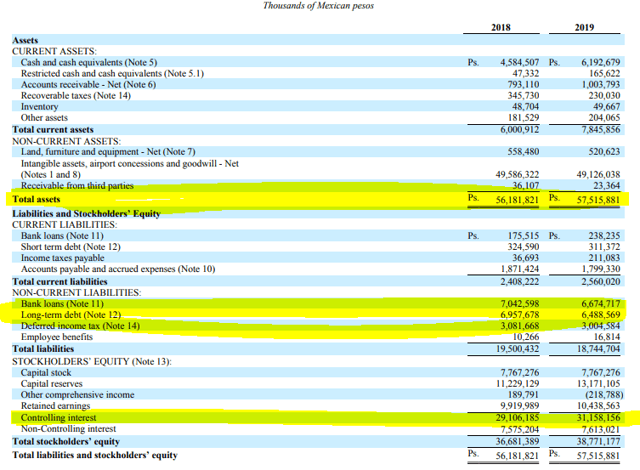 Grupo Aeroportuario del Sureste dividend analysis and valuation
Given that there is a limit to this business with the concessions ending in 2048, the management's goal is to pay out as much dividends as they can.
In 2024, when the situation eases and the capex cycle is over, they could pay out much more in dividends than the 3 billion pesos they paid out in 2019. Given that the operating cash flows were close to 9 billion pesos in 2019, if something similar happens in 2024 with the capital expenditure requirements easing, they could be paying out a dividend of 6 billion by 2025. That would be 20 pesos per share or 200 per ADR, or $8.
I have created a small model valuing ASR's dividend up to 2048 with an 8% discount rate. I assume a dividend growth rate of 5% up to 2048 and an $8 dividend starting in 2025. The present value my small model gives is $100 and thus the stock is fairly priced for an 8% return.

You can download my ASR quick dividend valuation sheet below and change the discount rate of dividend rate expectations. It includes also a PAC's dividend valuation.
But the dividend is not all what Grupo Aeroportuario del Sureste stock is about.
Grupo Aeroportuario del Sureste investment analysis
If, as we discussed above, the dividend becomes $8 per share in 2025, the market might not yet discount the fact that the concessions end by 2048 but might focus on the growth in traffic from 2021 to 2025 and the higher dividend, if it happens of course.
So, if the company has a dividend of $8 per share and high single digit growth, it is very likely the stock will at least double and reach again its January 2020 levels because the market might focus on the growth and generous dividends and not on the concessions ending.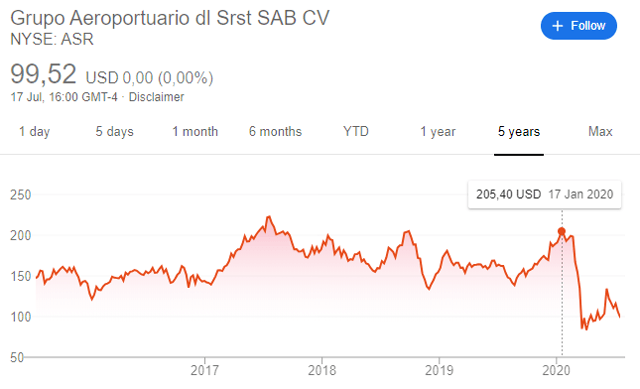 The Grupo Aeroportuario del Sureste Stock Analysis is part of my Airport stocks analysis made by Sven Carlin for the Sven Carlin Stock Market Research Platform.
I love to research businesses and the respective stocks. My goal is to research a few hundred of them each year and then hopefully find a few good investments. The only way to do that is to turn as many stones as possible and follow the interesting businesses closely. I am happy to share the research process here and I hope you enjoyed this and the other stock analyses published here.