Toscana Aeroporti Stock Analysis – Slow Growth Ahead
This Toscana Aeroporti stock analysis is part of my global airports stocks list with detailed stock by stock analyses.
Toscana Aeroporti Stock Overview – Quote – XMIL: TYA
Toscana Aeroporti Stock represents the smallest airport stock on the European Airport stocks list that we have analysed in our effort to find good Airport stocks to invest in during this COVID-19 crisis or, better to say opportunity.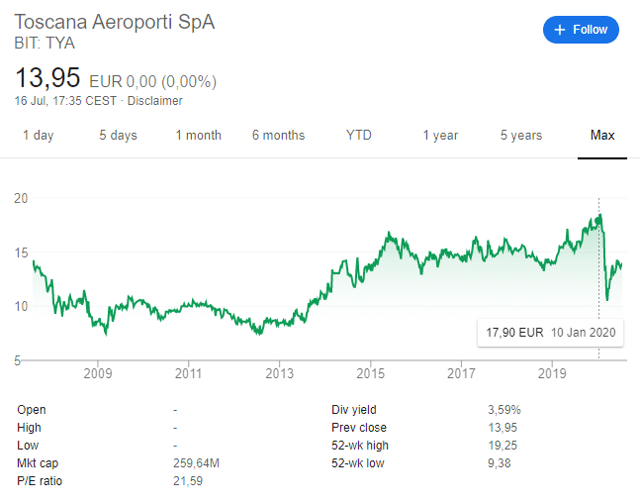 Toscana Aeroporti Stock didn't really reward shareholders since going public except for the dividend. Actually, the stock was pretty depressed during the 2009 financial crisis and later, 2012, during the European recession and crisis. Then, as tourism and Europe recovered and the company got acquired in 2014 by CAAP, the stock rebounded.
The Toscana Aeroporti dividend for 2019 was 3.59% while the market capitalization is really small with just 259 million EUR.
The Toscana Aeroporti stock is listed in Milan and owned by the Corporacion America Airports (CAAP) that we will analyze soon too.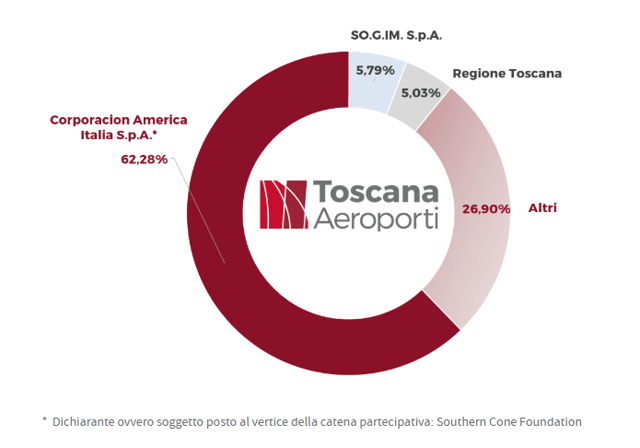 This Toscana Aeroporti stock analysis will consist of the following:
Toscana Aeroporti business overview
Toscana Aeroporti fundamental analysis
Toscana Aeroporti dividend outlook
Toscana Aeroporti investment thesis
Toscana Aeroporti business overview
Toscana Aeroporti stock gives you ownership of two airports, the Florence and Pisa airports.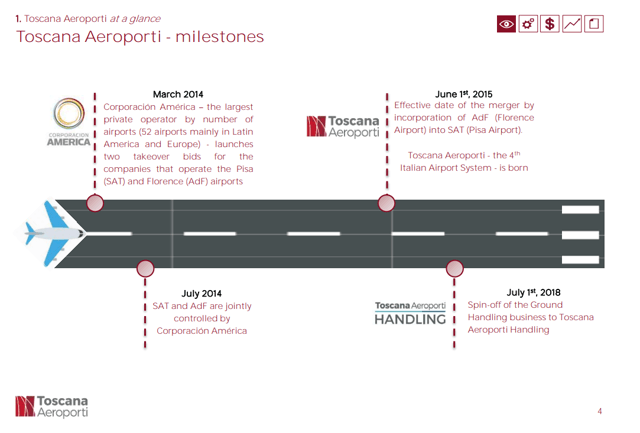 The weighted average concession time is 28 years which is ok, but I would always prefer that to be longer. Air traffic was 8.2 million in 2018, grew just 1% in 2019 to 8.3 million and will get decimated in 2020, no question about it. But, as the situation will likely recover some day, we are going to use 8.3 million as the basis for traffic in a good year.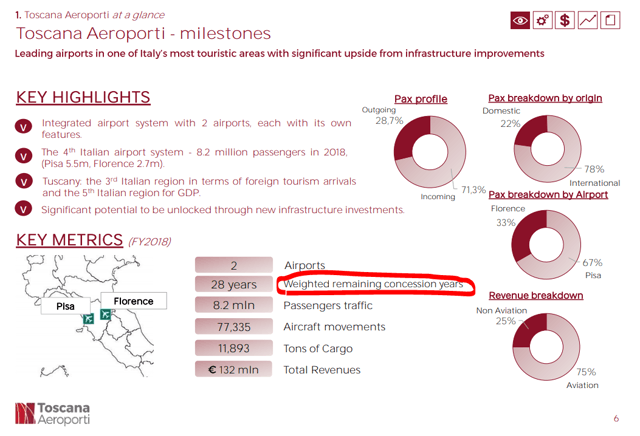 We can't expect much improvement from air traffic as the airports are not hubs and Florence and Pisa are nice, but can take a limited number of tourists and the destinations are already pretty developed in that perspective. Plus, the domestic population in central Italy is in a negative trend which could be a negative.
Traffic did actually grow over the last decade, but 2018 and 2019 were the best years for Europe. I think we will see some kind of traffic growth in the future, but not likely in the coming 5 years.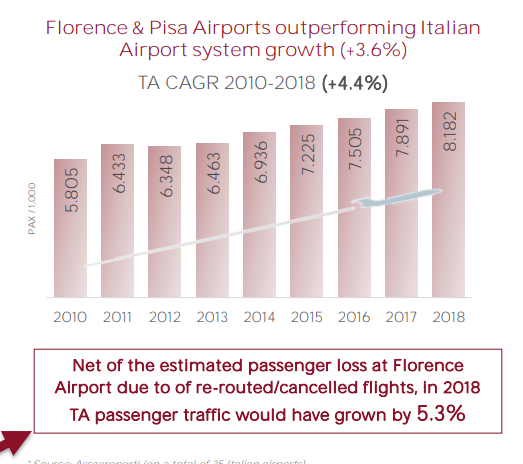 Most revenues come from low cost airlines.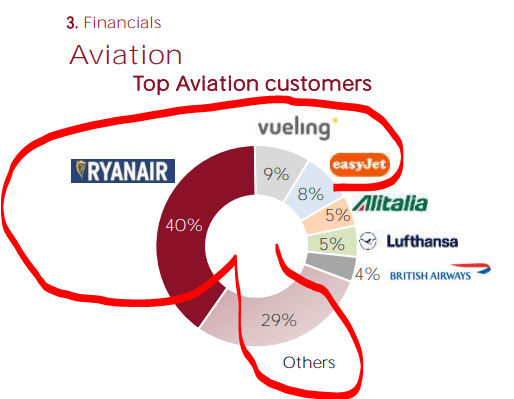 Their growth strategy is based on improving their network and passenger traffic, non-aviation activities, infrastructure and real estate.
The goal is to extent traffic to extra EU, with Qatar airways and Russia, distances that can be flows with compatible planes.
On the non-aviation side, a new Florence terminal should add value, parking extensions and car rental businesses.
The biggest project is another runway that should increase traffic in Florance to 4.5 million and in Pisa to 6.8 million for a total of 11 million, almost 50% higher than today.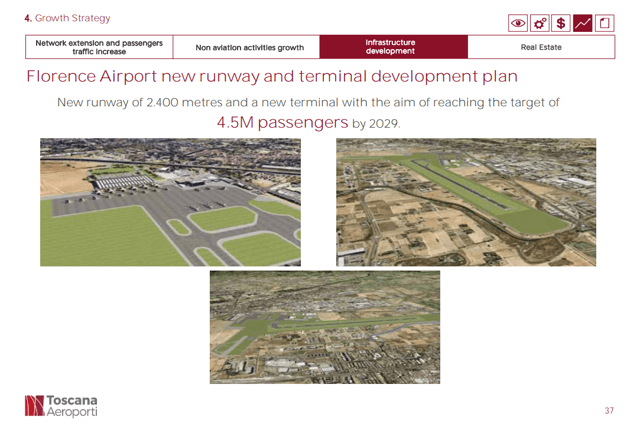 Those are big investments to make if the traffic growth doesn't happen which could result in more negative returns for investors like it was the case in the first decade. This is the biggest risk I see for investing in Toscana Aeroporti stock.
Toscana Aeroporti stock fundamental analysis
Everything changed for the company when it was acquired and a global airport operator changed the way the company worked. Earnings started to improve and the dividend increased from 11 cents to 70 cents and free cash flows tripled.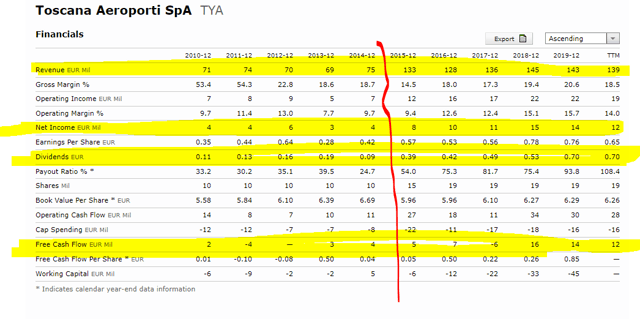 However, I feel the turnaround has happened and now it is likely a slow growth period ahead.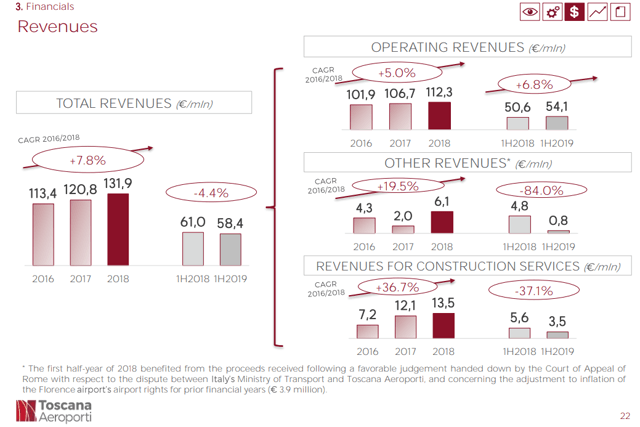 Net debt also significantly increased over the last years which means the owners are leveraging their acquisition to pay higher dividends and finance the growth. That is the core of the M&A business.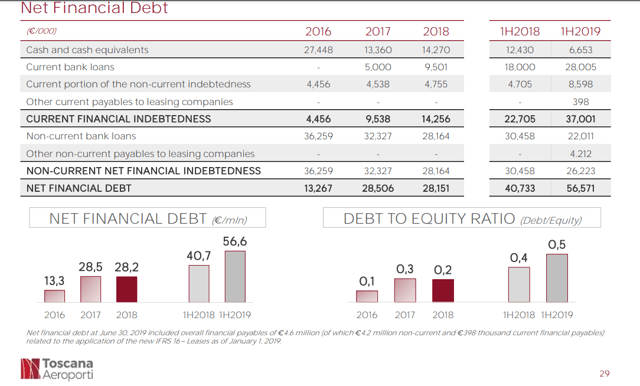 Toscana Aeroporti dividend
The debt is going higher because their pay-out ratio is close to 100%.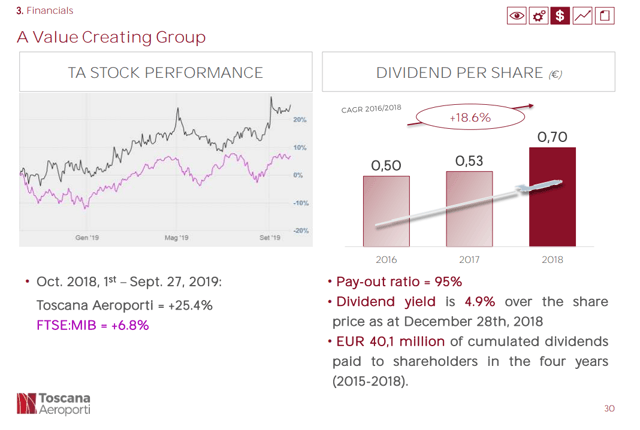 I am sure they will not be able to increase the dividend 6 fold like they did over the past decade, so investors shouldn't expect similar investment returns.
Toscana Airport Stock Investment Conclusion
I think that the only reason this stock is valued where it is value is because interest rates in Italy are zero and a 3.5% dividend yield, that was around 2% before the current COVID-19 stock drop, was a great investment in the eye of many European investors.
Investing in this stock now, it really a regional bet hoping for things to improve over the next years and then getting more travel from terminal improvements. I think the stock could be a good investment, but you have to buy it when the outlook looks the worse. A European recession in 2029, when they plan to have the improvements completed, might make this investment look really badly, which would be the best time to buy.
Perhaps a better investment will be the mother company CAAP.
The Toscana Aeroporti Stock Analysis is part of my Airport stocks analysis made by Sven Carlin for the Sven Carlin Stock Market Research Platform.
I love to research businesses and the respective stocks. My goal is to research a few hundred of them each year and then hopefully find a few good investments. The only way to do that is to turn as many stones as possible and follow the interesting businesses closely. I am happy to share the research process here and I hope you enjoyed this and the other stock analyses published here.
If you wish to receive such analyses to your inbox, please subscribe to my newsletter: