Copenhagen airports stock analysis – BAD – focus not on shareholders
This Copenhagen airports stock analysis is part of my global airports stocks list with detailed stock by stock analyses.
Copenhagen airports stock overview – CPH: KBHL Stock
Copenhagen airports stock has rewarded shareholders pretty well over the past decade as, despite the COVID-19 crisis, it is still up fivefold from the 2009 lows. However, those that bought in 2007 at 2,800 DKK must not be as happy. It is surprising how the current stock price decline is just a fraction of the 2009 decline.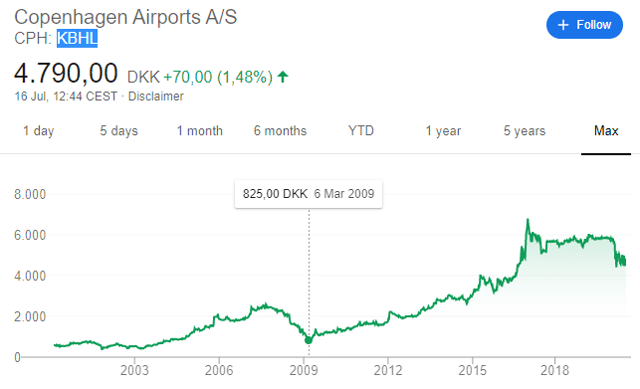 This KBHL stock analysis will comprehend:
Copenhagen airports business overview
KBHL stock fundamentals
KBHL investment conclusion
The number of shares outstanding is 7848,070 that, at a price of 4790 DDK, gives a market capitalization of 37.5 billion DKK or approximately 5 billion EUR.
The stock has been stable since the ownership structure changed when in 2017, the Danish pension fund and the Ontario Teachers fund bought the stake 57% from Macquarie Fund for 10 billion DKK. Since then it seems there is a buyer for the very low float and stocks go nowhere. There is a small dividend but nothing interesting. A stock to avoid in short.
Copenhagen airports stock analysis – business overview
Copenhagen airports stock gives you exposure to two Danish airports where the traffic in 2019 was 30 million.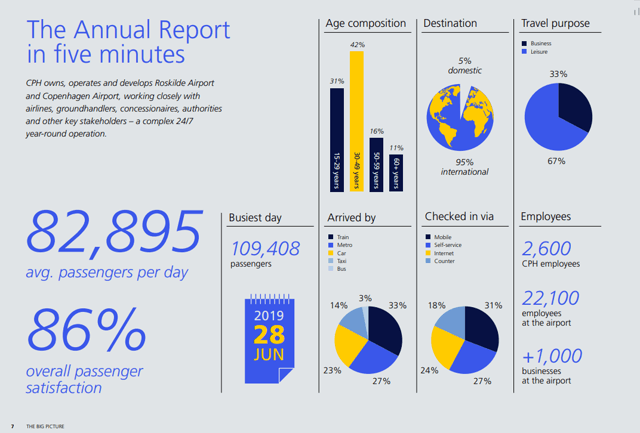 They have just finished building Pier E which has cost them 2 billion DKK and brough a significant toll on the balance sheet.
I am looking at their strategy, and apart from a feel-good attitude, I don't know what to think about it: positive role in society, passenger journey to the next level, digital?????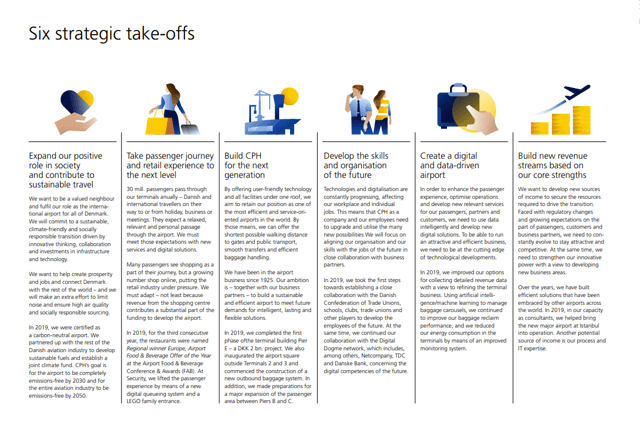 All the above sounds nice, but if it doesn't lead to growth, it isn't really an investor's dream. To stay on course, they are investing in a new baggage facility, parking, hotel and conference centre. So, they are doing what an airport usually does.
However, investing even more, 4 billion DKK over the coming years, into a new baggage area is another thing an investor doesn't really want to hear.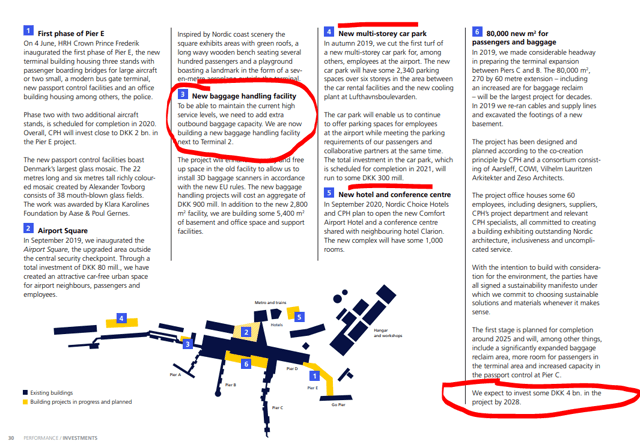 Investments aren't looking interesting, especially given the bankruptcies in Scandinavian airlines, traffic isn't picking up.
Given the above attitude, it is always good to look at who is the shareholder and whether the focus is on doing good for the public or investors. As the government owns 40%, and private investors own just 1.3%, the market's free float is minimal and the focus isn't on shareholders.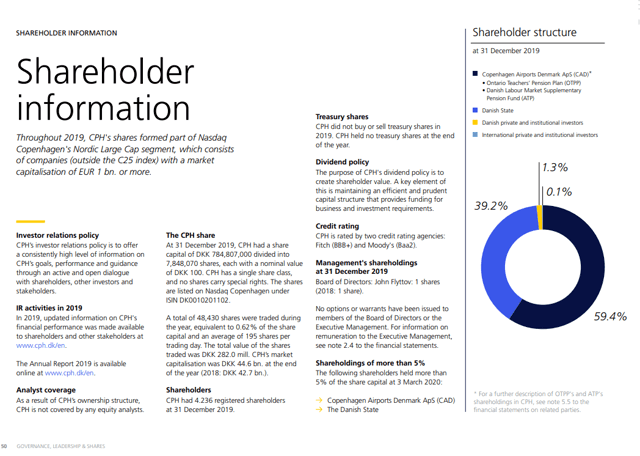 The issues here is the low float, the fact that the owner, Macquarie Fund, is selling back shares to the Danish pension fund.
Copenhagen stock – fundamental analysis
With profits of 1 billion DKK, the price earnings ratio is at 37, which means there is something wrong with the valuation or that it is manipulated.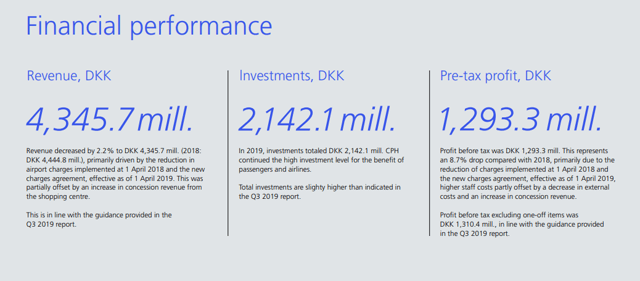 The extremely high capital investments have led to negative free cash flows in 2019.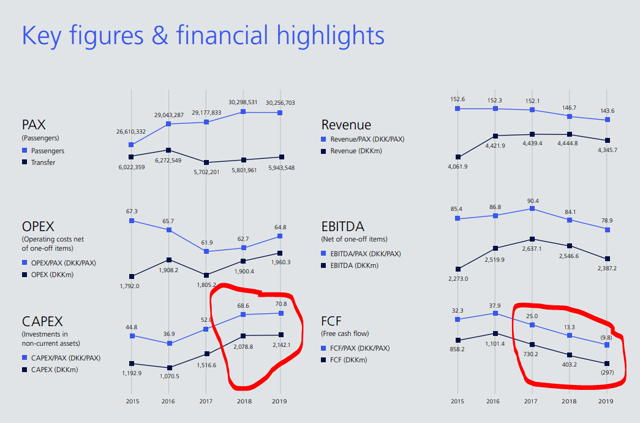 To pay for the investments, they have also increased their debt levels from 5.5 billion to 8.7 billion.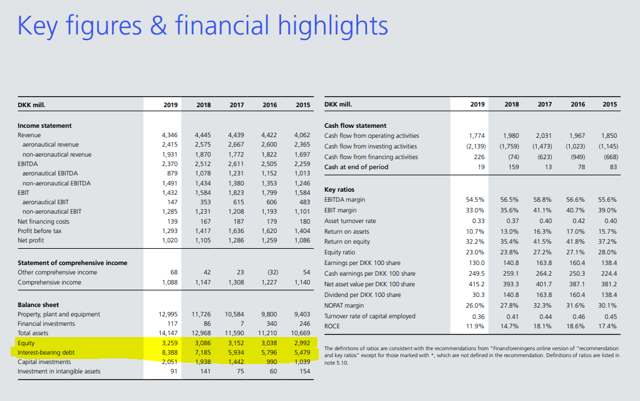 But, the investments didn't yet bring to revenue growth as revenues have been stagnating over the past years.
Copenhagen airports stock investment conclusion
Avoid the stock as the float is minimal and it looks mostly like a play toy for the Danish government and pension fund.
You can find much better, cheaper, with better outlook, growth perspectives and a shareholder focus within my Airport stocks analysis list.
I love to research businesses and the respective stocks. My goal is to research a few hundred of them each year and then hopefully find a few good investments. The only way to do that is to turn as many stones as possible and follow the interesting businesses closely. I am happy to share the research process here and I hope you enjoyed this and the other stock analyses published here.
If you wish to receive such analyses to your inbox, please subscribe to my newsletter: