Voestalpine AG Stock Analysis – 5% Expected Return
Voestalpine AG stock analysis is part of my full, stock by stock analysis of the Austrian Stock Market that offers interesting investing opportunities. Check my Austrian Stocks List for more Austrian stocks.
Voestalpine produces products and system solutions based on high-quality steel and other metals in technology-intensive industries.
Voestalpine AG stock price analysis – VIE: VOE
40 EUR seems to be the magic line for Voestalpine's stock. Since the financial crisis in 2008/2009, the stock only surpassed this number in 2017/2018 for a short period but VOE stock was in a downturn even before COVID hit 2020. Since then, the stock is on a steady climb back up.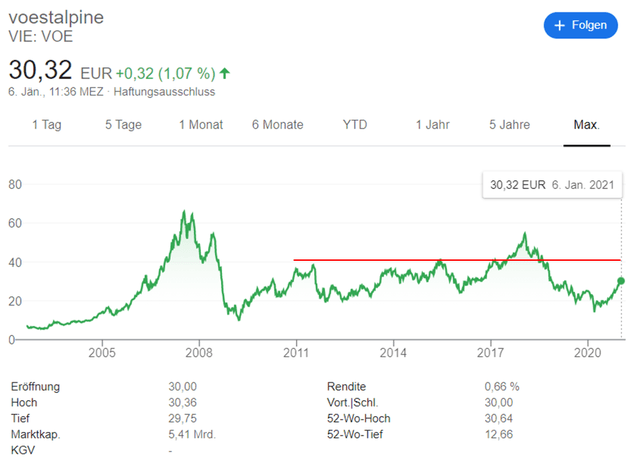 How much more room has this fundamental backed return? The business is a typical cyclical one as Voestalpine operates in the steel sector. Therefore, the stock should be categorized as a cyclical according to the Peter Lynch stock categories. Hence, the focus for investing in Voestalpine is looking for an upturn based on sound fundamentals. For that reason, we look at the business model, the fundamentals, and give an investing outlook.
Voestalpine AG stock analysis – Business fundamentals
Voestalpine has four business segments; all of them are operating in the steel industry.

In all of its business segments, Voestalpine has a strong market position. Voestalpine's revenue is split nearly evenly between the four business segments. The steel division supplies European automobile manufacturers and automotive suppliers. Additionally, the company distributes the European consumer goods, white goods industries, and the mechanical engineering sector. Products are used, for example, under extreme conditions in the oil and gas industries (deep-sea pipelines).
The high-performance metals division offers metals, which have specially developed material properties (resistance to wear, polishability, toughness). The automotive and consumer goods industries are the customers and power plant construction and the oil and gas industry.
The metal engineering division has a leading position in the global railway market due to its ultra-long rails (120 meters). The division offers track-based monitoring systems and turnout systems.
The last division, metal forming, developed highly refined sections, tubes, and precision strip steel products as well as ready-to-install components.

The automobile sector generates one-third of the revenue. Other industries are also mainly cyclical. Voestalpine has major exposure to the European Union (two-thirds of revenue) and only a small fraction to emerging and fast-growing markets.
Even though Voestalpine operates in a cyclical industry, the hit from COVID is expected to be for the short term.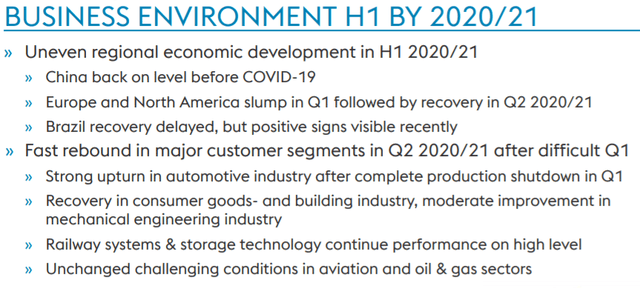 China is already back at pre-COVID levels, Europa and North America are expected to recover. The most challenging segments are the aviation and oil & gas sector (17 % of revenue).
Voestalpine AG stock analysis – Dividend
As a cyclical stock, Voestalpine is not a typical dividend stock with constant dividend increases. But, Voestalpine has had a continuous dividend payment since the IPO in 1995

The negative side is that in 2019/20, the dividend yield was 0.9%, maybe to make shareholders happy and the possibility to market the company as a "continuous dividend payer." The company had negative earnings and had to pay the dividend through debt. The average dividend yield for the past years was about 3 %, with a reasonable payout ratio of around 30% to 40%.
Voestalpine AG stock analysis – Financial discussion
The revenues are stable and looking at ten years; those grow at a slow but steady pace. The operating margin is declining, and in 2020 negative as Voestalpine struggles due to lower prices.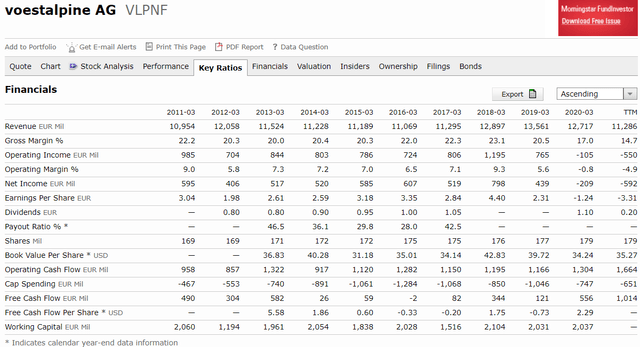 It is important to mention that Morningstar's data is not 100% correct; for example, the dividend was paid out in 2018, 2019, and 2020.
As earnings are not the main focus of Voestalpine, we should take a closer look at the cash flow. The cash flow is used for dividends and therefore generates value for shareholders.
Cash flows from operating activities were 1.3 billion EUR in 2019/20 minus the CAPEX of 747 million EUR, results in a free cash flow of about 550 million EUR or a yield of 10 %. The high yield comes from Voestalpine's strategy to lower its CAPEX.

Besides the reduced CAPEX, Voestalpine focus on cash generation and the reduction of debt. Therefore, not all of the 550 million EUR in free cash flow is potentially paid out, but a part is used for debt repayment.

The bonds' interest rate is relatively low and, therefore, a sign of a strong credit rating.
Total financial liabilities are 4.6 billion EUR plus 1.3 billion EUR in pensions and other employee obligations. If we reduce the cash by 1 billion EUR, it results in a net debt of 4.9 billion EUR or ten times free cash flow. The debt is high, but the low rates make it easier to manage. Given the low interest rates environment, it makes sense for Voestalpine to take some debt to help grow their business but that always brings a long-term risk.
Voestalpine stock valuation on dividend
A cash flow model will give a rough stock price valuation. I'll use the dividend as a measure for shareholder rewards and a terminal value based on the expected average dividend yield. If the market is happy with a 4% dividend yield in 2030, I'll use a 25-terminal multiple.
This model's general assumptions are a discount rate of 5% and a terminal multiple according to the expected dividend yield. The model uses the average dividend of the last five years to be more on the safe side as the business is quite cyclical.
In the model below are three scenarios:
Scenario 1 (worst case): 0% growth over the next ten years with 20 % probability
Scenario 2 (best case): 4 % growth for five years and then 10 % growth with 20 % probability
Scenario 3 (normal case): 2 % growth for the next ten years with 60 % probability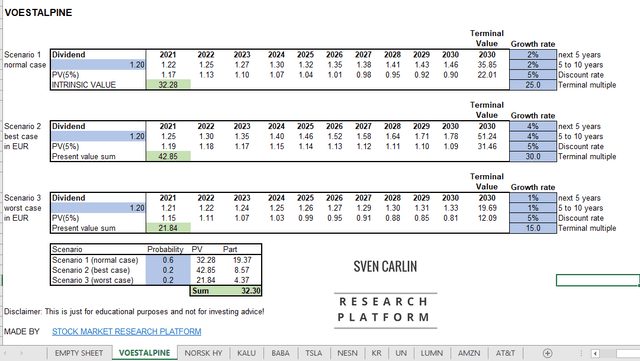 Voestalpine dividend valuation model – Source: own graphic – (template download)
Based on this model, the investor could expect a return of 5% annually with the current stock price and the above assumptions. The return is about in line with the dividend yield and slow growth. If there is inflation in the steel market, the returns could be much higher, but keep in mind it is a cyclical.
Voestalpine AG stock analysis – Conclusion and investment outlook
The potential for Voestalpine stock is the strong focus on cash generation. In good economic years, the company is able to generate about 550 million EUR in free cash flow. The other focus is to pay out a dividend, no matter the economic environment. Therefore, it can be expected that the payout ratio will be 40% to 50% in the future equaling a potential dividend yield of 4 % to 5 %. Adding a 3% to 5% growth in good years would be near the earnings model's estimated return.
That it is on the positive, but suppose the economy is not going to recover fast enough. In that case, there will be future negative impacts on Voestalpine and even cutting the dividend in total is a potential that would send the stock price south especially given the debt levels.
A 5% expected return makes me leave Voestalpine to pension funds and just follow it for cycle upturns like I am doing for the aluminum sector and you can read more about that within my aluminum sector analysis.