Aluminum Stocks List With Detailed Analysis (KALU, AA, CENX, Norsk, ACH)
Aluminum stocks haven't really rewarded shareholders over the past decade but that is the nature of cyclical stocks. The 2000s had been remarkable, the 2010 terrible, so maybe the 2020s will be again great for aluminum stocks.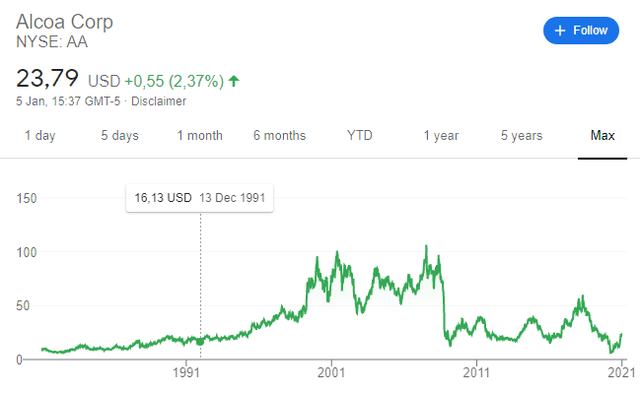 To see what kind of aluminum stock best fits your portfolio, you should first know the details of each as at first, aluminum stocks seem all equal, but are actually all different with each having its specific issues. Here are the detailed aluminum stock analyses.
Aluminum stocks list
Alcoa stock analysis – NYSE: AA – (volatile stock – trading opportunities)
Kaiser Aluminum stock analysis – NASDAQ: KALU – (moat, competitive advantage)
Century Aluminum stock analysis – NASDAQ: CENX – (ugly, owned by Glencore)
Norsk Hydro stock analysis – NO: NHY (good business, growth ahead)
Aluminum Corporation of China stock analysis – NYSE: ACH – (Government owned)
Rusal, En+ (intergrated Russian producers) HK: 0486, LSE: ENPL – (PREMIUM)
Here is a video discussing 5 of the above stocks and further exploring the best way to approach investing in aluminum stocks:
The aluminum stocks investing thesis
Warren Buffett said how in a "battle between good management and a bad industry, the industry's reputation will almost always remain intact".
Unfortunately, such a statement perfectly explains the aluminium industry; high competition leads to average zero long-term free cash flow margins which is something crazy to hear because it is a growth industry etc. However, it is the truth, on average, the aluminum sector doesn't really make money, only in good years.
If nothing changes from a fundamental perspective in the industry, and apart from some technological developments, it is unlikely it will change, the only option for investing is to use the Peter Lynch cyclical approach. Thus, to buy when things look the ugliest and sell after you doubled your money. Aluminium production will not go away, which makes it a safe investment bet, but, don't consider it a long-term investing strategy. For the long-term, better leave the stocks to index funds, ETFs and pension funds – those are the players that love to buy high and sell low.
Aluminum is clearly a cyclical sector, but it is a sector with positive tailwind. As global middle class growth is expected to grow significantly by 2030, we can expect higher consumption and demand for aluminum.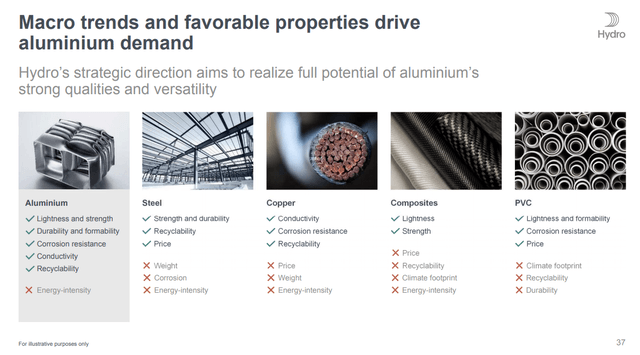 Further, new technologies require lighter metals and more and more aluminum is used in cars.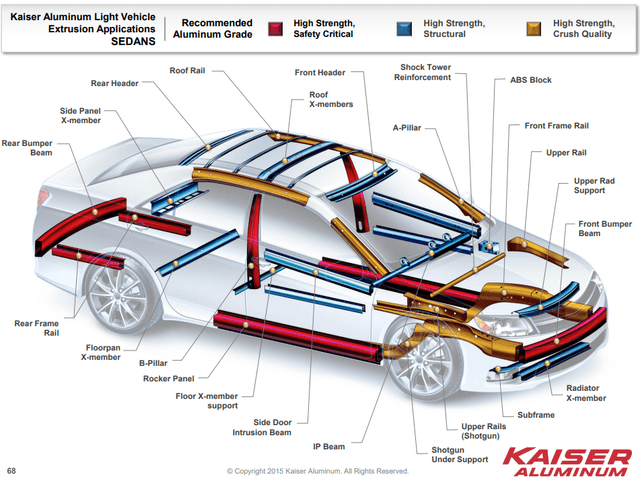 Demand for aluminum has been constantly increasing and is expected to keep increasing by 2.6% per year up to 2030.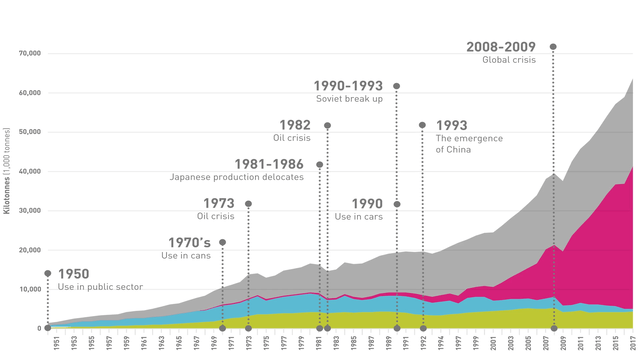 The problem when investing in the aluminum sector is that there is no moat. There is plenty of bauxite in the World's crust, the technology is known which means the only competitive advantage can come from low electricity prices, logistics or government subsidies.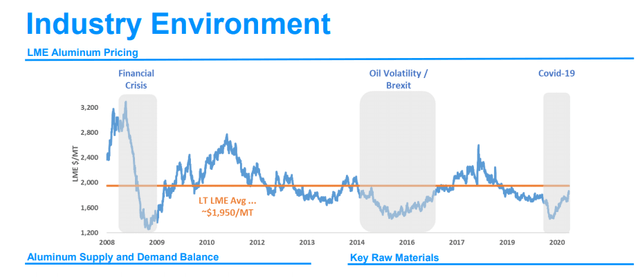 Aluminum price forecasts are pretty conservative, but we as long-term investors have too keep in mind the cyclicality of it all. Analysts think in a linear way while the market, as shown in the above aluminum price chart, is never linear. Aluminum prices never stay still, it is either up or down but analysts' projections are always stable.

Therefore, this is the perfect opportunity to take advantage of the volatility which is the only certainty in the environment.
We have:
Sound fundamentals in a positive structural trend
A negative sentiment that lowered investments and supply growth has been 0.6% per year over the last 3 years
Aluminum stocks have rebounded from the March 2020 lows and some are still ok investments but I am sure the environment will remain volatile
The key is to see how which of the above analyzed aluminum stocks best, if at all, fits your investment strategy.
I am going to follow two aluminum stocks on my Stock Market Research Platform with the target of buying during cycle downturns and selling later for low risk and good rewards. (of course, depending on other comparative opportunities during downturns. Fell free to check my platform out if you are looking for stock market research and investing strategies.