Norsk Hydro Stock Analysis – A Good Business
This Norsk Hydro stock analysis is part of my full aluminum sector analysis. Here is a video discussing Norsk and comparing it to KALU, CENX, ACH & AA. Norsk Hydro is far the best aluminum business, apart for the Russian counterpart and Kaiser Aluminum that isn't really an aluminum play.
Norsk Hydro Stock Price Analysis
Norsk Hydro stock investors didn't enjoy great returns over the last decade and that has been the same for the whole aluminium industry. High commodity prices in the 2000s alongside exuberant demand growth projections led to high investment levels and sector overcapacity. When that happens, nobody makes money for a long period of time.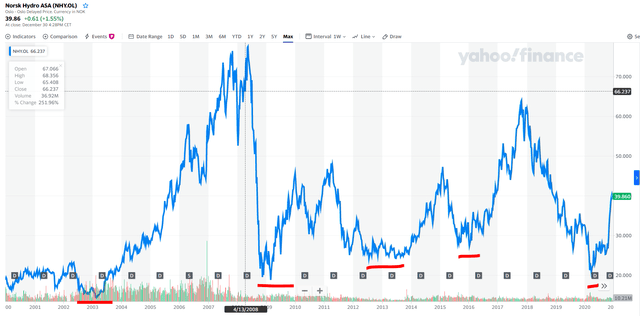 However, forgotten industries where nobody made any money for long, can create amazing returns when the demand outpaces lethargic supply. Over the last 5-years, the situation hasn't been much different for Norsk Hydro stock than the general aluminium environment as shareholders didn't make much except for the dividend.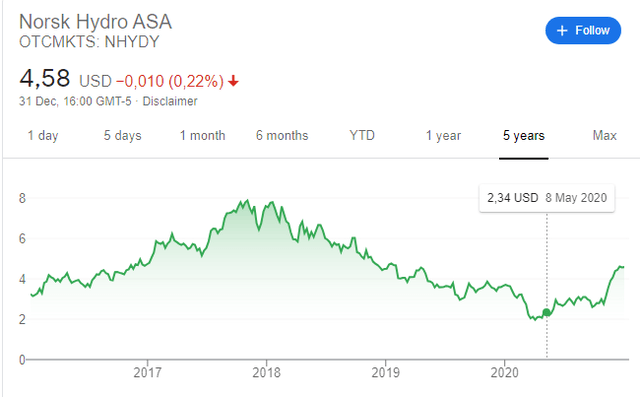 Norsk Hydro stock 5-year chart
Norsk Hydro Stock – OTC: NHYDY
NO: NYH – Market capitalization: 82 billion NOK
Norsk Hydro dividend yield 3.14%
Norsk Hydro stock analysis content:
Norsk Hydro Stock Price Overview
Norsk Hydro Business Overview
Norsk Hydro Fundamentals
Norsk Hydro Stock Valuation
Norsk Hydro Stock Investment Conclusion
Norsk Hydro Business Overview
Norsk Hydro is an integrated aluminium producer. It has its own bauxite production facilities, energy and smelters.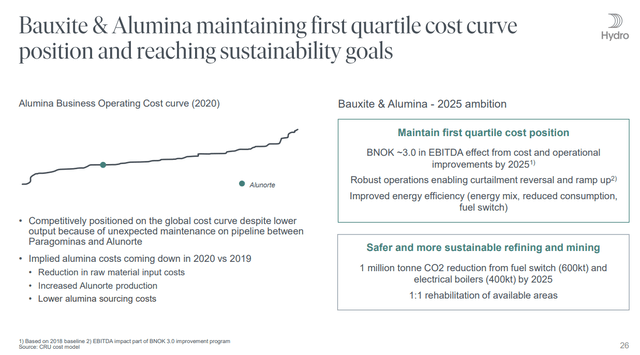 Owning power production is something that some aluminium makers do, some don't.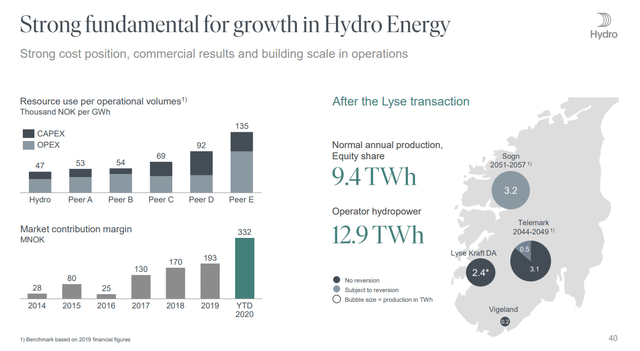 Like all of it in the industry, nothing is a miracle and Norsk is contemplating doing an equity raise to replace some hydro production.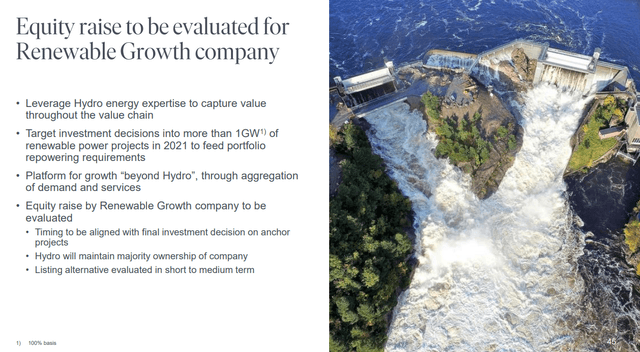 The company's idea of why you should invest in it.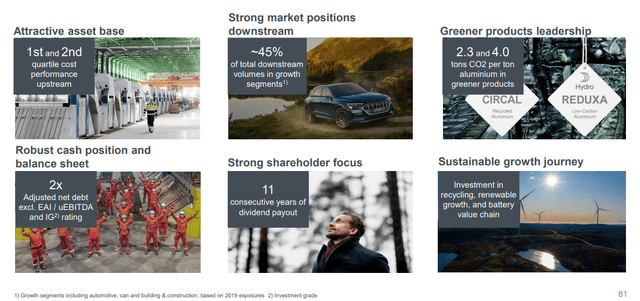 Norsk Hydro Fundamentals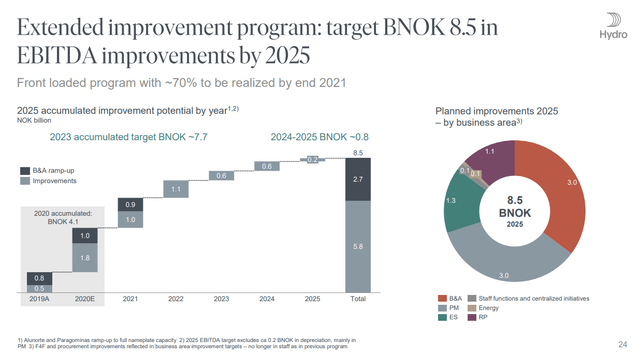 All the improvements should lead to EBITDA of 20 billion NOK.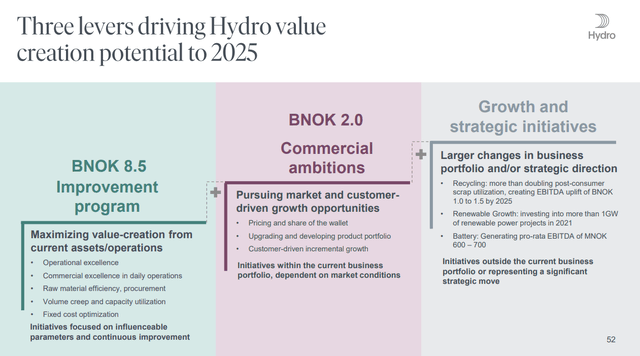 Of course, the above all depends on aluminium prices. If there is oversupply and prices continue to stay low, Hydro will not reach its targets.
Norsk Hydro Stock Valuation
Over the last years, Norsk has achieved average free cash flows of 6 billion NOK.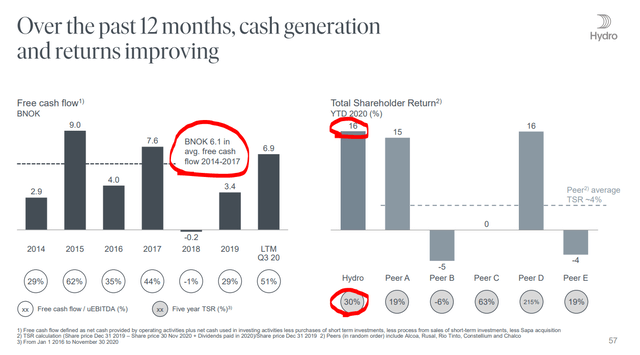 However, sustaining capital requirements are at 9 billion NOK.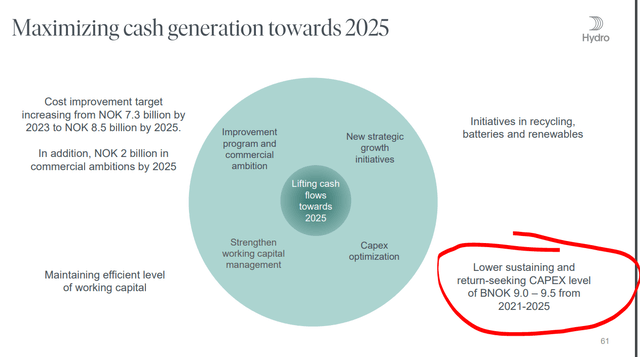 A lot of things have to happen to yet, this requires high investments but the company targets to double EBITDA by 2025 and lower capex.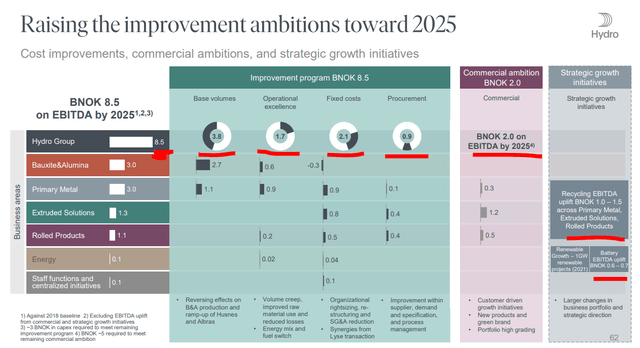 Capex should finally subdue by 2025 and be around 7 billion NOK.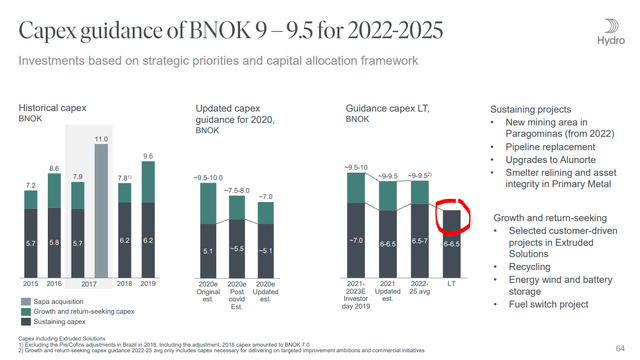 As said, this all depends on what the market price for aluminium is, but they have various market scenarios ready.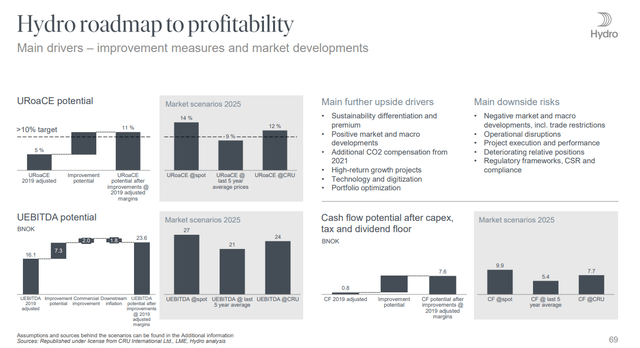 Free cash flows in 2025 can be 10 billion NOK if spot prices increase, or remain at 5.4 billion NOK if prices remain at past 5-years averages.
The balance sheet looks ok, you are practically buying this aluminium producer at book value. Current assets (1) are more than double current liabilities which is interesting especially as the 17 billion NOK in cash give significant financial stability. Long-term debt (2) is low and the only negative spot on the balance sheet are the significant pension liabilities of 20 billion NOK. I'll deduct one billion NOK from EBITDA per year to cover for those in the future.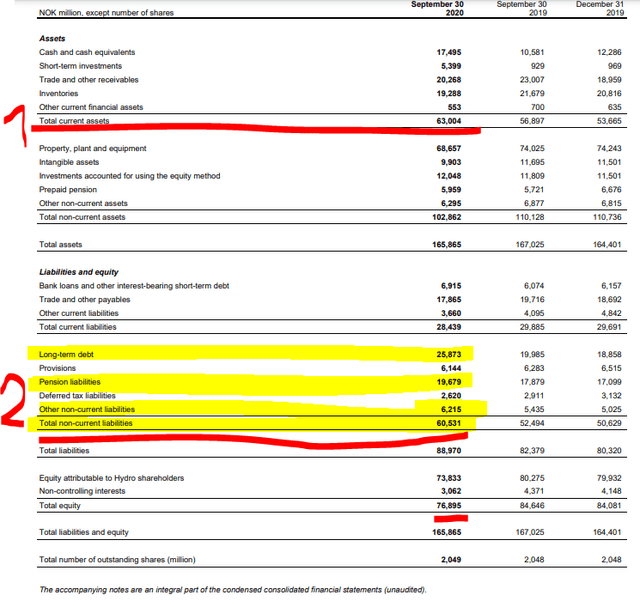 The high cash position is because they increased borrowing significantly. Likely to be used for investments.
Depreciation is equal to capital investments, so I would not call that growth capex, while operating cash flows reached 12 billion in 2019. At 2019 average aluminium prices, the company makes just enough to pay the dividend.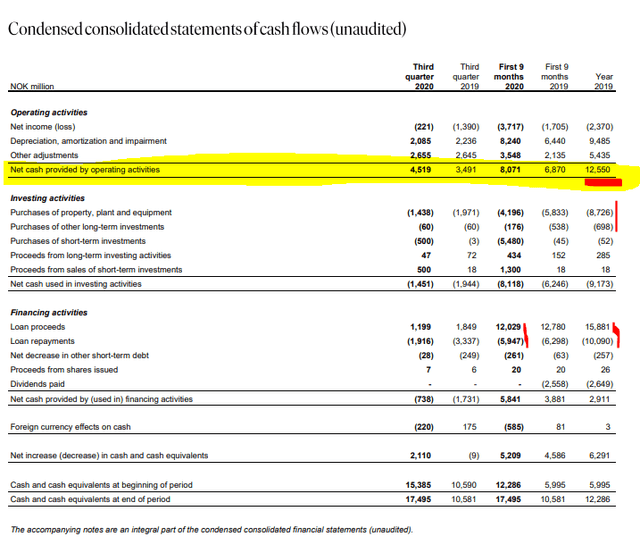 2018 saw higher aluminium prices and likely better cash flows, but some forecasts are sticking to 2019 levels for prices over the next few years.

A small problem is that they account for changes in working capital as cash flows. Ok, that is the accounting way of how to do things, but it doesn't give a clear sense of what is the cash produced without the working capital changes. If they can monetize the working capital where the current assets are much higher than current liabilities, that would be great, but I assume working capital is more likely to continue to be volatile over time. Nevertheless, a thing to follow for sure.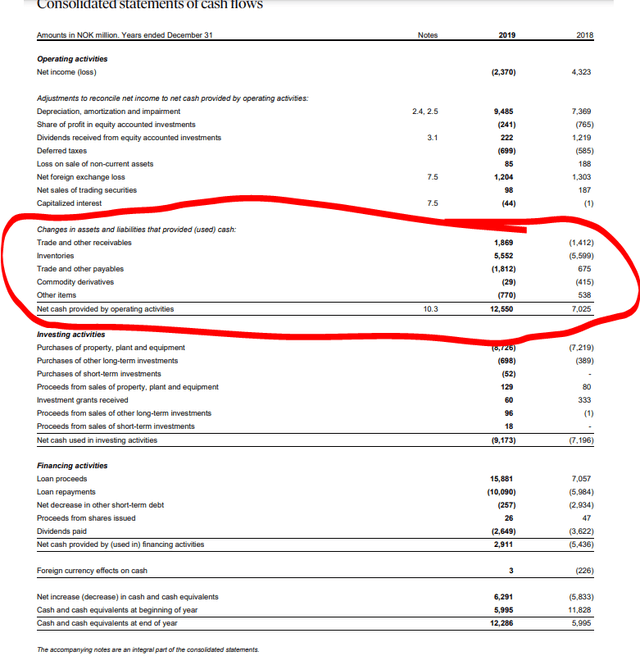 If I adjust for all the working capital changes over the last two years, and take that as an average over time, I get to operating cash flows of 12 billion in 2018 and 7 billion in 2019. So, after capital expenses, what is left is barely enough to pay the dividend. Future investment returns will depend on the execution on the before mentioned promises and on the amount of new debt taken for the investments.
Norsk Hydro Stock Investment Conclusion
The company is focused on paying a dividend to reward shareholders.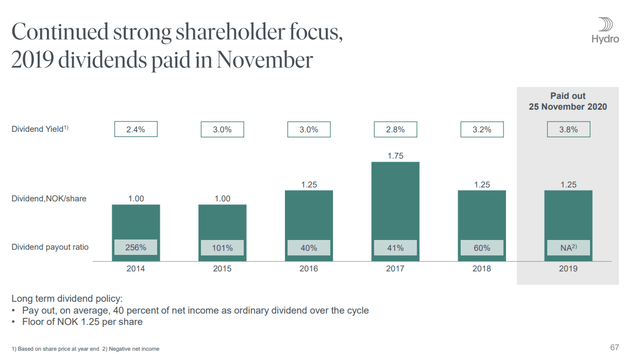 However, that is all it can create of value which is not bad at all given the current aluminium investment environment.
Debt is increasing fast as the company is investing heavily. Thus, the only real value created is the dividend and future potential if aluminium prices return to higher levels alongside minimum foreign exchange issues.
Let's say that in 2026, they manage to hit 20 billion in EBITDA and 7 billion in capex. After deducting 3 billion for taxes, other and interest expenses, 1 billion for pension obligations, I get to possible cash flows of 9 billion in a good year which could be a game changer for the stock. If the dividend increases by 50% or even 100% in a good year, so will the stock price.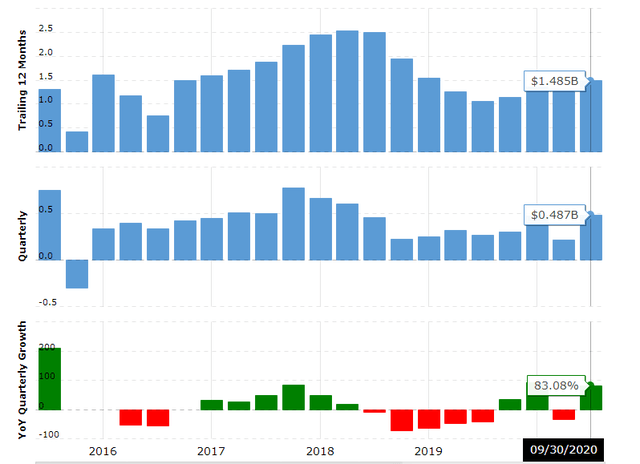 I've made a valuation which shows the company is undervalued by 20% based on future expected dividends and a terminal multiple of 30 for the dividend yield.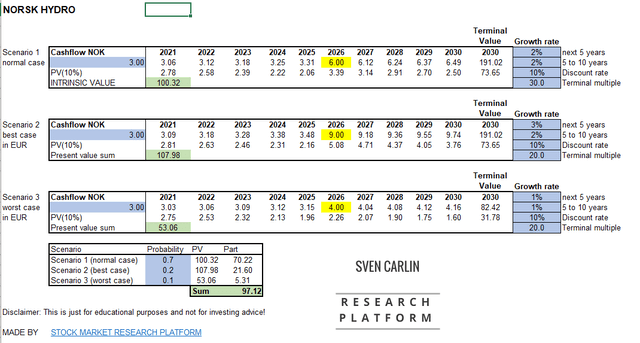 You can download this template here.
But, like with all the aluminium stocks, it is very hard to be a long-term shareholder because of the cut throat market environment. Good times will be surely followed by bad times.
So, I would leave the long-term ownership to Norwegian pension funds. But, what a savvy investor can do, is to watch for bad periods, even for global recessions and buy for the upward cycle with this cyclical stock like Peter Lynch used to do things.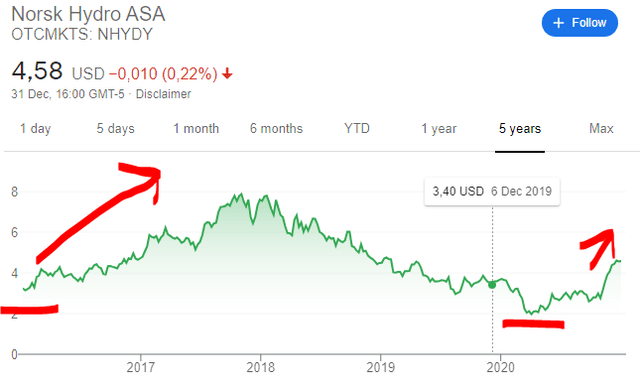 Norsk Hydro stock is a typical cyclical
I think the chance for Norsk Hydro to run into going concern issues is really small, so it creates a great cyclical play to follow. Alcoa's stock is much more leveraged, but the business is riskier too.
I will follow the aluminium sector and Norsk Hydro, with the goal of nailing the low risk/high reward entry opportunities that arise within the sector every few years. If you wish me to do the following and covering work for you on Norsk and on many other interesting stocks, please check my stock market research platform.