Real Estate Investing 2021 -Crash Ahead or Inflation Hedge
Investing in Real Estate in 2021
Here is the video if you prefer watching, article continues below:
We recently discussed Jerome Powell form the FED how they are going to let inflation loose over the coming years in order to help the economy as much as possible, or as they say it: to use all the tools at their disposal.
This is a clear indication of inflation ahead, in one form or another. One of the easiest ways to protect yourself long-term against inflation is real estate. And there were many comments like the below one asking about investing in real estate now, alongside tips that it is better to wait for a real estate crash. We are going to give a comprehensive answer to those questions and more.

In this article I really wish to discuss the core real estate investing factors that will really help you in making such a big decision. I will elaborate on my value investing real estate approach that focuses on things you can manage so that over the next 10 years, your worst-case scenario is a 3% yearly return on your investment and your best is 15% per year or even more. Inflation, economy, real estate market, the specific property etc. have to all fit the below possibilities. If you can find opportunities that fit the below, then it is about seeing how the specific investment fits your wishes and financial goals.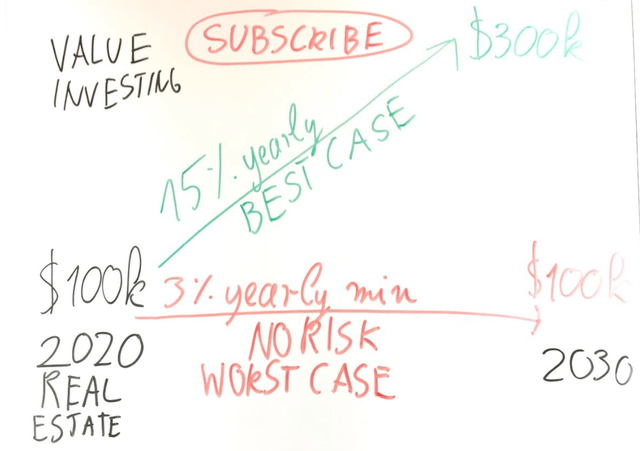 Disclaimer: I bought a house last week so you could say I am long real estate. (I'll make a video soon)
Let's start by discussing the key topics when it comes to real estate investing in 2020.
Is there a real estate crash coming?
On YouTube, if you write the word crash, you have the highest amount of views and that is the only reason why the title of this article starts with real estate crash, let me know in the comments if you would have clicked on a title like Core Real Estate Investing Points for 2020.

To determine whether there will be a housing crash we have to discuss what are the factors that drive the real estate market. Those are:
Supply and demand as a start
Where supply depends on local and national regulations, historical limits while demand for real estate depends on the following:
Employment,
Available financing / interest rates,
Rent to mortgage ratio,
Prices and,
Sentiment.
Let's discuss these as it will give a great picture about the market.
General housing supply issues
Changing zoning rules is an extremely slow process and therefore 29 states in the US have a shortage in housing supply.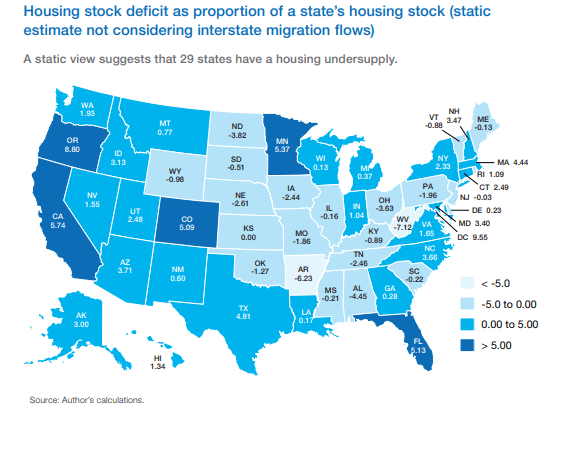 A similar situation is in the UK, Europe and the variance depends on the area, the demanded type etc. If you buy somewhere it is likely demand will be stable or keep growing while there is not much room for new housing, you have already eliminated a lot of risk from your investment.
Unemployment and real estate demand
Logically, the higher is the employment rate, the more people can look for financing and houses. Given that unemployment has risen and it is likely to stay elevated over the coming year or two, many have given prediction that the real estate market will crash in 2021. My specialty market is the Dutch real estate market and one of the big banks already came with the announcement that the market will decline in 2021 and 2022 because of higher unemployment and the COVID-19 crisis.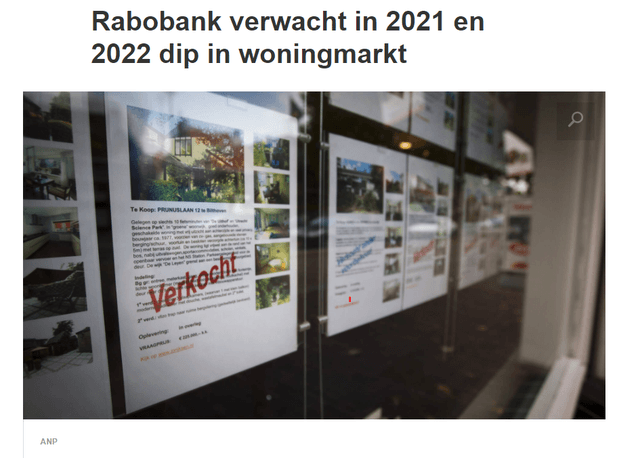 However, they had the same prediction for the market for 2020 and there were many comments about how prices will fall over the last years here on my channel but that didn't happen. Actually, prices in the Netherlands rose 7.1% compared to July of 2019.
If you look at the home price index in the US, despite record high unemployment, real estate prices went up during the corona crisis.
Given the high unemployment, many compare and expect the current situation with the Great recession of 2009 and the subsequent real estate market crash where home prices fell 26%.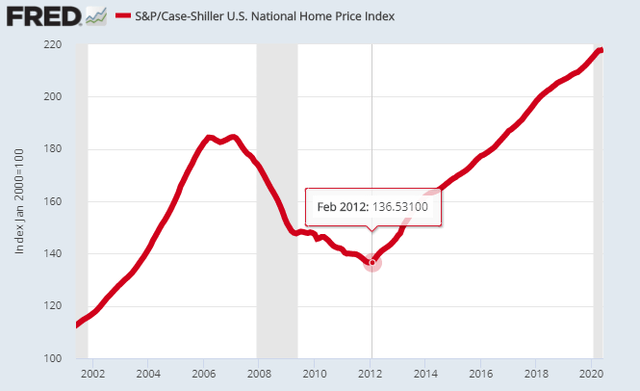 However, back than the issue was the same issue that plagued stock markets; i.e. liquidity. Liquidity is not an issue now thanks to central banks, stimulus and who knows what will they invent, it is unlikely it will be an issue going ahead. Therefore, I don't see a 2009 scenario pushing prices down.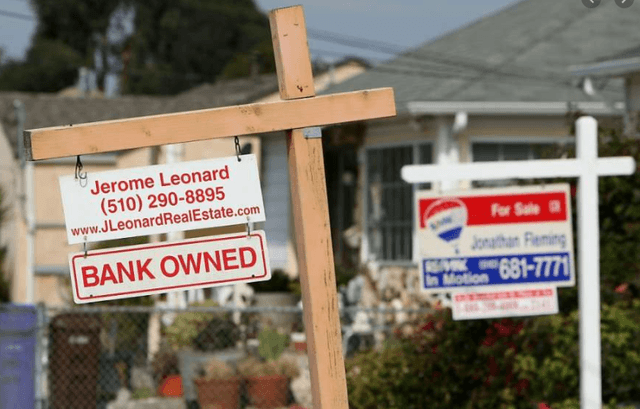 The key here is that investing in real estate is about investing, not speculating what will happen. This is my main message; find something good no matter what.
The next factor is financing and interest rates.
Real estate values and interest rates
Interest rates are like gravity for financial assets. When rates are low, real estate prices explode and when rates are high, real estate prices go, well, up again.
Over the past 70 years, the US and most of the world had seen rising rates up to 1981 and has seen declining interest rates ever since.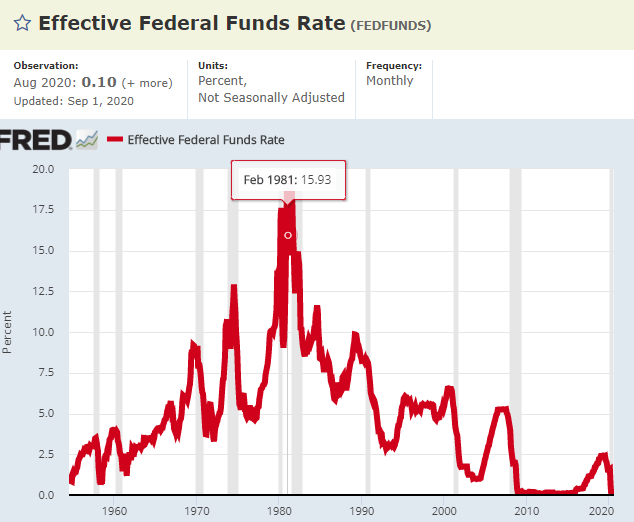 Rising rates in the 1970 have pushed real stock prices down in the 1970s and it was more than a decade lost for the stock market in nominal terms.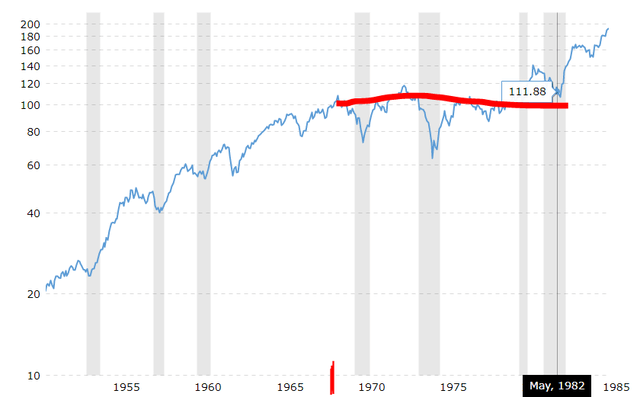 However, home prices went up in inflationary periods with high rates and with low interest rates. Actually, owning real estate was extremely beneficial during the 1970s.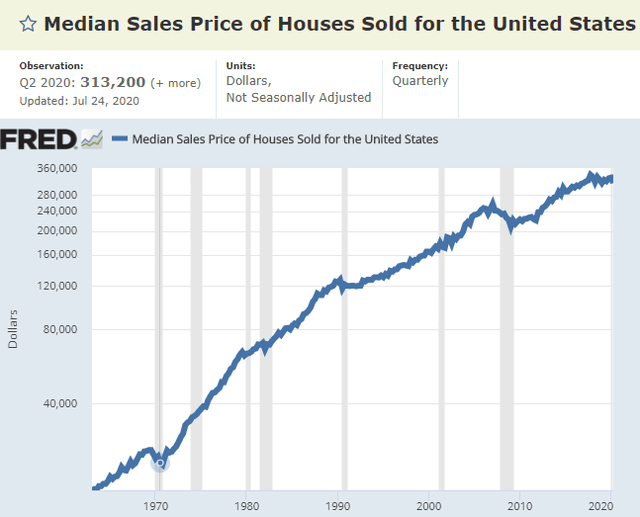 Our subscriber DON OFD wrote in a comment how he bought a house in the 70s and made 4 times his money in 8 years.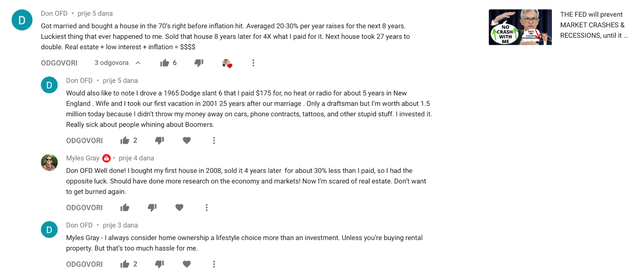 It is important to note, that Myles Gray commenting above, lost 30% of his invested money from 2008 to 2012 because yes, as we can see on the above chart, home prices tend to dip in recessions (the grey column). That can happen, but it is usually just a short period and while waiting for a drop to happen, investors usually miss out on the bull market and then don't even act in a crash because too scared that prices might go lower.
Don't worry, there is a solution to such fears and we already mentioned that usually crashes were due to liquidity issues that are not a concern these days and governments will do whatever to prevent crashes because the economies depend on financial values.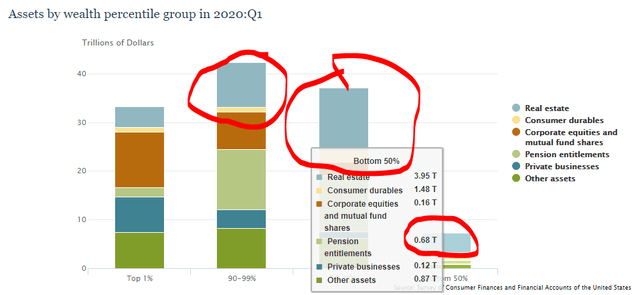 Plus, mortgage rates are at historical lows globally which pushes prices higher, especially if people start fearing inflation and look for protection.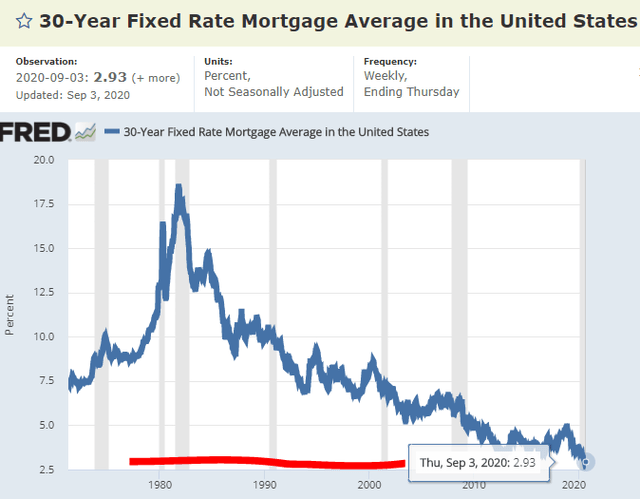 I've discussed the difference between fixed rate mortgages and variable here.
Before giving you the answer on investing in real estate, let's look at the market first.
The real estate market situation – values and rates
When you wish to assess the riskiness of investing in real estate, you should check the rent yield by comparing average rents to average prices.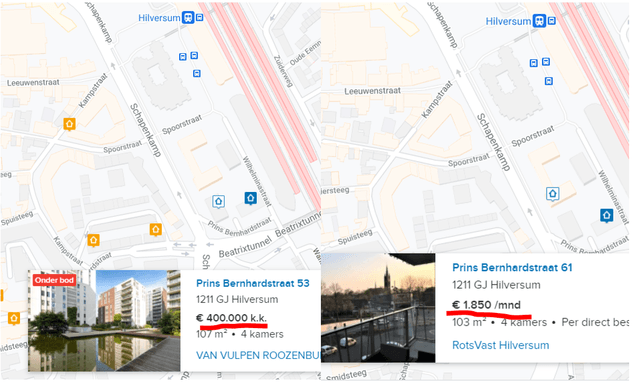 I used to live in the city above and you can see that a 400k apartment rents from approximately 1,850. Thus, the investing yield is 4.65%.
I consequently check how much is a mortgage and I see I would be paying 1,299 per month to own that apartment with a variable rate of 1.07%.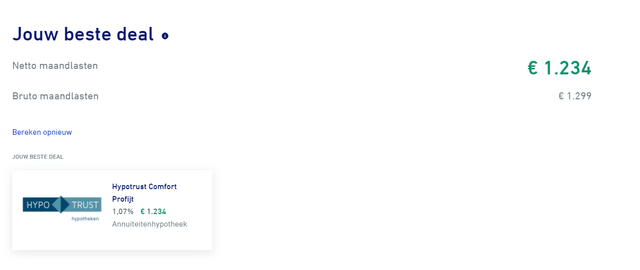 However, I wish to sleep well over the next 30 years and I wish for a fixed mortgage rate over 30 years. The interest rates is then 2.34% an my payments are 1,526 without any tax benefits.

In this case, it is still cheaper to buy than to rent.
Now, interest rates can change, but that is most likely to happen due to inflation where real estate prices go up again.
Therefore, I would not wait for a crash because you never know what will be the main driver of prices; low interest rates, inflation, stimulus or a recession. Given that time is the largest contributor to real estate returns, waiting is extremely risky because those that wait usually miss on the 9 positive years while waiting for the one negative year.
Anyway, that is not the most important thing, the key is to invest, not speculate!
What is investing in real estate – speculation vs. investing
As we have seen in our comment, there is investing in real estate and there is speculating in real estate. Investing is simple, you look at: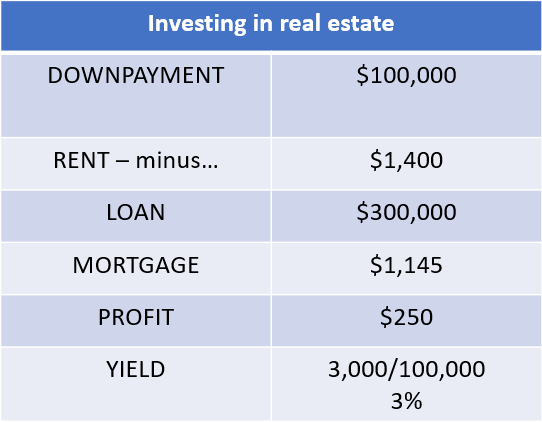 In the above case, with a 25% down payment on a 400k property, my yield on investment is 3% and after 30 years I'll get the 300,000 paid off and I will be able to increase rents here and there. Plus, if there is inflation and real estate prices double in 10 years, I did good again but that is something to be left to the chance, an investor focused on yield and takes everything on top of it as a bonus.
On the other hand, you can speculate, but then you don't sleep well if things don't go as planned but see what best fits you. Further, investing in real estate is not just investing in real estate.
Real estate is not just real estate
I am annoyed already by all the questions about whether now is a good time to invest in real estate.
If you look at the real estate sales map of the city we used as an example, there are hundreds on properties for sale, all different.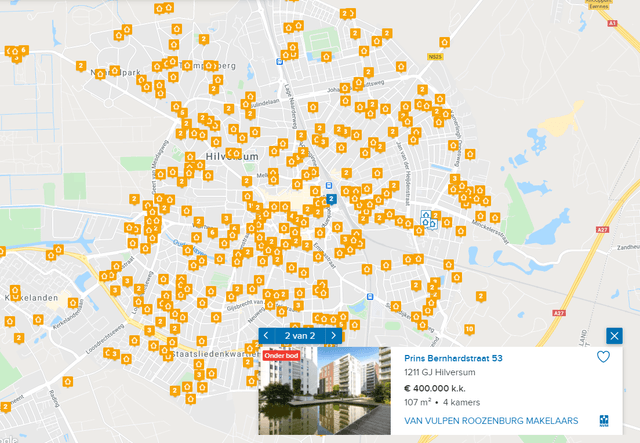 So, investing in real estate is about finding the best property to invest in that market. If you find something that is 30% undervalued because it needs refurbishing or is longer on the market or something, you don't really care about what happens in the economy because you made your money when you bought. Therefore, my conclusion is that:
It is always a good time to invest in real estate like it is always a good time to get married when you find the right one!
But, please, check every listing out there, go and make 16 viewings and then you'll have a grip on the market that your competitors, mostly unexperienced home hunters will never have. Plus, they are sentimental buyers and that is a big advantage for rational value investors.
Real estate investing sentiment
I remember buying a home in the Netherlands in 2014, there were absolutely no buyers in the market because the majority was expecting prices to decline further. That didn't happen but it was a great time to be buying because there was no competition.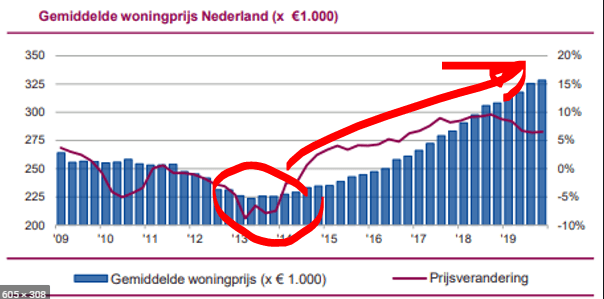 The last home we bought there was a lot of competition and we overpaid but we were sentimental buyers. There were much better investments and still are in the area, but we bought a home for us, not an investment.
Real estate outlook & Investing opportunities
To conclude, investing is about finding the best deal and creating a low risk high possible reward capital structure around it. One where in the worst-case scenario you get your 3% on the down payment and in the best-case scenario you double your money in 10 years for a 11.6% yearly return on invested capital alongside another 3% or 4% from rents giving a total return of 15% per year.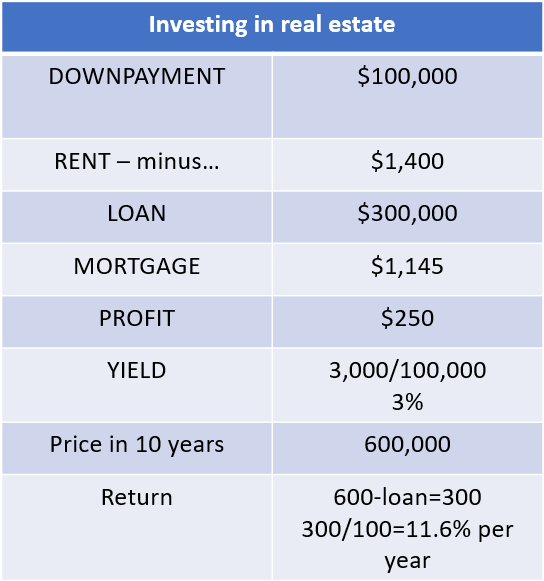 This is investing in real estate. Anything beyond this; a hot market, real estate prices will go up, expecting that prices will double and having a negative cash return or whatever is speculation and get backfire.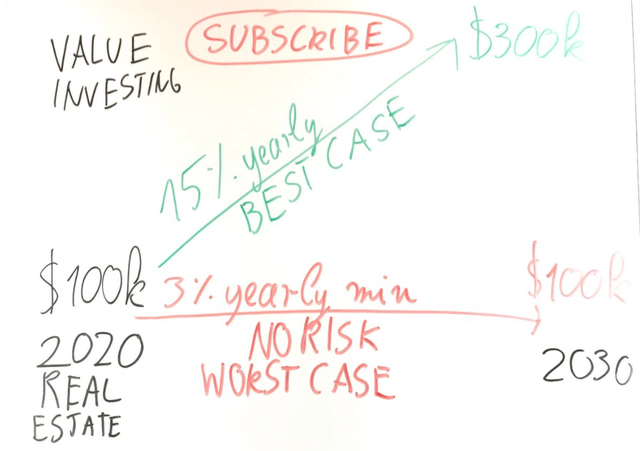 Therefore, if you find an investment that in the worst case, the margin of safety case gives you 3% or gives you something you are happy with like just protecting you from inflation, while on the other hand gives you the opportunity for higher returns if the market turns positive and you are happy to own it forever, then you should invest, no matter the possible crash next year, the 2025 end of the world or the 2028 Olympics to name a few reasons.
I personally think there will be years with 5% to 10% inflation ahead. If that happens and compounds on real estate prices, getting a fixed rate mortgage today for 30 years and buying a margin of safety real estate investment with a good yield, perhaps undervalued because the house is painted in red or something, will likely be a great investment and you need just a few of those to make the difference between a life with financial struggle and one without. That is the goal!
If you enjoyed this discussion and like the investing mindset, please subscribe to my newsletter for a weekly overview of my analyses and work for low risk high return investing opportunities found through a value investing mindset.