Frauenthal Holding AG Stock Analysis – Dividend and The Exact Time To buy it
Frauenthal Holding AG Stock Analysis – Vienna: FKA, Frankfurt; F1H
Shares outstanding: 9.434.990 shares
Owners: FT Holding GmbH and Ventana Holding GmbH 62.78%, Frauenthal Holding AG 8.30 %, free float 28.92 %. As 8.3% of the shares are held by the treasury the number of shares to use in calculations is 8,651,000.
This Frauenthal Holding AG stock analysis is part of my full analysis, stock by stock of all the stocks listed on the Austrian Stock Exchange. Austria is one of the cheapest stock markets globally at the moment so please check the Austria Stock List for interesting investments.
This analysis will consist of the following:
Frauenthal Holding AG Stock Price Performance
Frauenthal Holding AG Business Overview
Frauenthal Holding AG Stock Fundamentals
Frauenthal Holding Stock Dividend
Frauenthal Holding Risk And Reward Investment Conclusion.
Frauenthal Holding AG stock price overview
A look at the long-term chart of a stock can tell you a lot about the characteristics of a business and of how the market perceives it. The Frauenthal Holding AG stock chart tells us the business is cyclical, how the market falls in love with the stock in really good times and that the price to earnings ratio is low, which is typical for cyclical stocks at the end of an economic cycle which is not the best time to buy. Actually high PE ratios are the best to buy cyclicals but more about that later.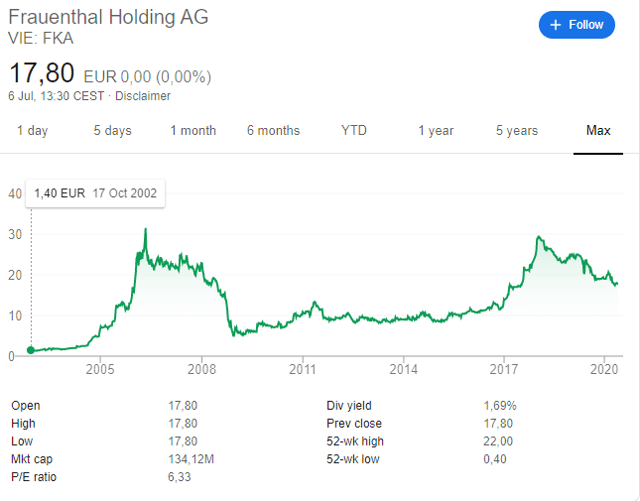 Despite the cycles, initial 2002 shareholders have been rewarded with 10 times their initial investment in less than 20 years. This tells us that the management has created shareholder value over those cycles – something few are able to do.
Frauenthal Holding AG stock analysis – business overview
Fraunthal operates within two business segments, wholesale plumbing supplies and automotive chassis and engine component production. Most of the revenue is made from wholesale plumbing supplies where it all depends on construction but both segments are cyclical which explains the volatile stock price. Later, a look at the stock's fundamentals will let us know whether it is a low risk cyclical play or it might be a safe way to play the natural economic cycles.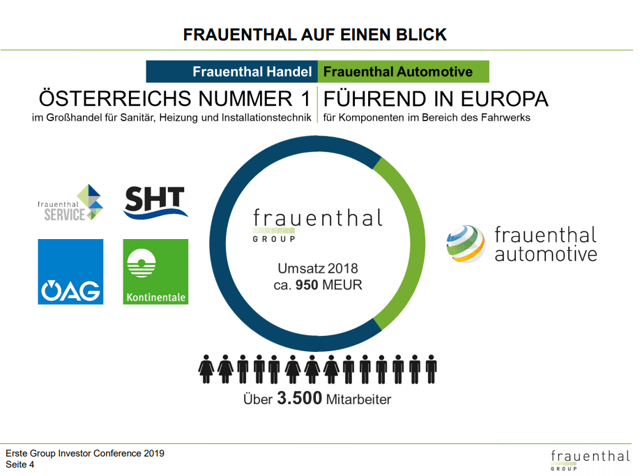 The company actually sees itself as a long-term investor in cyclical businesses.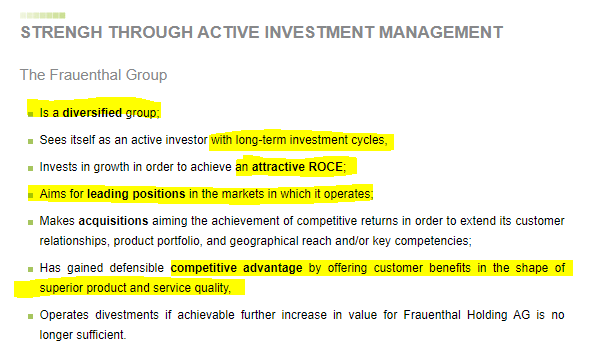 Each of the businesses is a separate unit that can be even sold if necessary and the last two acquisitions were made in 2014 (OAG) and in 2017 (Powertrain). In 2014 they sold Fedem.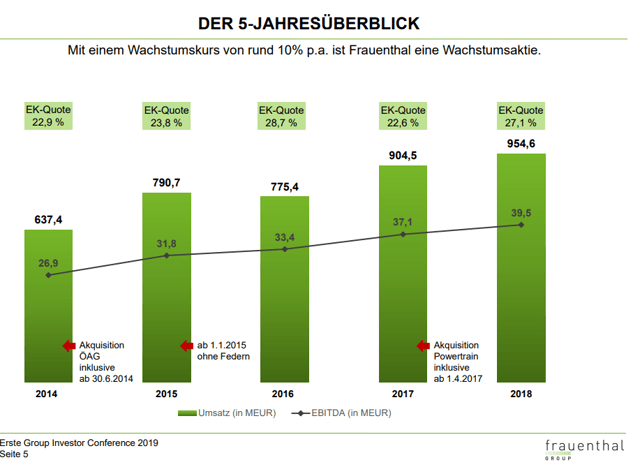 The automotive segment is focused on the production of steel and aluminium components.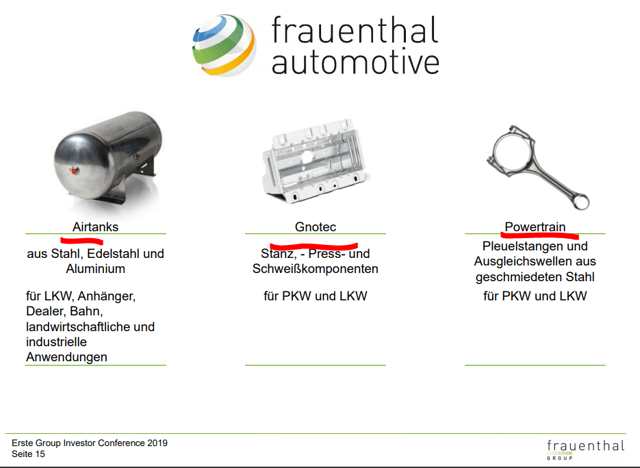 The company sees significant potential with the e-mobility trend over the coming decade while they are working intensively to find solutions for the powertrain segment that might be affected due to the e-mobility sector.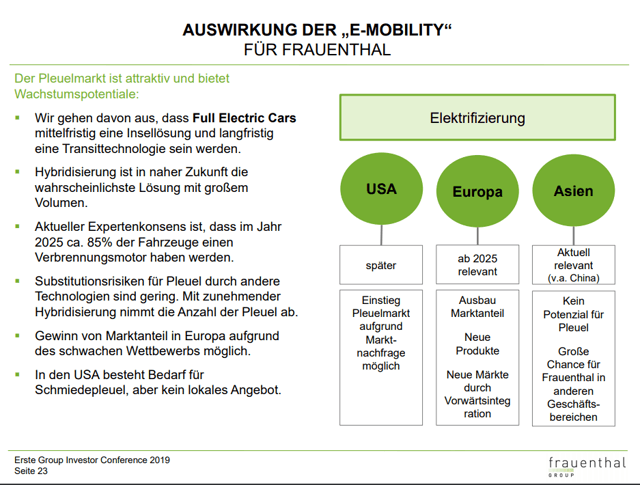 Here you can see a nice video presentation by one of their automotive segments, Gnotec.
Frauenthal Holding AG competitive advantages
I would say the company has a small moat within the distribution for sanitation products in Austria but that is about it. The automotive industry is extremely competitive and supply companies like those owned by Frauenthal will make money in good periods and will likely make no money in bad periods.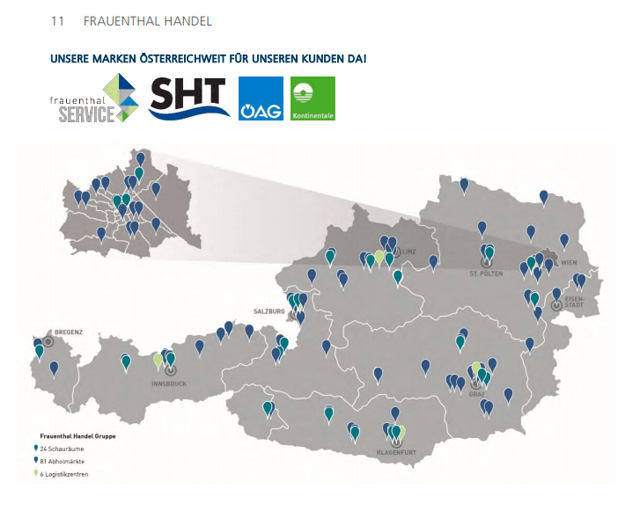 The nature of the businesses makes it impossible to make linear earnings models and that is also why the stock is volatile. Something to keep in mind when looking at its fundamentals.
Frauenthal Holding AG Stock Analysis – Fundamentals
Reveneues almost doubled over the past 10 years mostly thanks to acquisitions as said above. Earnings have always been extremely volatile so we can't really spot a trend there. Book value has increased by 40% over 10 years and there has been a dividend in the good years.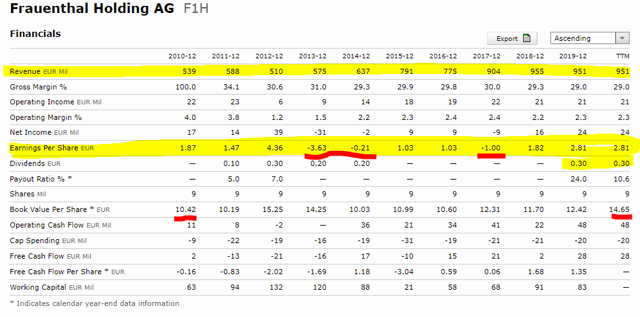 A look at the income statement shows how revenues are good, but margins are thin. However, given the small market capitalization of 134 million EUR, even a few good earnings years make a good return on investment.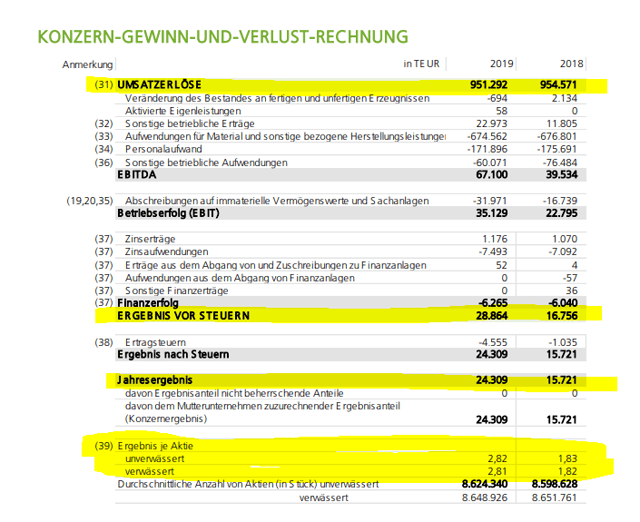 The 2019 earnings of 24.3 million EUR give a price to earnings ratio of just 5.5. However, if I take the average earnings over the last 10 years I get 0.95 EUR per share that gives a cyclically adjusted price to earnings ratio that is closer to 20 and signals how the stock isn't that cheap after all.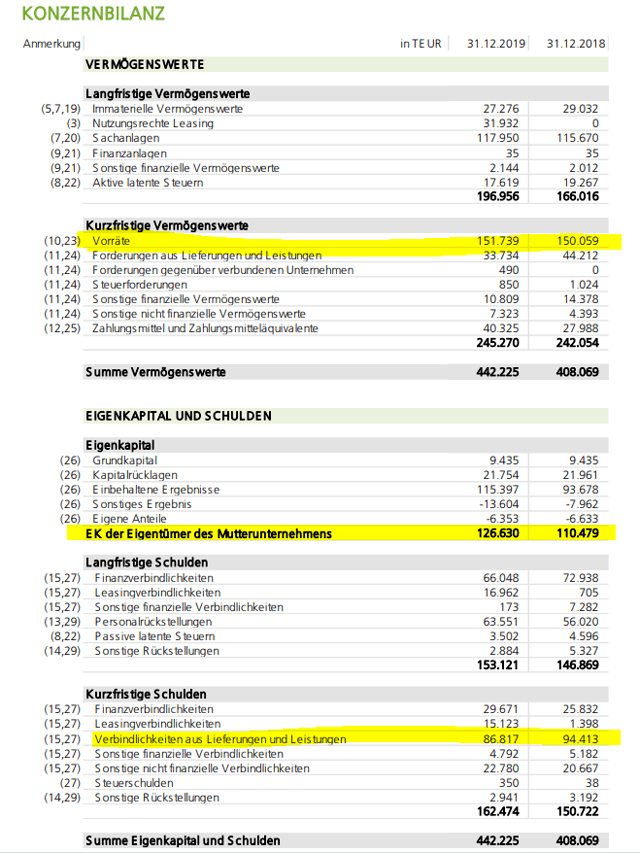 A look at the balance sheet shows how the stock still trades above book value which makes things risky from an investment perspective as the stock mostly traded below book value from 2009 to 2016.
The leverage isn't as big as perhaps perceived if you would look at ratios because being a wholesaler, you have a lot of inventory and consequently high payables. They do have some long-term debt, but given the zero-interest rate environment, the debt should be manageable.
Frauenthal Holding AG Dividend
As the business is cyclical, the dividends are also cyclical.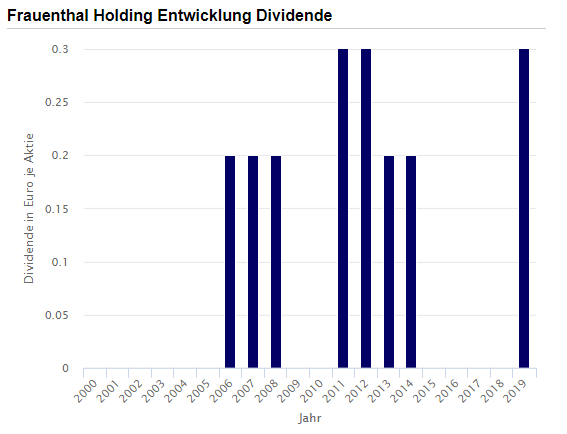 They have paid the dividend for 2019 and for 2018 on the same day so no interruption due to covid (chart above showing 2018 dividend as 2019 dividend, not yet showing the 2019 dividend as 2020 dividend). We will see how will the likely negative earnings over 2020 impact the stock and the possible dividend cut for 2021.
Frauenthal Holding AG Stock Investment Strategy
The thing is that investors are often attracted by good earnings in a good economy which explains the stock market spikes in good times. But the best time to buy a cyclical is when the earnings are negative and the outlook looks bleak like it was the case in 2002 and from 2009 to 2015 – remember how Europe was at the point of breaking up all that time? For further information on how to invest in cyclical stocks, please review our categorization of stocks from an investing point of view.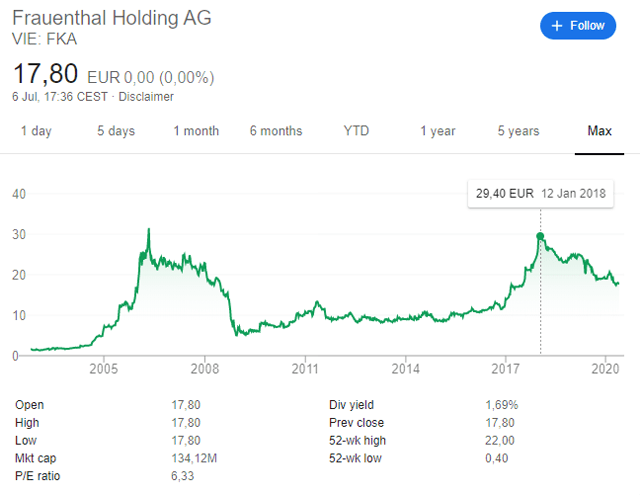 I would assume earnings to be negative for 2020. Given the above chart, the investors and the market watching Frauenthal Holding AG stock will not know what to do with negative earnings and possibly push the stock even lower. At some point, below book value and when the average earnings of the past 10 years give a good return to the investor, it might be time to look again at this boring wholesaler of plumbing products in Austria. Investors interested in Frauenthal Holding AG stock should understand its cyclical nature and look for opportunities when those buying at peak levels like it was the case in January 2018 have given up all hope.
A future reversal in earnings, new dividends and positive outlook will likely push the stock up 3 to 5 times like it has been the case in the last two economic booms.
I will put Frauenthal stock on my watch list of mine and take another look if the stock price falls to single digits when it will be the time to start watching it closely, follow the earnings and nail the possible upturn. A single digit stock price could make Frauenthal stock a low risk/high reward investment which is what we strive for here and analyze companies one by one.
The Frauenthal Holding AG Stock Analysis is part of the full Austrian Stock Market Analysis made by Sven Carlin for the Sven Carlin Stock Market Research Platform.
I love to research businesses and the respective stocks. My goal is to research a few hundred of them each year and then hopefully find a few good investments. The only way to do that is to turn as many stones as possible and follow the interesting businesses closely. I am happy to share the research process here and I hope you enjoyed this and the other stock analyses published here.
If you wish to receive such analyses to your inbox, please subscribe to my newsletter: