CTAC NV AMS: CTAC – Interesting Microcap
CTAC stock is a microcap given its market capitalization of EUR 59 million and microcaps are always interesting but also complex investments because you really never know what you will find.
CTAC NV stock is traded on the Amsterdam Stock Exchange and as I am looking at every stock traded there, here is a quick overview of CTAC too. I am not afraid of buying microcaps if the underlying business is strong and there is a margin of safety – let's see about CTAC NV stock.
CTAC NV Stock Price Overview
CTAC NV stock has a long history as the company went public during a very exuberant time both on the NASDAQ but also on the Amsterdam Stock Exchange. The only issue is that the AEX index is still below the dot-com highs of the late 1990s and CTAC NV stock too.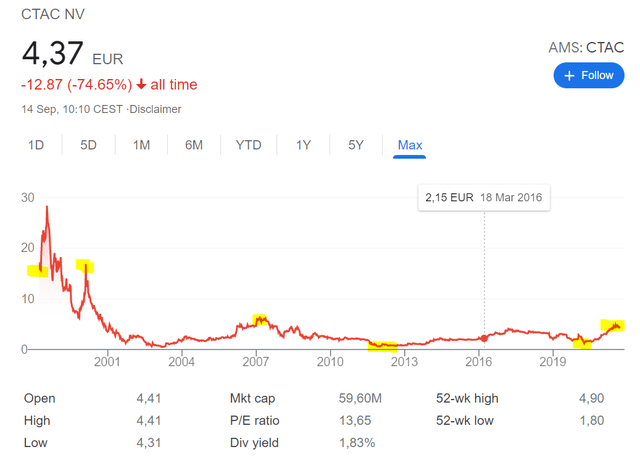 After the exuberance related to the dot-com frenzy, not much good has happened for CTAC NV until 2020 and Covid where the market might expect higher investments in cloud and online might push CTAC NV higher.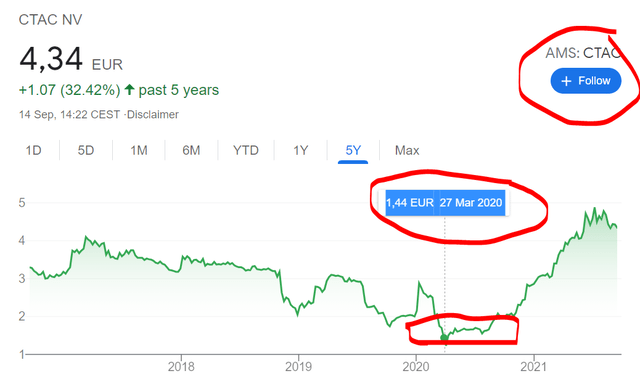 When it comes to microcaps, I would prefer to buy things at or even much below book value that have a good outlook. At the current moment in time, it seems the market is already pricing in good things ahead, and those that invested last year did really good! But, let's see about the business and what is the investment thesis now.
CTAC NV business overview
CTAC NV is really a local business with 85% of revenues coming from Netherlands and the other 15% from Belgium.
CTAC offers consulting, resourcing, cloud services, IP products and maintenance.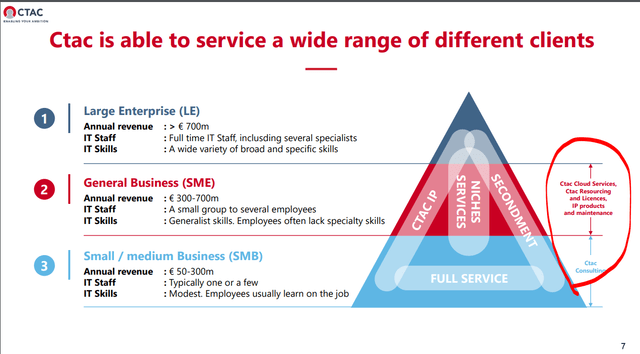 From what I understand they are selling SAP, Microsoft and third party cloud services and charging the consulting part to the customer. That is why they have thin margins as we will see in a moment below.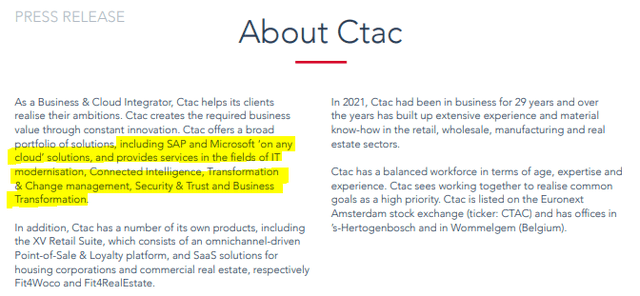 CTAC stock analysis – business overview – Source: CTAC NV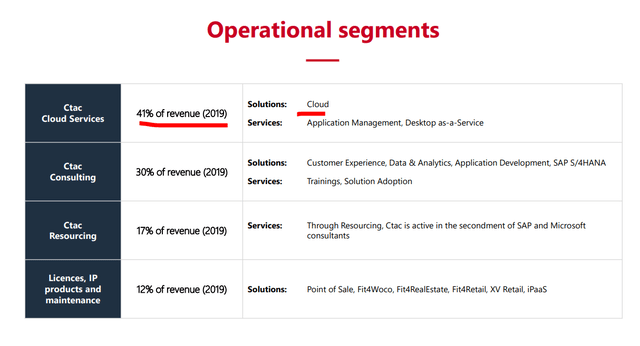 CTAC NV Investor Presentation – Source: CTAC NV
Let's look at the financials.
CTAC NV stock analysis – financials
Covid spending is helping the company and revenues have been growing significantly.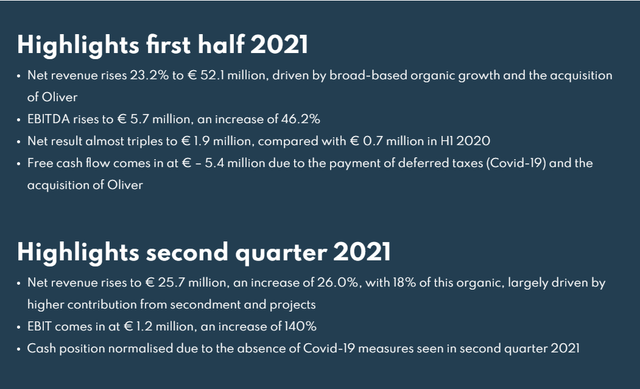 CTAC NV Investor Presentation – Source: CTAC NV
But still the net result is 1.9 million for 1H 2021 that would give 4 million for the year and thus still a forward price to earnings ratio of 15 for 2021. Which is not much in the current market but also not cheap for a microcap.
The company did ok over the last years but there are a few things that intrigue me.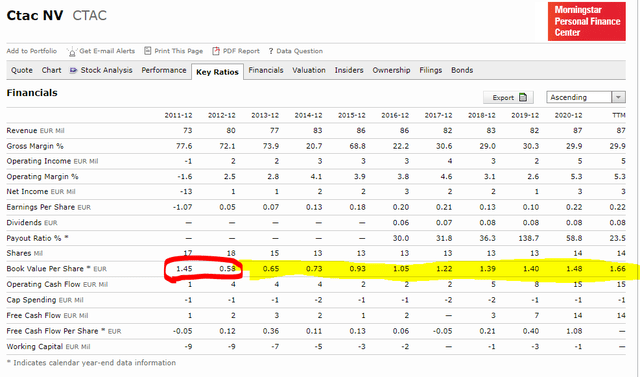 CTAC NV financials – Source: Morningstar
I am seeing a big decline in gross margins and low operating margins, that might be due to an accounting change but none the less, given an operating margin of a few percentage points, CTAC will never offer the potential to scale.
Another issue might come from future impairments on intangible value, that is significant on the balance sheet and will likely increase given a recent acquisition. I see above a big impairment in 2011 and given that currently intangible fixes assets are higher than equity, one could argue whether there is real book value there.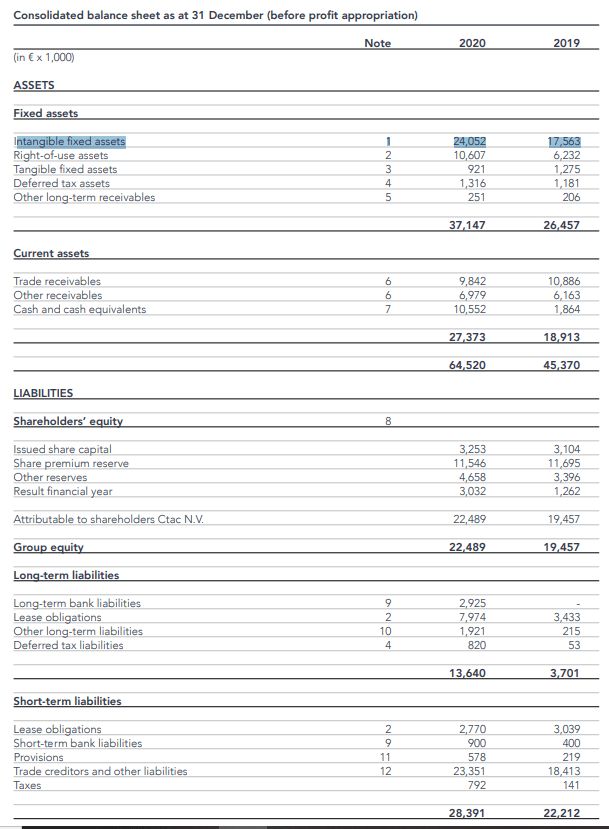 CTAC NV balance sheet – Source: 2021 results
CTAC NV Stock Investment Thesis
For a microcap I would require a total margin of safety where the stock price is below book value, where the business is showing consistent earnings and strong long-term upside. In this case, CTAC NV is trading at approximately 30% of book value, the business did good recently on increased demand for cloud due to covid and is not trading at a valuation of 15. There is nothing bad with that, but for this to be a great value investment with a margin of safety, I would need it to be where it was trading a year ago and then know the business well to have the courage to buy.
I think CTAC NV is an interesting business, a good business and with an interesting proposition. However, I personally don't see a terrific upside with limited downside, it might be there, but I don't see it. Which is something core when it comes to investing in microcaps. One would need to attend meetings, discuss with management, to get a better idea. Given the business model, I will pass on this one, but it has certainly been an interesting microcap stock to research.
I'll keep searching for better businesses to add to my covered stocks list where my goal is to follow 50 businesses, constantly improve the quality of the businesses covered and then select the best ones at the best price to invest in. If you wish to follow what I do, please check my Stock Market Research Platform.