Linz Textil Stock Analysis – Cash Cow With High Dividend
Linz Textil stock overview
Linz Textil stock is a small cap stock with a market capitalization of just 75 million EUR. The trading volume is also low but the stock is trading at multi year lows which could represent an opportunity.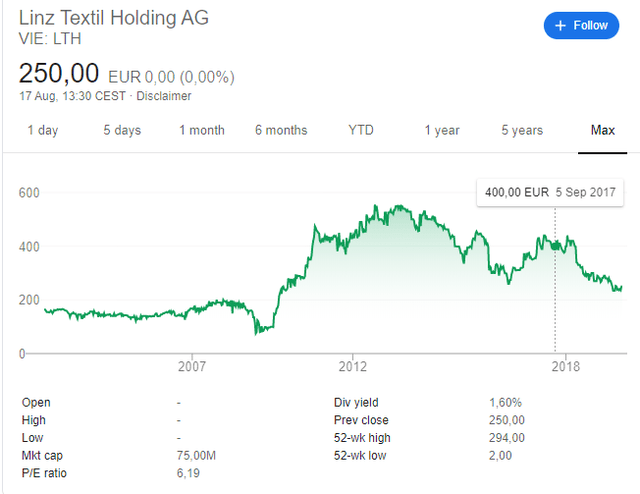 Linz Textil stock ticker: VIE
Linz Textil number of shares outstanding: 300,000
A curious fact is that the stock has been trading since 1872 on the Austrian stock exchange and the upcoming shareholder meeting is number 142.
Linz Textil stock analysis:
Business overview
Fundamentals
Dividend
Investment conclusion
This Linz Textil stock analysis is part of my full analysis of the Austrian stock market, stock by stock, that you can find here:
I do a similar analysis for each company, following Buffett's advice to start with the As when looking for investment opportunities. So, check all the analyses if you like such an approach.
The author: Sven Carlin, Ph.D. – I am passionate about stock market research because I believe a bottom up approach leads to finding the best long-term investments out there. My rule is to turn as many stones as I can to find the best ones. If you enjoy this analysis and approach, don't forget to subscribe to my newsletter at the bottom of this article.
Linz Textil Holding AG business overview
Linz Texil is, as the name says, in the business of making textiles; yarns, fabrics and related products.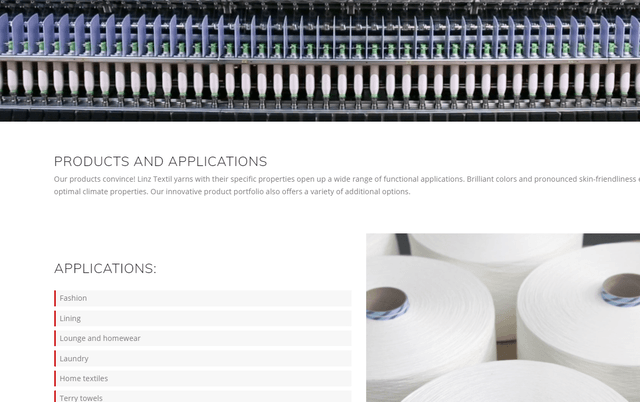 A highly competitive busines environment where it all depends on market prices. Given the current COVID-19 impact on retail, prices in the sector have fallen and that has also impacted the company.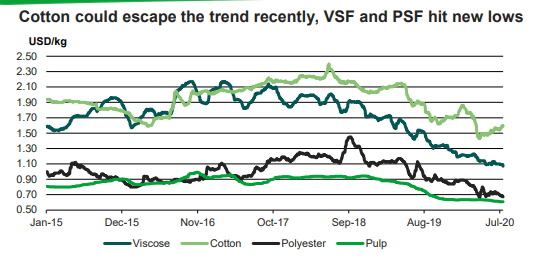 Apart from some local advantages we could say the company doesn't really have a competitive advantage and that it just keeps its position in Austria with some business in Hungary, the Check Republic and Croatia.
The company is diversifying away from the textile business and it has built a 14 million hotel in Linz. They are also building some apartments and one could say the value of the real estate is close to 25 million. Thus, not bad on the 75 million capitalization.
So, let's see what the fundamentals say.
Linz Textil stock fundamentals
Another curious fact about the company is that it has no debt. A rare find these days.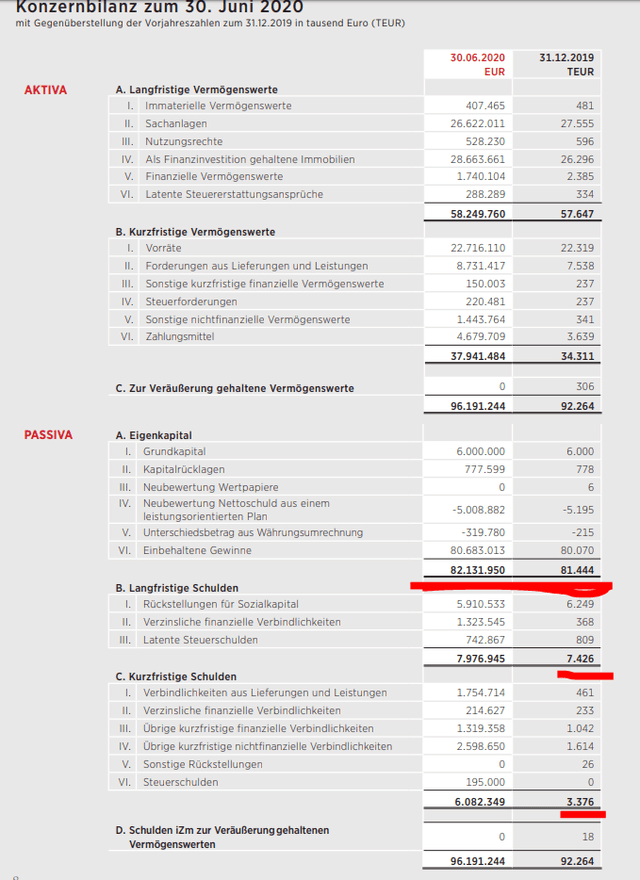 The company is investing little money into production and revenues have been declining constantly. One could categorize this as a cash cow where the intention is to maximize long-term value to shareholders but the general idea is pretty clear; the business will get smaller and smaller except for the diversification efforts.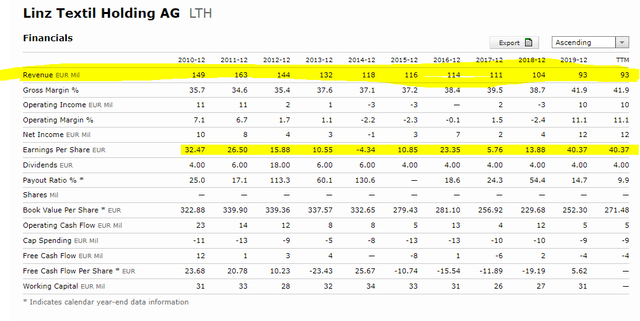 Over the last two quarters, despite the COVID-19 impact the company still managed to remain profitable so that one could hope for an improvement when things return to normal, even if I don't know when that could happen. Earnings per share have been 2 EUR in the first 6 months of 2020 compared to 20 EUR in the first 6 months of 2019.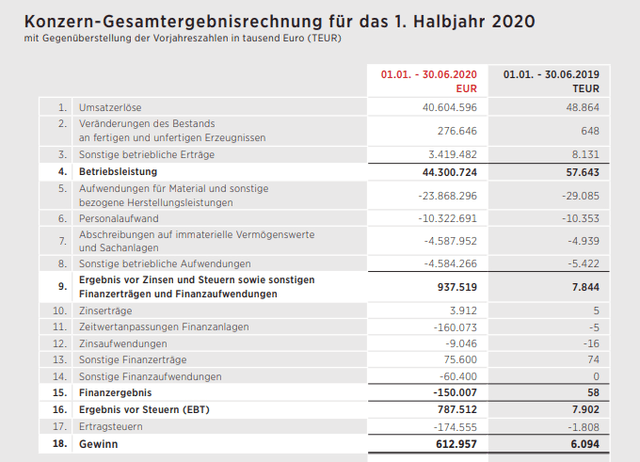 Linz Textil dividend and investment conclusion
The company is paying all available cash flows into dividends and the currently proposed dividend is a regular dividend of 2 EUR alongside a special dividend of 16 EUR. This gives a yield of 7.2% at current stock levels.
Linz Textil stock is about receiving the cash flows for as long as the business remains operational and profitable. They have a high amount of inventory of 22 million EUR which if and when sold could cover for another 4 years of dividends. Plus, they could take on more debt to pay for dividends as they did take 1 million in long-term debt recently.
The real estate investments should lead to some gains as the properties are theirs without debt. They could leverage them once the COVID pandemic is over and increase the payments to shareholders which is an interesting prospect.
However, what I personally don't like is the limited long-term outlook Linz Textil stock offers from an investing perspective as the upside is limited from the business itself. They are investing minimally in just what it takes to keep production running and profitable and that is it.
The risk is that low textile prices put pressure on the balance sheet and that the company is forced to pay lower and lower dividends. In that case, it is likely the stock could fall more and if that happens, you need 5 to 10 years of dividends to cover for the stock price decline. The uncertainty related to the real estate business certainly doesn't help.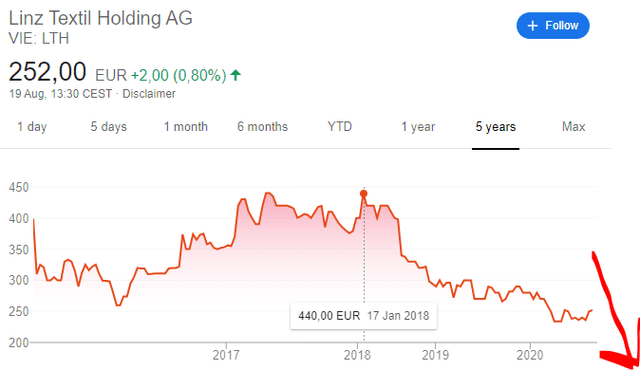 Of course, at some point the stock will rebound, but you never know when and how much will it go down before it rebounds. Other companies like Lenzing AG are investing heavily into new production and it is likely Linz Textil will not be able to maintain margins for a long-term on the same volume of production. Lenzing just invested 260 million EUR in the first 6 months of 2020 while Linz Textil a few million.
In short, this is not an investment I am interested in because I am not that kind of investor, not a cigar butt investor. If you are a Linz Textil shareholder, I would say you should carefully watch the business trends in relation to the stock price performance and see what are other options.
The good thing is that the real estate investments and the cash flows that will still come from the textile business do provide some kind of margin of safety where the likely long term losses are minimal. However, the upside is still questionable.
Linz Textil reminds me of Berkshire Hathaway because this is exactly what Warren Buffett did. He used the available capital from the textile business to build his empire elsewhere. So, be very careful with what you are doing with Linz Textil's dividends.