Lenzing Stock Analysis – Watch This Cyclical Before It Explodes Up
Lenzing stock and stock price overview
Lenzing stock has been one of the most requested businesses for me to analyse as I go along with my analysis of the complete Austrian Stock Market, stock by stock. Most commonly, the reason for a high number of analysis requests is negative stock price action and that is exactly the case with Lenzing AG stock.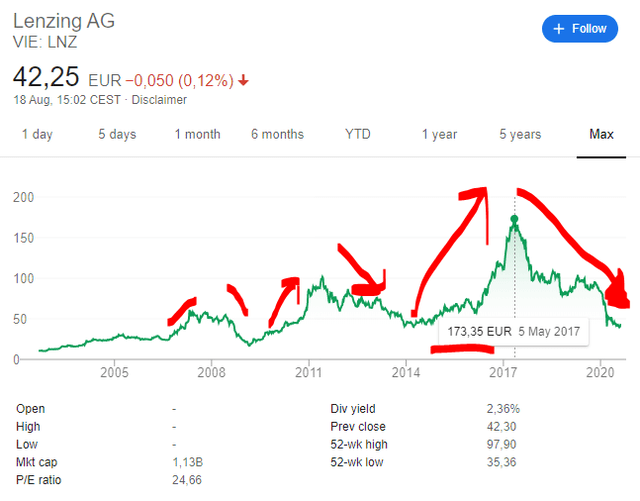 Lenzing stock often behaves in long term trends which would categorize it as a cyclical business. The fact that the stock is below its 2007 levels makes me worried about shareholder value creation, but Lenzing's dividends safet the case.
The investment case for a cyclical like Lenzing is to catch a run up like it was the case from 2014 to 2017, 2009 to 2012 or 2006, then you don't need to care about anything else, you just watch your stock go up 5 to 10 times. Let's see where is Lenzing at the moment in respect to the above investment cycles and whether it could be a low risk, high reward opportunity that we are looking for.
Lenzing stock – ticker: LNZ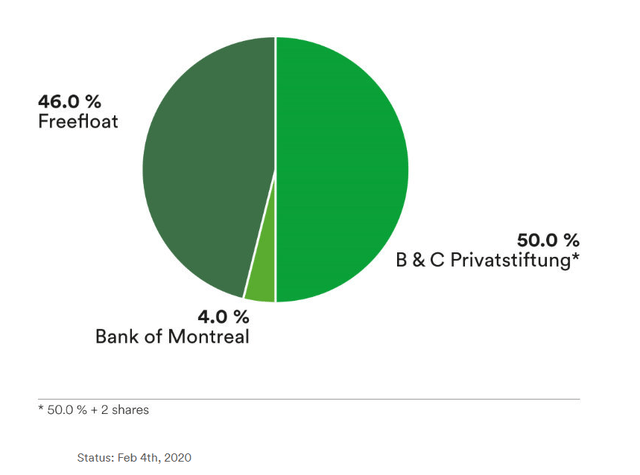 The owner of 50% + 2 shares is B&C Privatstiftung which is a company created in 2000 in order to promote "Austrian entrepreneurship and safeguard the continuing profitability and growth of the companies in which it directly or indirectly holds stakes".
This Lenzing stock analysis will comprehend:
Lenzing stock overview
Lenzing business overview
Lenzing stock fundamental analysis
Lenzing dividend
Lenzing investment conclusion
The author: Sven Carlin, Ph.D. – I am passionate about stock market research because I believe a bottom up approach leads to finding the best long-term investments out there. My rule is to turn as many stones as I can to find the best ones. If you enjoy this analysis and approach, don't forget to subscribe to my newsletter at the bottom of this article.
Lenzing business overview
Lenzing is a company that uses cellulose fibre to produce textiles. You might know the following brands:

The fibre segment: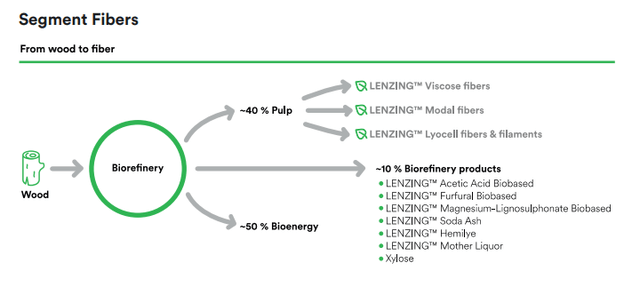 The company is investing heavily and spent 268 million EUR in the first half of 2020 for capital expenditures. They are building the largest production facility for lyocell fibres in the world in Thailand and the world's largest pulp plant of its kind in Brazil. In Q1 2020 they finished the second pilot line for their TENCEL™ Luxe branded filament yarn in Lenzing.
Their target is to increase capacity over time by catering to the need for eco-friendly specialty fibres and also helping with climate targets for companies.
Lenzing's business doesn't only depend on wood fibre prices, but also on the prices of substitute commodities like cotton fibre, viscose and polyester.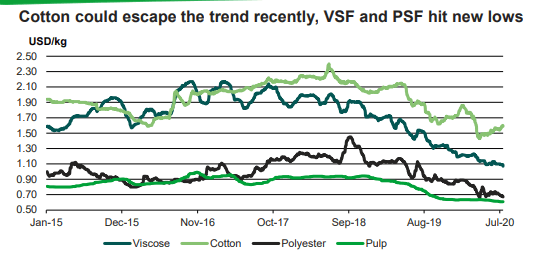 Given the situation in retail, where things are really bad due to COVID, lower commodity prices led to a 26% revenue decline in 1H 2020 for Lenzing.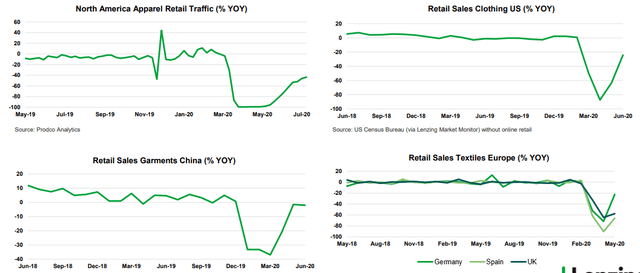 From a quick view at the business, Lenzing looks like a modern textile business that is catering to new trends. Given the investments, we could expect strong growth over time which is a gives a positive mark to the business from that perspective. Alongside economic growth, a growing demand for eco products and the recycling capacity of wood fibre, the future might be bright for Lenzing. But, textiles are a highly competitive environment and it is really hard to create or keep an advantage.
Let's take a look at the fundamentals and see whether it is worth the wait to be a Lenzing shareholder.
Lenzing stock fundamental analysis
As fibre prices declined over 1H 2020, so did Lenzing's revenue. Consequently, EBITDA fell 46.4% but earnings per share remained positive even if those fell from 2.97 EUR in 1H 2019 to 6 cents over the last 6 months. When earnings remain positive, it is unlikely the company will be in big trouble. However, the market usually doesn't know how to price a company without earnings and the stock is usually sold off. This often creates opportunities.
Cash flows have been positive if we exclude the extremely high capital expenditures of 268.7 million EUR. The good thing is that liquid assets are high at 594 million EUR but the bad factor is that net debt went from 511 million at the end of 2019 to the current 809 million EUR.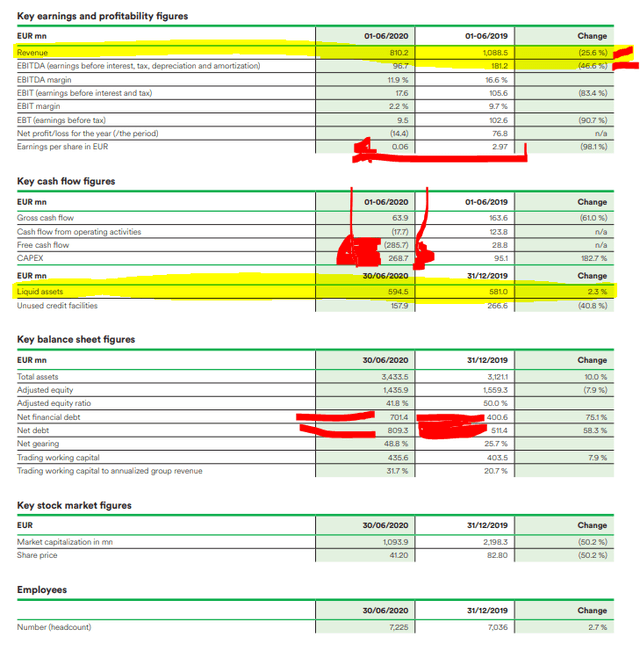 809 million in debt is still manageable on total assets of 3.4 billion EUR and equity of 1.4 billion, so if the company keeps access to cheap European money, there should be no going concern issues.
A look at the historical fundamentals tells us how the company can't find growth and that the focus is on the dividend. More about the dividend below.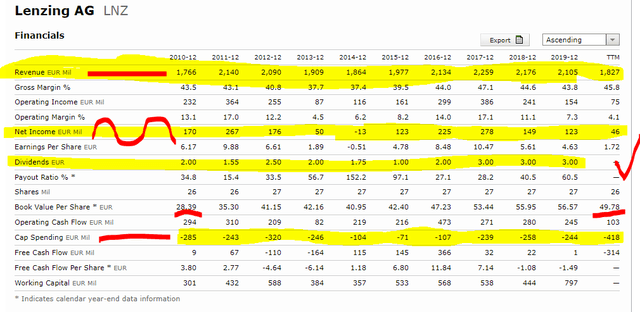 Net income is volatile as is the fibre market but the company has been increasing its dividend and rewarding shareholders.
The negative thing with Lenzing is the high capital intensity while revenues haven't been growing over the past decade. The company spend 2.3 billion EUR on capital expenditures over the last 10 years and keeps spending. That is almost double the current market capitalization so the return on capital invested isn't that high. This is probably because Lenzing operates in a highly competitive environment like fibre.
Lenzing dividend
Lenzing has been a strong dividend payer in the past and the 2019 dividend gives a double-digit yield on the current price. If things return to pre COVID-19, Lenzing might reward shareholders very well.

However, as long as cotton prices remain low, so will Lenzing's margins remain low and one can't expect to see the 5 EUR dividend soon. But, if and when that happens, I think the stock will be at 100 EUR and above again.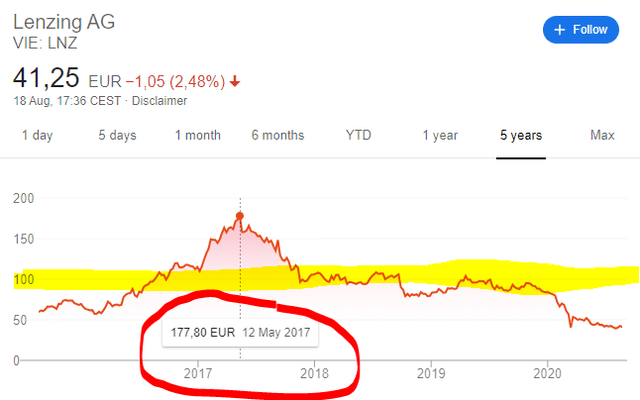 Given the volatility the business has survived in the past due to commodity price cycles, I don't see why this time things would be different.
Lenzing stock investment conclusion
The key when investing in Lenzing is to watch for the time when things start to improve because that is the best time to buy a cyclical stock.
When earnings start to grow, the dividend is reinstated and increased, the market starts projecting such trends into perpetuity as it quickly forgets this is a cyclical. As it did forget it is a cyclical now and sold off because the dividend has been cut and there are no earnings. Peter Lynch, one of the best investors of all time, loved to buy such forgotten cyclicals because at some point in time, the investment return can be stellar, like it was the case from 2014 to 2017. So, if you fancy keeping an eye on a cyclical stock, Lenzing might be for you.
Here is a video explaining Lynch's stock categorization. Enjoy it.