InterContinental Hotels Group Stock Analysis – Overview, Valuation And Investment Approach
A company that has seen its ordinary dividend increase 11% CAGR over the last 15 years, must be something special and well worth watching.
Asset light businesses are taking over the world due to their high margins and high returns on capital.
However, you have to buy them at a fair price. We discuss the expected investing return in relation to the stock price.
InterContinental Hotels Group (NYSE: IHG , LSE: IHG) is a stock that did very well over the past 10 years.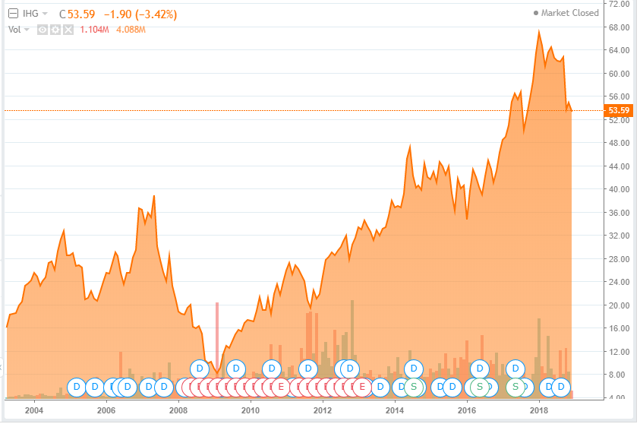 The reasons for such a good performance lie in the high levels of free cash flows the company has been able to generate, its dedication to rewarding shareholders, ordinary dividend growth, industry tailwinds and many special dividends asset sales.
Given the asset light business model and positive long term industry trends, one could assume the growth to continue in the future. The free cash flows are used not only to reward shareholders, but also reinvested with a high return on capital. This is a characteristic only great businesses have. To quote Charlie Munger:
It's obvious that if a company generates high returns on capital and reinvests at high returns, it will do well. But this wouldn't sell books, so there's a lot of twaddle and fuzzy concepts that have been introduced that don't add much.
In light of the above, I have analyzed the company and summarized my findings in the video.
Video content:
1:10 Company overview – business model, strategy, debt, shareholder orientation
7:12 The industry
8:00 Investment perspective and strategy
If you like this approach to investing; focused on great businesses but patient for opportunistic entry points, please check my Stock Market Research Platform.