EVN AG Stock Analysis – Stable Utility – 3.5% dividend
This EVN AG stock analysis is part of my full analysis, stock by stock of all the stocks listed on the Austrian Stock Exchange. Austria is one of the cheapest stock markets globally at the moment so please check the Austria Stock List for interesting investments.
EVN AG Stock – Vienna Stock Exchange: EVN
EVN AG stock has the behaviour of a typical utility offering safety and a good dividend. The reason EVN AG stock price increased over the past years is likely due to lower and lower interest that push asset prices up. In any case, the volatility isn't huge as it is normal for utility stocks.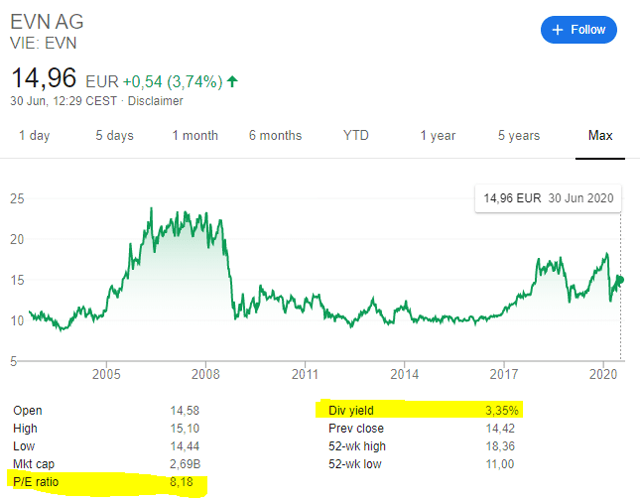 EVN AG dividend yield is 3.35% and the price to earnings ratio is relatively low at 8.18.
EVN AG stock analysis – business overview
EVN AG stock is an Austrian utility. The EVN Group is a producer and transporter of electricity, one of the largest in Europe having over three million customers in 14 countries (Austria and South East Europe). The company also operates in water treatment, natural gas supply and waste management business areas.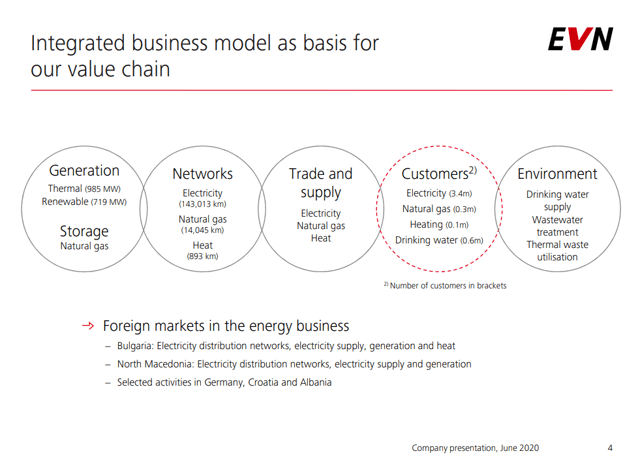 As a typical utility, most of its business is regulated, which means you can predict revenues and cash flows fairly accurately and then see how those fit your investment requirements.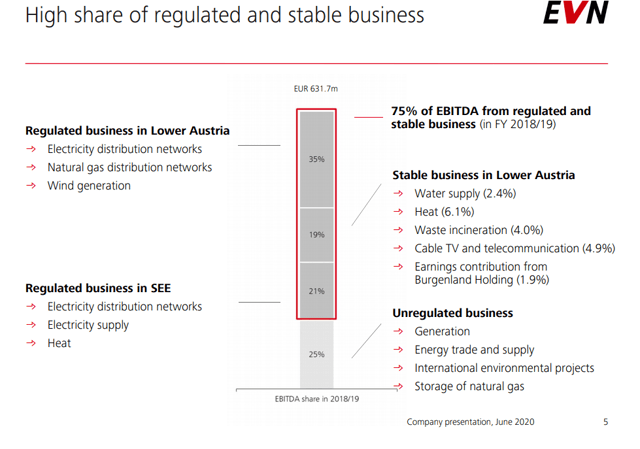 Plus, prices are usually adjusted for annual inflation so you also have some kind of protection from inflationary risks which is not something to overlook in the current environment where central banks are printing money hand over fist.
Unlike typical utilities, EVN AG is also investing in growth. Possibly adding 100 MW of renewable energy, building a cross regional water pipeline in Austria and also expanding in South and Eastern Europe.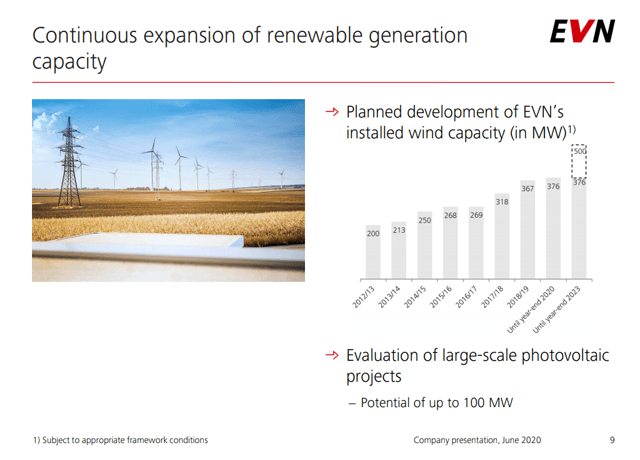 They are also diversifying into typical utility projects like wastewater.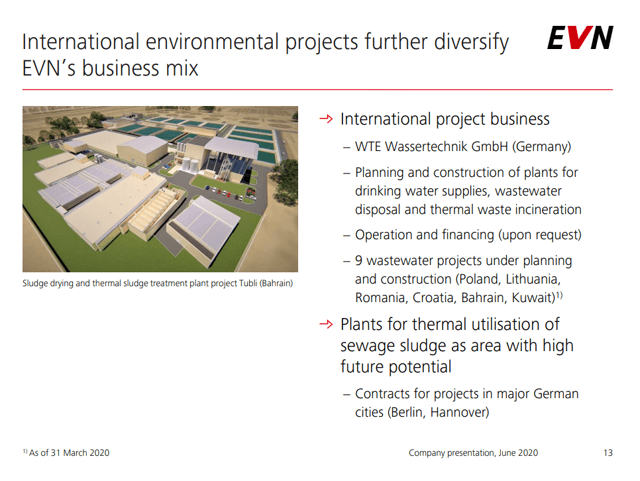 All the diversification investments discussed above means that the company will likely continue to invest part of the profits for future growth which is an important factor to consider when investing in utility stocks as some are just cash cows but some do offer growth too, alongside inflation protection. The key to watch is the return on capital invested that we will analyse withing the company valuation below.
EVN AG also has some investments that give a significant contribution to profits. We are going to account for those within the general valuation, but it is always good to keep in mind some of those can be sold if a good offer comes along. The conservative value of 62.2 million in profits could be above 600 million which is 25% of the current market cap already.
The subsidiary, Burgenland Holding AG has been analysed here Burgenland Stock Analysis. The market capitalization is 258 million so the value for EVN AG should be 73.63% of that or 190 million EUR. Burgenland AG gives a contribution of 12.2 million and has a valuation of 190 million EUR for a price to earnings ratio of 15.57. If valued at the same basis, all the 3 strategic investments shown below should have a value of 968 million. Good to keep in mind when valuing EVN AG stock.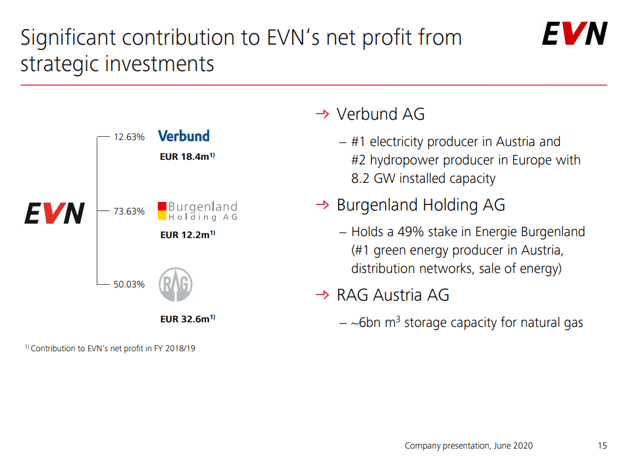 The business outlook is stable and in line with the strategy discussed above.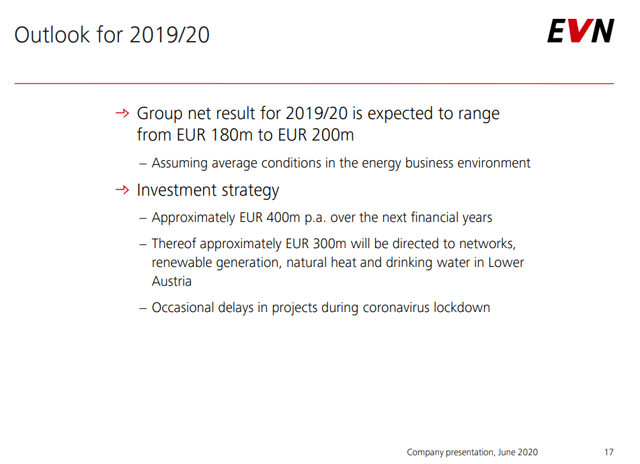 EVN AG stock is owned by the Province of lower Austria so it should be without many hidden risks to shareholders.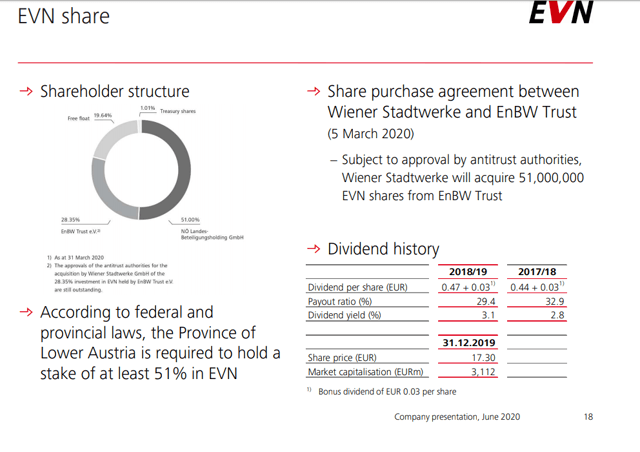 EVN AG stock analysis – fundamentals
When analysing a utility, it is key to look for leverage and book value. The average return on capital, also regulated is around 5%, so we can expect a similar return on the book value of the assets.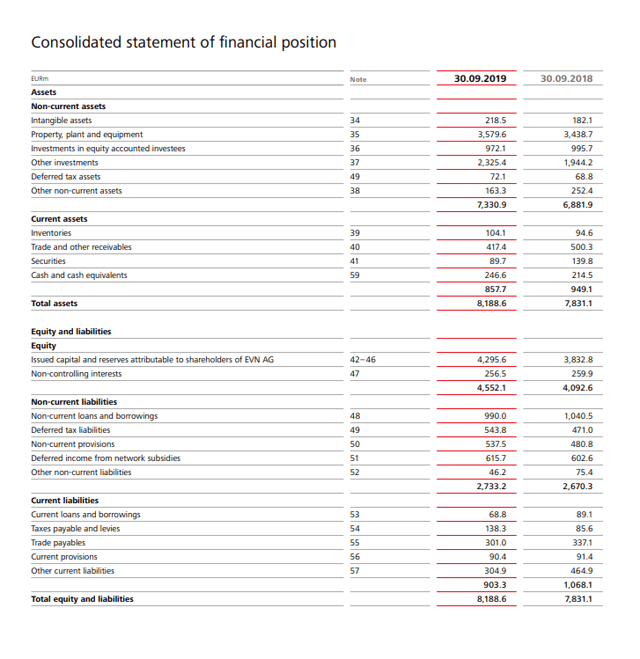 The book value is good, with 4.5 billion EUR of shareholder equity on 8.1 billion on total assets of which just 1 billion is in the form of long-term debt. Current assets cover for current liabilities. The price to book value is 0.6 which is a relatively low ratio. Compare it to the S&P 500 average of 3.2.
A return of 5% on equity of 4.5 billion gets you 225 million which is in line with EVN's net average profit per year.
EVN AG stock valuation
There are various ways we can value EVN AG stock. We can use:
1) Value to owner
2) Relative value
3) Value to you compared to other businesses
1) The value to an owner is simple to determine as we have recently had Wiener Stadwerke acquire 28.35% of the company for 870 million EUR. This would give it a valuation of 3.065 billion EUR which is a bit higher than the current market capitalization of 2.6 billion EUR. As you can't really own the company given the government owns it, it is unlikely to see a takeover that could give you a good return.
2) On relative value, one can compare it to industry peers, country risk, WACC, EBITDA and many other metrics. This is something I don't usually do because, as an Austrian utility stock paying a 3.35%, it is cheap compared to bonds but it is expensive compared to Russian stocks for example. So, what I care about are owner's earnings, what the company is doing with the money and how much it is increasing my wealth.
3) Owner's earnings valuation
Well, what you get is the dividend which makes things simple.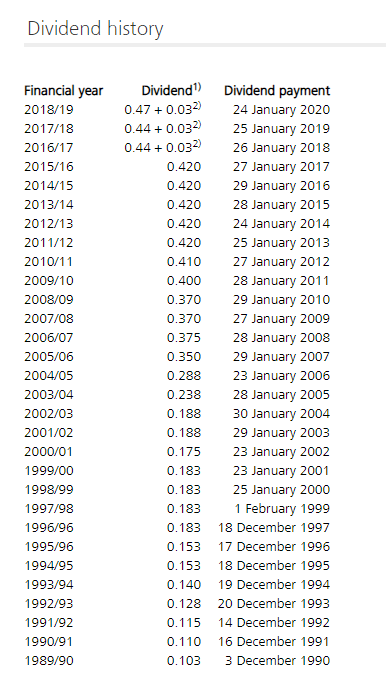 Then you look at what is the likelihood that the dividend increases over time as dividend increases are also what drives the stock price. When it comes to EVN AG stock and its dividend, the situation isn't stellar.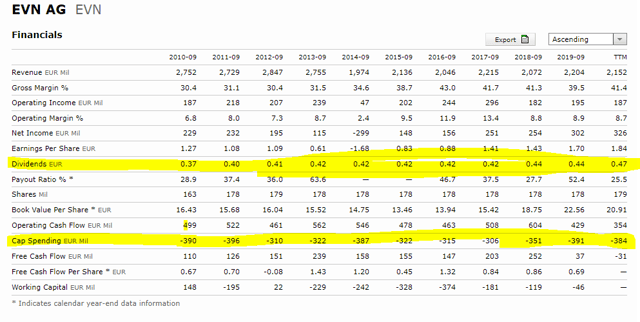 Revenue has been declining for the last 10 years, the dividend increases have been small despite the capital expenditures between 300 and 400 million per year that leave for little free cash flow.
Also, the book value has increased for just 4 EUR per share in 10 years which leads to the conclusion that the value created by EVN AG for shareholders is approximately 0.4 EUR per year from the book value increase plus 0.47 from the dividend which is 0.87 EUR. That results in a PE ratio of 17 that will likely deliver an investment return of 5.88% if the company continues to perform as it did in the past. Given the diversification into new businesses and investments at similar returns on capital, it is likely the return will be similar in the future too.
EVN AG stock investment conclusion
The beauty of investing in utilities is that those are pretty straightforward businesses. You know what you get and there is not much excitement about it. Enron was a company that tried to do things differently and we all know how it ended. With EVN AG you get a good dividend and some value improvements alongside relative inflation protection. However, you shouldn't expect miracles. Therefore, when it comes to giving an investment opinion about a stock like EVN AG, the conclusion is that it depends on you and how such a boring business might fit your portfolio.
For me personally, I prefer businesses that have it all, potential for growth but also a margin of safety like EVN AG stock surely has. The thing is that you need to look at many many businesses to find such a great business to invest in and that is why I am looking at all the Austrian stocks at the moment with the hope of finding only one that has the potential to become a great investment. EVN AG stock is not likely to be such an investment.
The EVN AG Stock Analysis is part of the full Austrian Stock Market Analysis make by Sven Carlin for the Sven Carlin Stock Market Research Platform.
If you wish to receive such analyses to your inbox, please subscribe to my newsletter: