Burgenland Stock Analysis – A Typical Utility With A 3.6% Yield
Burgenland stock analysis is part of my full analysis, stock by stock of all the stocks listed on the Austrian Stock Exchange. Austria is one of the cheapest stock markets globally at the moment so please check the Austria Stock List for interesting investments.
Burgenland Stock Quote and Price Analysis
Burgenland stock represents Burgenland Holding AG was set up on 25 January 1990 as a holding company in the partial privatisation process of BEGAS Energie AG and Burgenländische Elektrizitätswirtschafts-AG (BEWAG).

Burgenland stock ticker – Vienna: BHD
Burgenland Holding AG holds a 49% stake of the share capital of Energie Burgenland AG, which resulted retroactively as of 30 September 2011 from the merger of BEGAS Energie AG (BEGAS) into Burgenländische Elektrizitätswirtschafts-AG (BEWAG) at the end of June 2012. The remaining 51% of the shares are held by Landesholding Burgenland GmbH.
Burgenland stock represents an ownership vehicle into the Burgenland utility, Energie Burgenland AG.
The trading volume is very low. The market capitalization is 258 million EUR.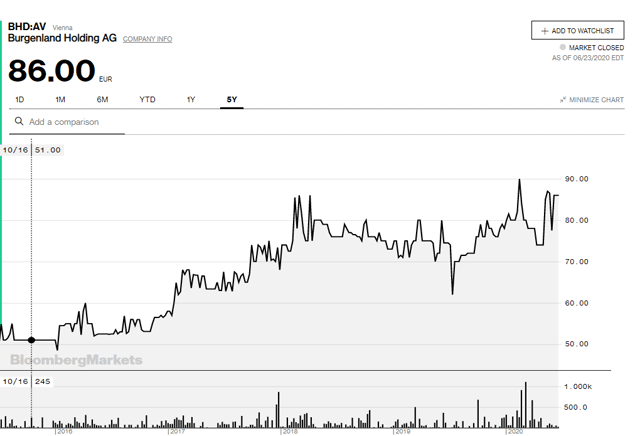 Burgentland Holding AG Stock Fundamentals
It holds a stake in a stable utility that results in stable financials. No excitement there.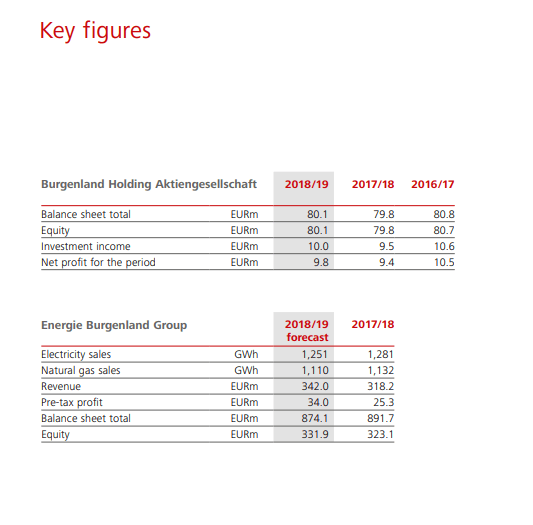 Burgenland stock investment thesis
Burgenland is just a vehicle that pays out the dividend from Energie Burgenland AG. The company has no debt and no employees. The dividend is likely to be standard around 9.5 million that gives a dividend yield of 3.6% before taxes. Not bad but also nothing special. However, if interest rates stay low and close to zero, the dividend might be even more attractive for investors and you never know what can happen to the stock as it was the case over the last 5 years.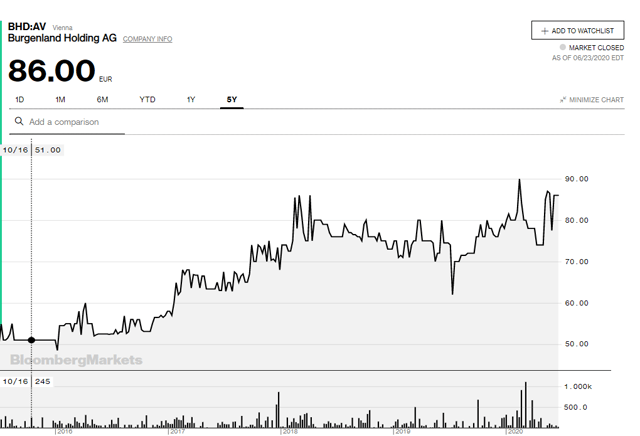 Further, it is also likely a protection investment against inflation as the company might transfer any price increases onto customers as utilities usually do. If consumption slowly grows, that might add something to the long-term returns.
I would put this into the Austrian dividend stock bucket where we have already analyzed Agrana stock that has a bit higher dividend and also more potential. Perhaps a bit less safety but you have to see what best fits your portfolio.
I would say Burgenland stock it is risky from a price perspective because if interest rates go up and the company can't increase prices due to political reasons, the stock can soon return to 2015 levels, and then you would need 10 years just to break even on your investment.
The Burgenland Stock Analysis is part of the full Austrian Stock Market Analysis make by Sven Carlin for the Sven Carlin Stock Market Research Platform.
If you wish to receive such analyses to your inbox, please subscribe to my newsletter: