Marinomed Biotech Stock Analysis – A Hidden COVID-19 Stock offering 'a HUGE POTENTIAL'
Marinomed Biotech Stock Overview
Marinomed Biotech Stock ticker – VIE: MARI
Marinomed Biotech stock is a recent IPO that has done well since it went public in February 2019 as it is up 22%.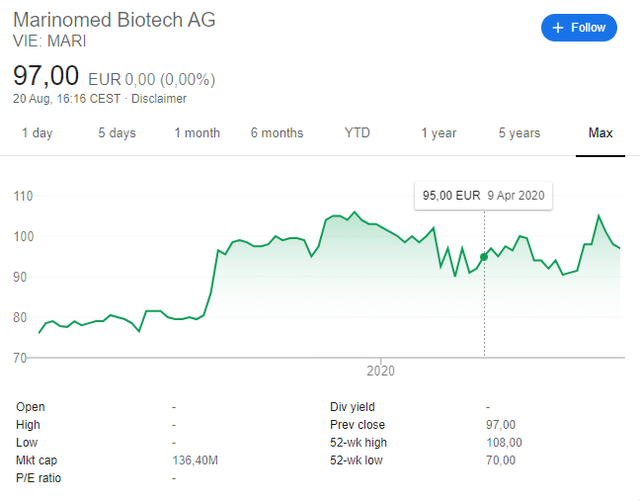 With an IPO (initial public offering) it is always good to understand the history of the company and the reason for the IPO. In this case, there were convertible bonds issued in the past and an IPO is always a good way to cash out and diversify your risks as an investor/manager/owner. With Marinomed, we have had a convertible bond issue that was converted at an IPO so going public was a clear exit strategy for some of the early investors.
For me, if the business is not supported by good fundamentals, what we'll discuss in a moment, and the investment thesis is based just on promises, then an early IPO is often just an exit strategy. Marinomed Biotech also go 20 million EUR in the IPO that will be used for growth and investments, which is another side of the medal.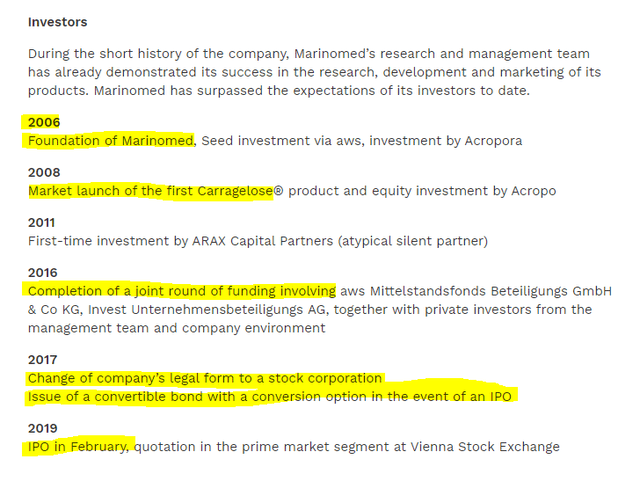 The stock is mostly traded in free float but 27% of the company is owned by the management.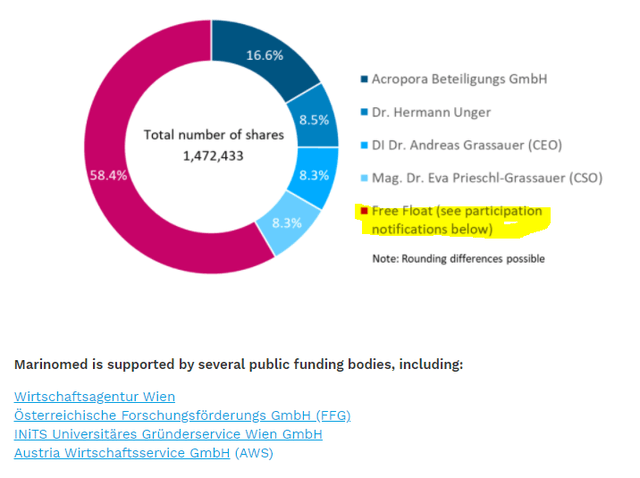 The Marinomed Biotech stock analysis will comprehend the following:
Marinomed Biotech stock overview
Marinomed Biotech business overview
Marinomed Biotech stock fundamentals
Marinomed Biotech stock investment thesis
The analysis is part of my stock by stock analysis of the Austrian stock market. Please check it out as it is almost complete and subscribe to my newsletter at the bottom of this article to get updated as I write up the analyses on Austrian stock and future lists..
About the author: Sven Carlin, Ph.D. – full time investor and stock market researcher
My life passion is to find low risk high reward investments and the way that has always worked for me is to go through stock lists in order to find stocks that others have not seen yet. Marinomed Biotech is a perfect example because its focus are respiratory drugs and COVID-19, but the stock hasn't even moved since the pandemic started. Let's look at the fundamentals and the business in order to see whether there is an investment opportunity.
Marinomed Biotech business overview
Marinomed Biotech has two platforms for over the counter cold products: Carragelose and Marinosolv.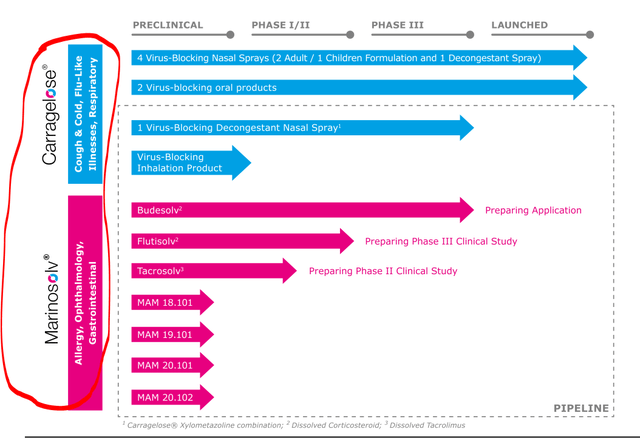 Marinosolv is something that increases the bioavailability of hardly soluble compounds to treat sensitive tissues such as nose and eyes via the Marinosolv® technology platform. I am no specialist in the field so I really have no idea how it works, but here is what it does.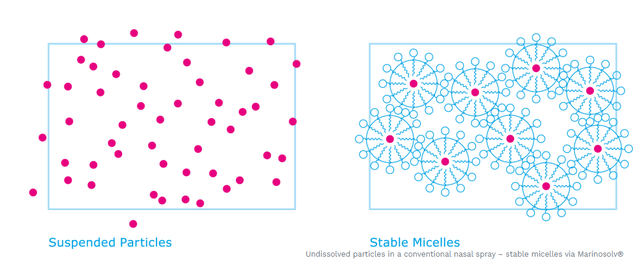 The Carragelose® platform, to quote: "comprises innovative patent protected products targeting viral infections of the respiratory tract. Carragelose® is based on a red algae compound that can treat more than 200 different strains of virus where it creates a physical barrier on the nasal and oral mucosa to prevent viruses from attaching to cells. This can prevent or noticeably reduce the duration of a cold. At the same time, the compound forms a soothing and moisturizing barrier on the nose and throat."

Now, what I am allergic when it comes to investing are big, buzzy words. Those words are there for only one reason; to make investors excited about growth projects in order to push the stock higher and higher. Marinomed Biotech is promising lots of growth!

Marinomed Biotech Marinosolv – "OFFERING A HUGE POTENTIAL"

INNOVATIVE is another dangerous word!
Their business investment highlights are full of buzzy words: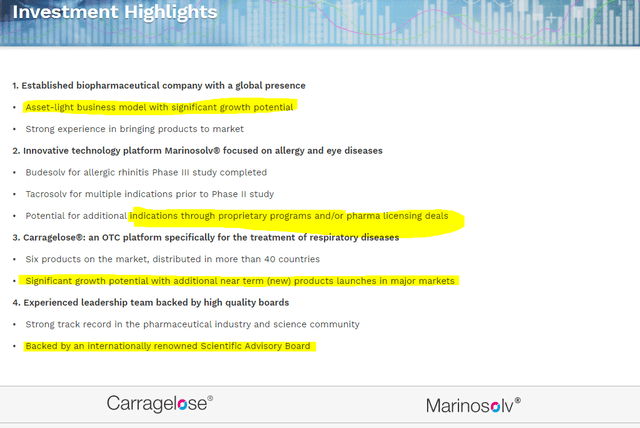 Allow for a bit of irony here, but, if you are in the business, you can't avoid mentioning how good your product is against COVID-19. However, given the stock hasn't moved on COVID-19 news, it seems the market isn't buying it.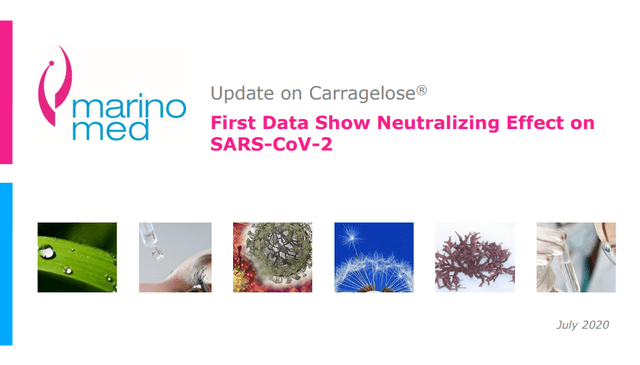 According to their investor presentation, their drug really helps with COVID-19.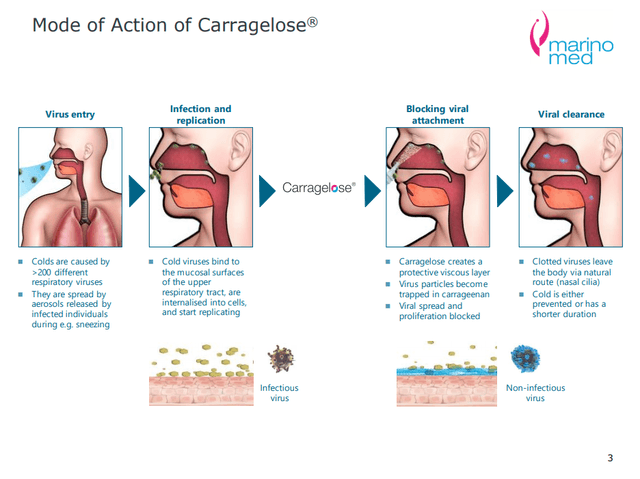 But, here they show that there is a lot of competition and their product isn't really miraculous.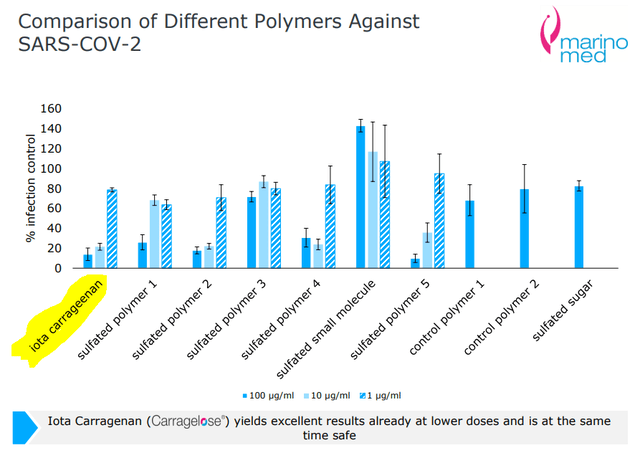 Their plan is also to solve pneumonia.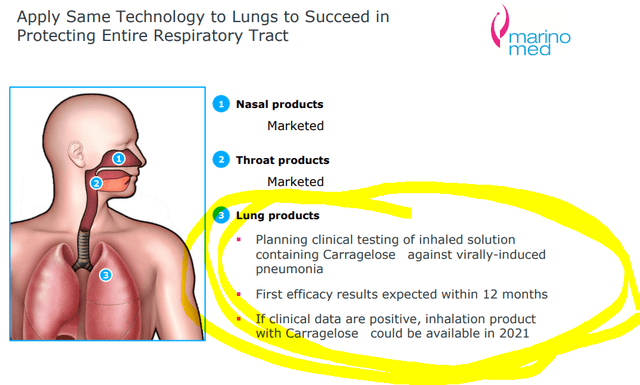 One of the dangerous things with these buzz words and miraculous solutions is that many companies use those words just to get the attention of the public. Do you remember two years ago how all companies were implementing block chain technologies into their systems? Well, when a manager uses such a buzz word without even knowing how it will help the company, it is another red flag to watch for.
Marinomed Biotech stock factual check
When a small company like this promises a lot, a good thing to do is to check the facts in order to prevent you from catching an investment cold. No drug can help with that but a great way to check those facts is to go to Dr Google.
So, we have found this on Google: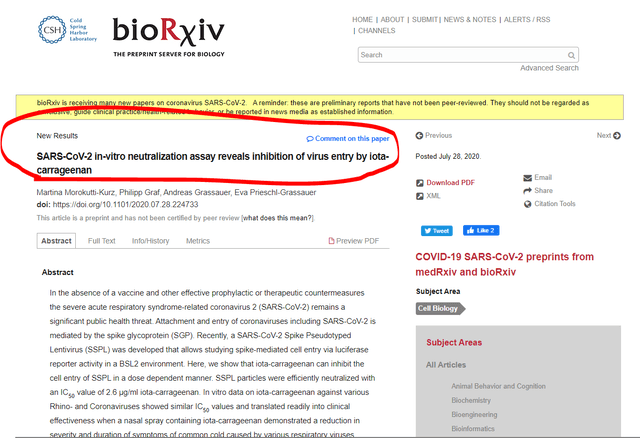 Article published on bioRxiv by Martina Morokutti-Kurz, Philipp Graf, Andreas Grassauer, Eva Prieschl-Grassauer who, law and behold, all work for the company. So, for now it is just them saying it works. There is a long road from applying some sea weed spray to helping humanity unfortunately, but you never know.
On one hand you can say that Eva-Prieschl Grassauer is a specialist in how nasal spray works, but not on pandemics or COVID-19 like viruses. So, this is really a long-shot and they probably had to write this up to get the following funding:
As governments are throwing money, fortunately free money as it is being printed hand over fist, on COVID treatment ideas, if you are in the business and you show a non-peer reviewed article, that seems enough to get some funding and keep you going.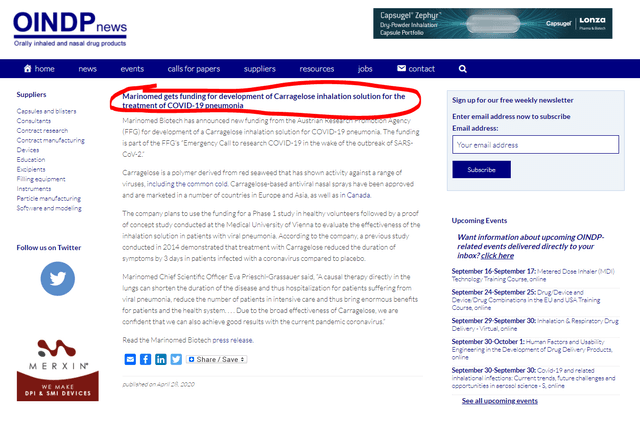 Source: ONIDP
All in all very interesting, and I give them credit for their attitude and approach, but let's look at the fundamentals, those always tell the truth. If the story isn't backed by fundamentals, this is a very risky investment.
Marinomed Biotech stock fundamentals
They are calling this situation the "Corona season" already??? I have no comments on that!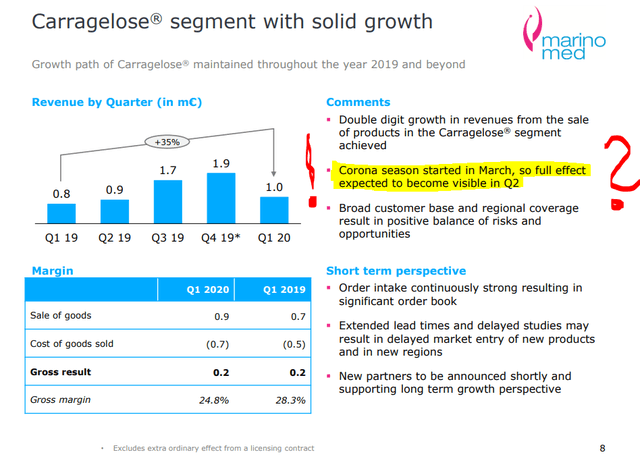 And below you will find the reason why then need to look good and sell hope of growth as fast as possible.
Their revenue in Q1 2020 was just 1 million EUR, their 12-month trailing revenue is 5.5 million EUR and they lost 1.4 million EUR in the last quarter with negative cash flows of 2 million.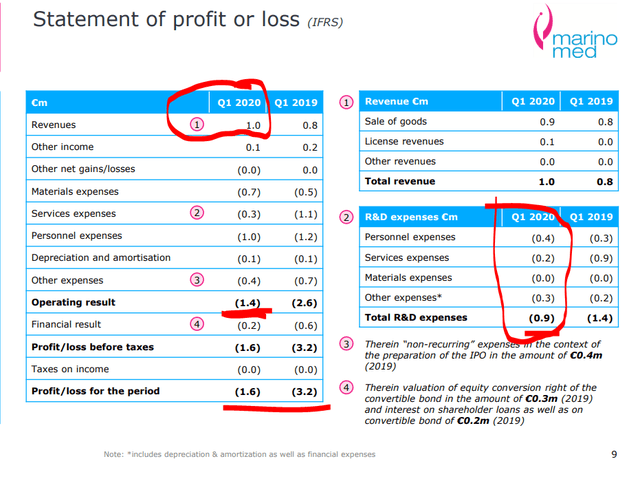 Thanks to the IPO, they have still enough cash to survive for more than a year, but if the products don't get traction, the business might get in trouble if they don't find new investors to keep the show running.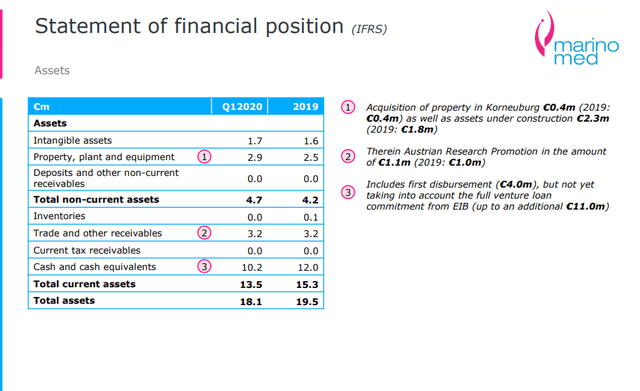 Their outlook is positive, of course!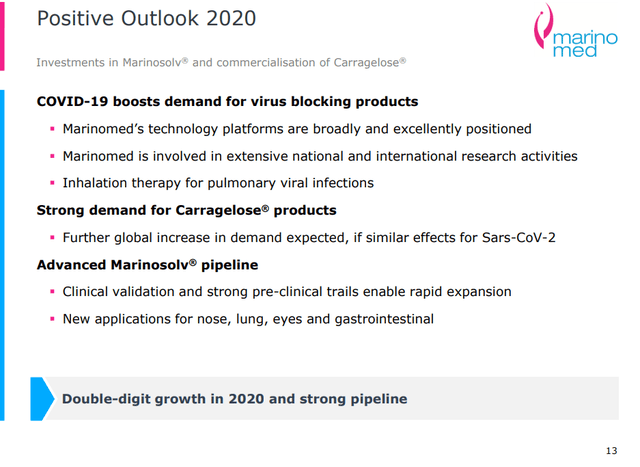 Marinomed Biotech stock investment thesis
What I can't believe is that a company with 5 million EUR in revenues can manage to get 20 million in an IPO and convert 13 million EUR of convertible bonds. Plus, the market capitalization at the IPO was 97 million EUR and now is 136 million EUR. 136 million EUR of market capitalization on 6 million EUR of revenues and negative 8 million EUR of cash flows ?!?!?!
I always knew that biotech stocks are risky but this really blows my mind. In order to justify the market capitalization, they should increase revenues many times over and I don't see when and how will that happen.
Of course, this is just an overview, my first impression and my opinion on the company. I am sure I don't see the full picture and I am missing something very important or I don't comprehend the potential scale of this business. But, I'll leave that to investors and researchers that are willing to dig deeper than me. I have seen enough!
Actually, I have a positive from this, I will do an IPO at the Austrian stock market, my YouTube channel doesn't get to 5 million in revenue, but is profitable and is growing much faster than the 20% yearly growth rate Marinomed is showing. Perhaps I should aim for a valuation of 272 million EUR, double Marinomed's because my YouTube is profitable and at the same time growing faster, much faster!
Don't forget to sign up for my newsletter where I'll update you weekly on new stock analyses.