Fabasoft Stock Analysis – Returns Depend On Future Growth
This Fabasoft stock analysis is part of my full analysis, stock by stock of all the stocks listed on the Austrian Stock Exchange. Austria is one of the cheapest stock markets globally at the moment so please check the Austria Stock List for interesting investments ideas and research on all stocks.
Here is the video analysis, written Fabasoft stock analysis continues below.
Fabasoft Stock Overview
XTRA: FAA, VIE: FAA
I am very curious to research Fabasoft stock because it has been a 10 bagger over the last 5 years which exactly what I am always looking for, to invest in a new 10 bagger. In this analysis we are going to discuss the Fabasoft's stock investment potential but also look at it from an educational perspective to see what are the factors to look for in order to find future stocks that will go up 10 times.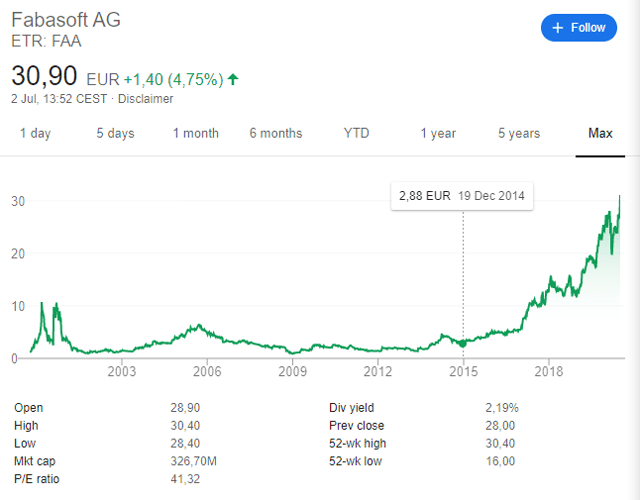 Fabasoft stock dividend yield is 2.19%, has a relatively low market capitalization which is always good because it is easier to grow from a lower base but also has a price to earnings ratio above 40 which shows it is priced for more growth ahead.
Fabasoft stock analysis – business overview
Fabasoft AG is a software manufacturer that specializes in the digitalization and automation of business processes for large organizations. Key offerings are Mindbreeze Inspire – a leader in cognitive search, Fabasoft Business Process Cloud, Fabasoft Secomo for encripting documents alongside XPublisher.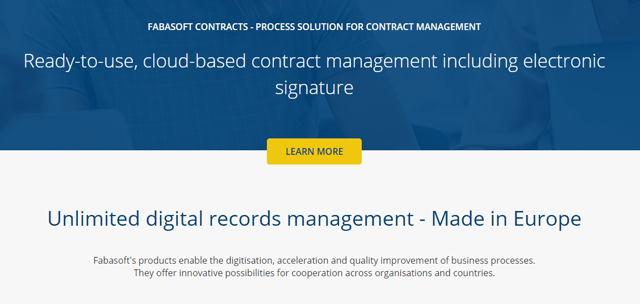 In 2019 Fabasoft acquired German software company XPublisher.
Fabasoft sells software which takes one time to make and can be sold to many customers at a high margin. The company is mostly doing business with government owned agencies in the public sector. They are targeting the digitalization process market with government agencies.
Fabasoft stock price spike – key factors!
Fabasoft stock price spiked over the last 5 years and it is very interesting to see why. In the annual report I have found that they had spent 2 million EUR on buybacks in 2017. The market capitalization was significantly lower than the current, and with just 2 million they managed to buy 2.52% of shares outstanding. Such a buyback creates a big impact, especially with a low float as the two founders own 55%. They sold those treasury shares to institutional investors at the end of 2019 at 23 EUR per share.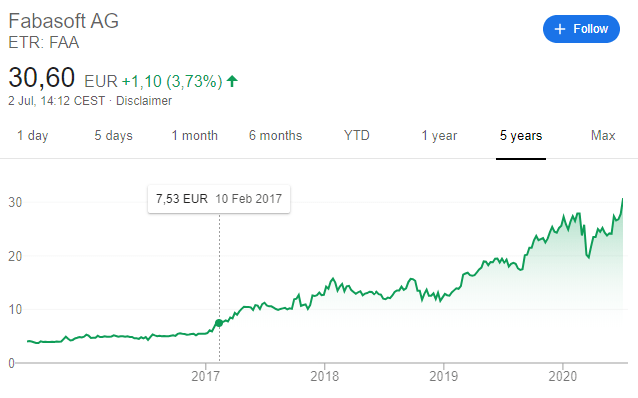 The company will likely issue more shares in the coming 5 years if they find some interesting acquisition opportunities as they can issue new 5.5 million shares.

Fabasoft's business was stagnating for a long time and then got traction in 2017, consequently the stock price started to go up.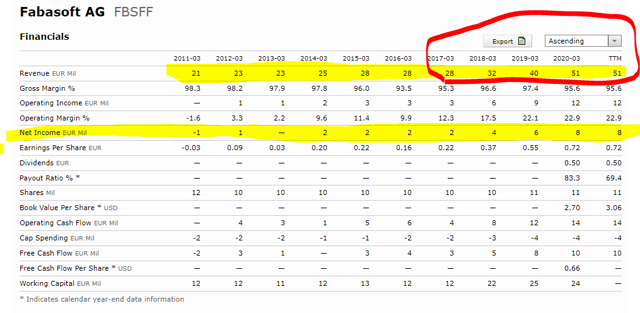 The key with the stock was the higher dividend in 2020 and the quadruple earnings that went from 2 million to 8 million.
I have taken a look at the 2016/2017 annual report and the key factor for Fabasoft's stock price has been the development of a new product that had started to get traction – Mindbreeze. The new product increased sales but was created on top of an already profitable business. Even then they paid a dividend of 0.18 cents. The dividend now is 0.5 EUR and expected to grow even more if the company continues to grow by 25% in the future.
To sum up, the following factors have pushed Fabasoft's stock up 10x over the last 5 years:
The company was already profitable and doing ok,
A new product has created profitable growth that doubled revenue alongside growth on other segments
Profits have quadrupled
The dividend has been increased from 0.18 to 0.50 EUR
The company did some buybacks
The current outlook is for more growth as the digitalization trend continues
I think the key is that the dividend and earnings almost quadrupled alongside the market switching its perspective on Fabasoft stock, from a no growth to a growth stock. Nothing spectacular but it gives you a 10-bagger.
Before discussing the outlook for Fabasoft, I would like to add that the only way to find such an opportunity is to follow a stock closely over time and understand when and where will the growth come from. Sooner or later, the market will recognize it too.
Fabasoft stock outlook
Now, after the stock went up 10x already, it is priced as a pure growth stock and stock appreciation will depend on future growth as it is the case for growth stocks. You can check my tool for analysing growth stocks called the delta of the delta.
If they continue to grow at 25% per year, the market will keep an equal valuation and consequently the stocks will continue to rise.
From a business perspective, I have to admit I am not knowledgeable enough to understand the German speaking public needs for software digitalization and the competitive environment for providers, so I don't know whether the growth rate is likely to be continued indefinitely. As a value investor, I would have preferred to find a business like Fabasoft in 2015, when the growth option hasn't been priced in yet.
I'll keep digging into each stock listed in Austria, then into each copper miner stock and then into other sectors and hopefully I'll find my ten bagger too.
If you wish to receive such analyses to your inbox, please subscribe to my newsletter: