Corbion Stock Analysis (AMS: CRBN) – Incubator Promises
This Corbion stock analysis is part of my full analysis of the stocks traded on the Amsterdam stock exchange. I am looking for future 10-baggers or more so the best way to find those is to look at smaller companies that have room to run. If you like to get updates on my research, please subscribe to my newsletter.
Corbion Stock Price Overview (AMS:CRBN)
Corbion stock has been publicly traded for more than 25 years now. This gives an indication of quality, or at least endurance, which is a key thing when it comes to long-term investors in businesses like us.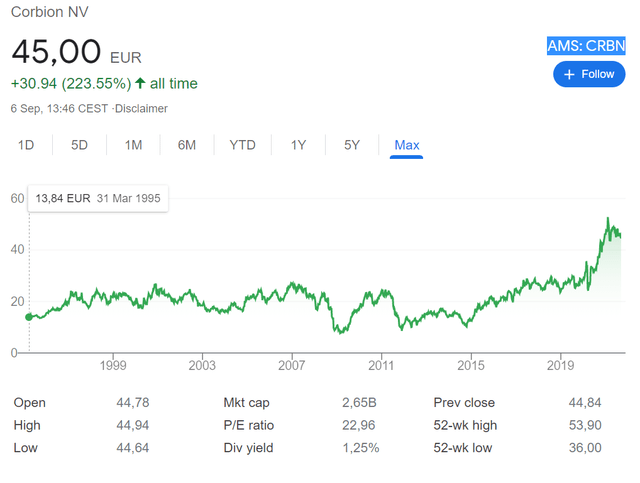 Over the last 25 years investors have been rewarded with a 5% return from capital gains in addition to dividends. That is not stellar, but I have seen much worse. The current CRBN stock price levels might indicate some exuberance as the stock did really well from the 2015 lows (a consequence of losses).
CRBN has currently a dividend yield of 1.25% and a P/E ratio of 22.96. The 2.65 billion EUR market capitalization is what is important for a further valuation.
Corbion Stock Analysis – Business Overview
Corbion, like many Dutch companies, has a very interesting and specific business. Corbion is the global market leader in lactic acid and its derivatives, and a leading supplier of emulsifiers, functional enzyme blends, minerals, vitamins, and algae ingredients. The products are used in markets such as food, home & personal care, animal nutrition, pharmaceuticals, medical devices, and bioplastics.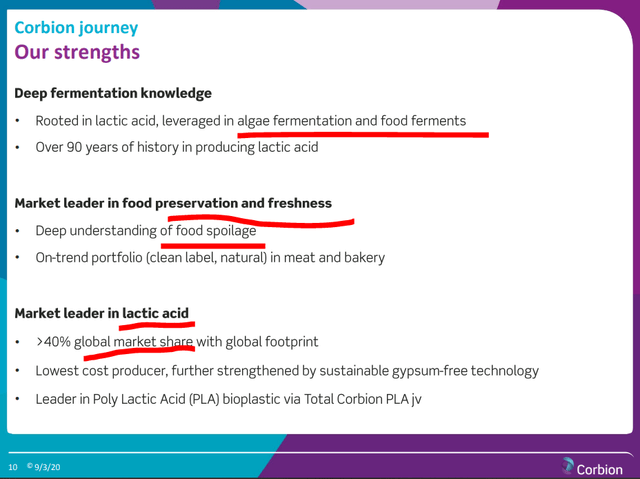 verview – Source: Corbion Investor Presentation
The largest business segment is sustainable food solutions.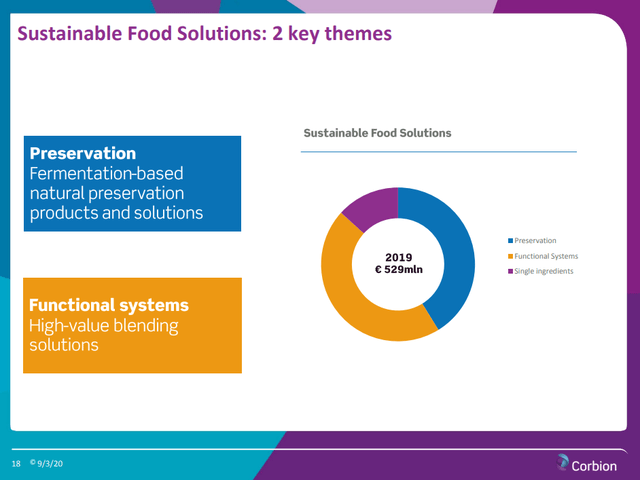 Where Corbion aims to tackle the $3.2 billion food preservation market.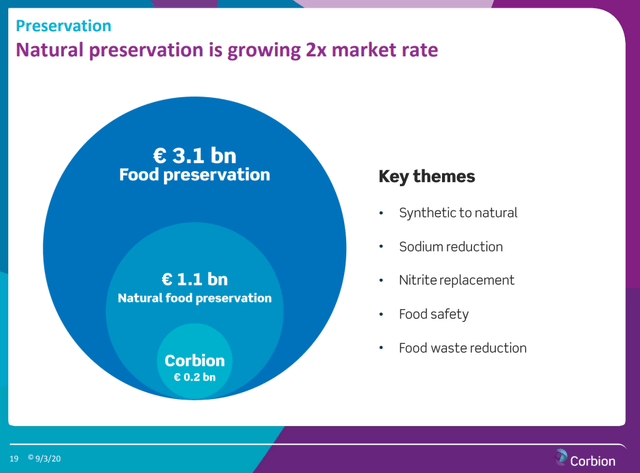 Their products are also used in a variety of applications.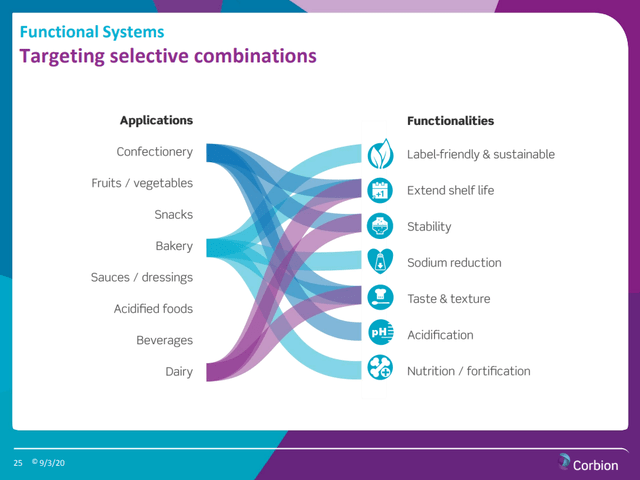 It is interesting to look into more detail, for example, natural mold inhibitors.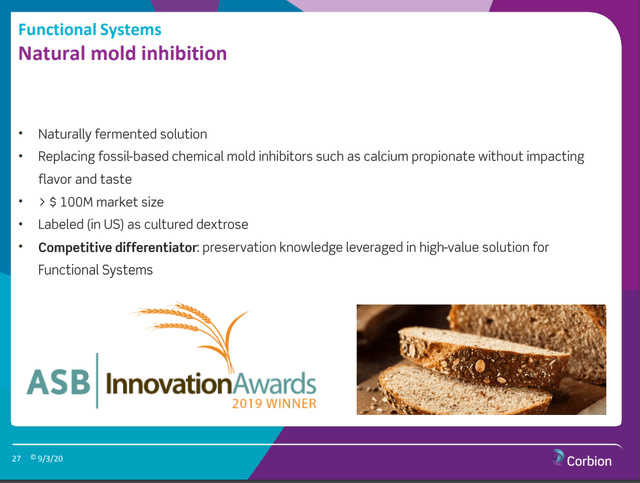 The lactic acid business is a global market leader. Plus, they are building a new plant likely to launch in 2023.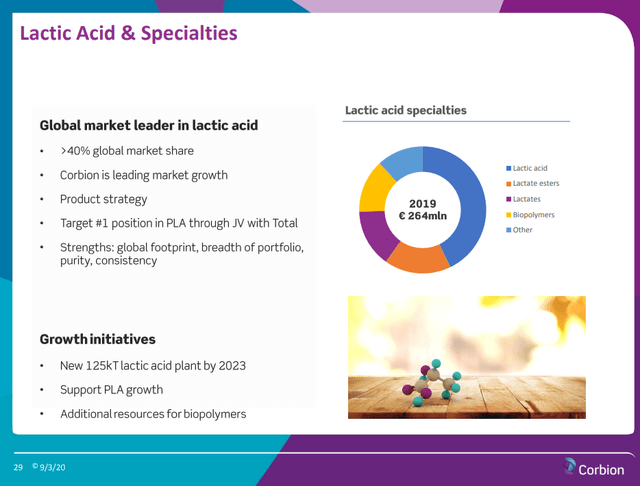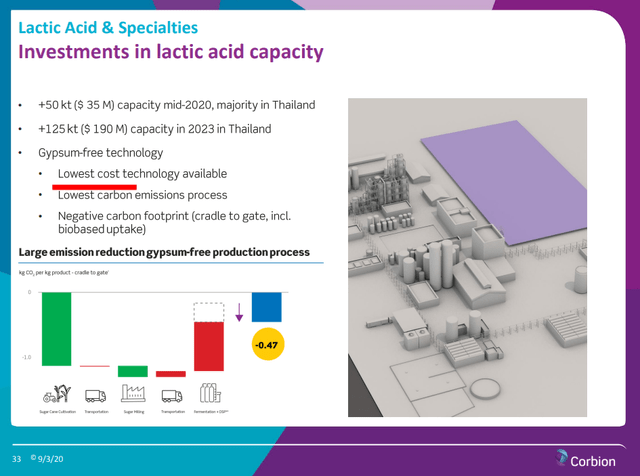 The third, unknown outcome business segment, is their incubator which is perfectly in line with the Spawners Investment Framework – Mohnish Pabrai's key investing strategy. In my free intrinsic value template and list, there is also a list with 80 potential spawners that I'll analyze in the coming months.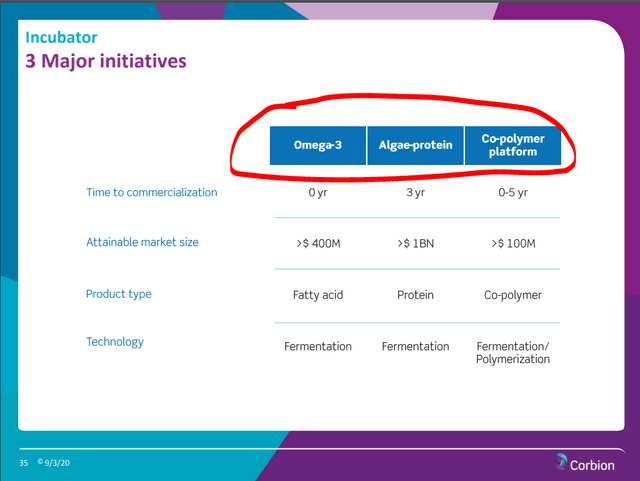 The future business possibilities are omega-3, algae-protein and co-polymers.
There is also self-healing concrete.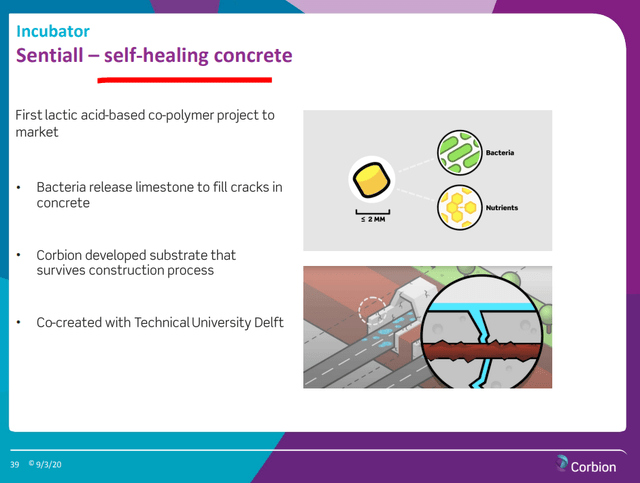 The business targets are set and is what I'll be using in the valuation.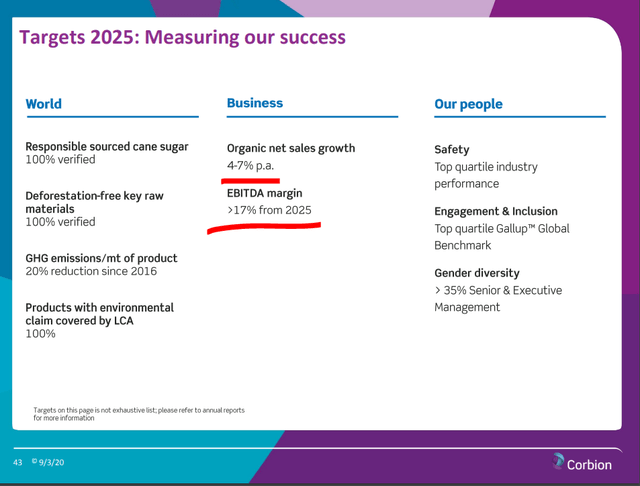 Corbion stock analysis – business overview – Source: Corbion Investor Presentation
Let's look at the financials and make a Corbion stock valuation.
Corbion Stock Analysis – Fundamentals
Revenues have been growing slowly over the last decade, net income has been volatile with a negative back in 2014 that explains the lowest point for the stock over the past decade. Buybacks have allowed for a decline in the number of stocks outstanding but not significant over the last years. Book value has been stable and started increasing over the last few years after it had been significantly declining after the great financial crisis. Margins are also volatile but in a range of 23.9% and 31.3%.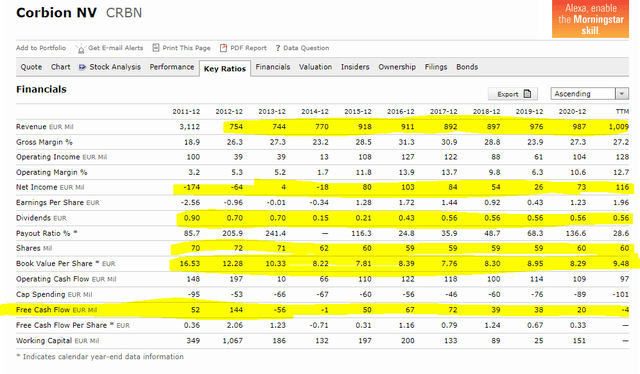 When it comes to fundamentals, a key thing is debt. Corbion's debt position is not good from the above cash flow perspective. If a company has approximately 60 million EUR of free cash flows, then a debt burden of 340 million EUR is extremely significant.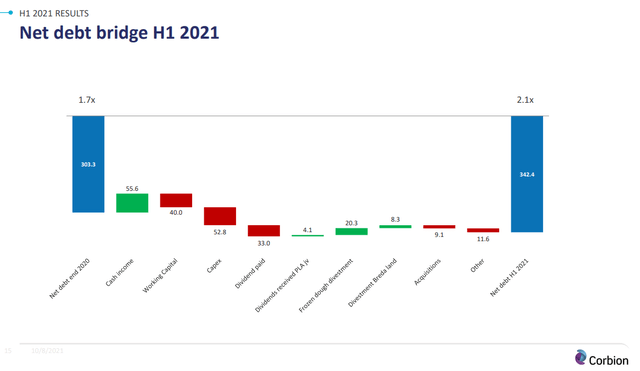 Corbion Stock Analysis – 1H 2021 Financials
In case of change in the market, delays with projects and even higher input price on lower demand, Corbion can soon turn into negative profitability when debt issues always become very important. Thus, this makes the investment risky from a long-term perspective even if they managed to survive for 25 years now.
Corbion Dividend
The dividends have also been volatile but the new dividend policy is for stable and growing dividends where the 2020 dividend has been set at 0.56 EUR for a 1.25% dividend yield. It is interesting that the dividend has been stable since 2017 but the stock has done well.
Corbion Stock Analysis – Las Two Quarters
Sales have increased significantly as it is the world we live in today, but also input prices have increased for Corbion and consequently EBITDA margins have decreased.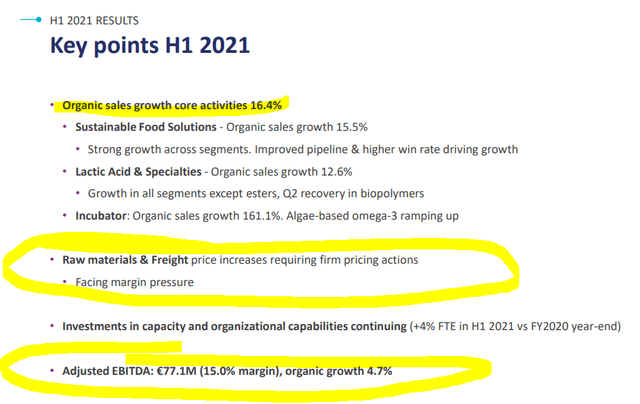 The company is achieving growth but on declining margins. This simply means it is not a great business and I would put it into an industrial category investment which is not my favorite.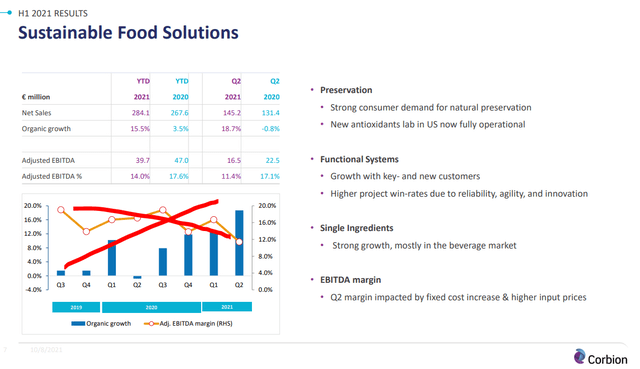 The free cash flows get to about 50 million per year in what were good years.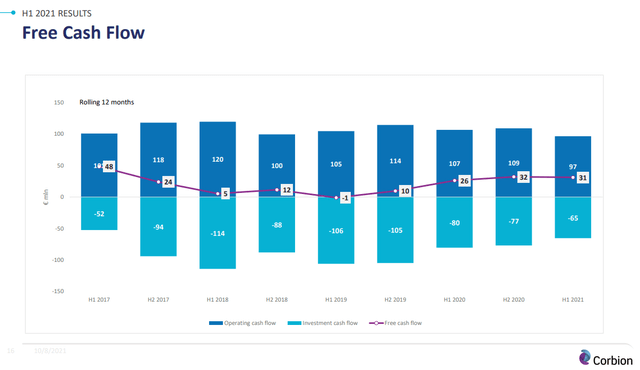 While the company isn't even investing much because most of the cash outflows is for sustaining capital.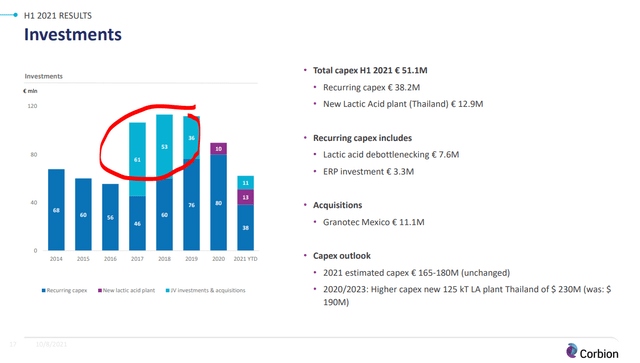 The cost of the new plant has increased as have all construction costs globally, so capex will be higher, but we don't know how will the profitability be in the future.
Input cost increases will increase costs by almost 100 million EUR for Corbion in 2022 and that has to be transferred to customers. On higher input costs and sales prices, the company has increased growth targets but also lowered EBITDA margins.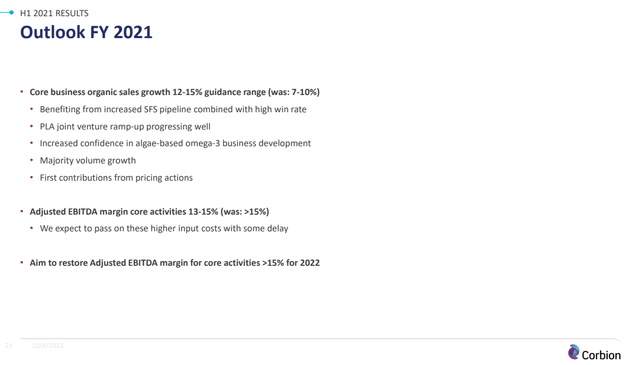 Let's make a quick valuation and investment conclusion.
Corbion Stock Valuation & Investment Conclusions
I have used the management's 8% estimated growth rate ahead on cash flows, what I consider a normal 15 price to free cash flow valuation, calculated 50% of the FCF as present value given the dividend payouts and used a 10% discount rate which is my minimum required investment return.
Corbion stock valuation – Source: Sven Carlin Intrinsic Value Template (free download)
My fair valuation of the stock comes around 900 million EUR which implies a decline of 60%. Perhaps I am a bit too conservative but the stock was trading at less than a quarter of its current value just 5 years ago and at 60% of current value just a year ago.
By comparing my Corbion stock valuation with other valuations that I have made on my list of publicly analyzed stocks (Premium version on Research Platform), Corbion is among the most expensive stocks on the Amsterdam stock exchange and beyond, thus one I will avoid. However, I haven't find any kind for strong business advantage and thus this is not a business I will follow. Akzo Nobel stock seems better valued among Dutch stocks while big companies like Facebook seem even better thanks to healthy growth rates.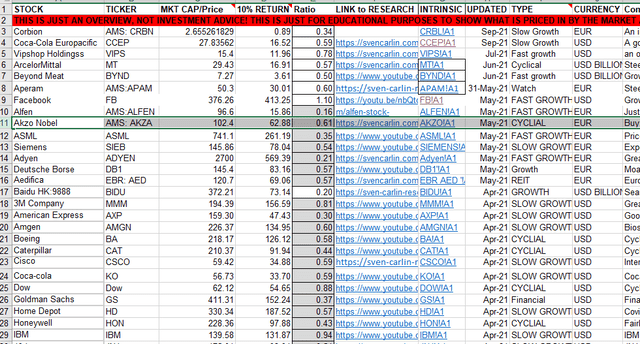 Corbion stock valuation comparison – Source: Sven Carlin Intrinsic Value Template (free download)
Of course, Corbion could do great if the new businesses gain traction and margins improve on higher demand for the other business segments, but that makes it a risky investment and definitely not a value investment.