Arcadis Stock Analysis – AMS: ARCAD – A Cyclical & Expensive
This Arcadis stock analysis  is part of my full analysis of every stock traded on the Amsterdam Stock Exchange. My goal is to find stocks to invest in that offer 10-bagger long-term investing potential (although I am happy with 3-baggers too ahha), so as would Buffett say; I start with the As.
Arcadis Stock Price Overview – It is a Cyclical – AMS: ARCAD
Arcadis stock price chart shows signs of compounding as the stock is up 15 times over the last 20 years which is not bad. However, the stock is also extremely volatile which is normal within a cyclical industry.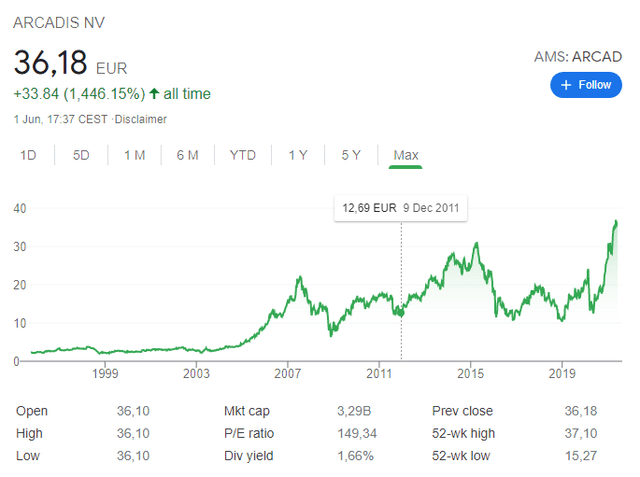 The current market capitalization is 3.29 billion EUR, stock ticker ARDAC – NL0006237562.
Let's take a look at the business, the fundamentals and conclude with the investing thesis.
Arcadis Business Overview
Arcadis designs, engineers, and provides solutions for various construction and environmental projects. It constructs advanced buildings, plants, and transportation networks, and delivers management services for each project. Its revenues are well distributed across sectors but that also means it all depends on the construction cycles and infrastructure investments.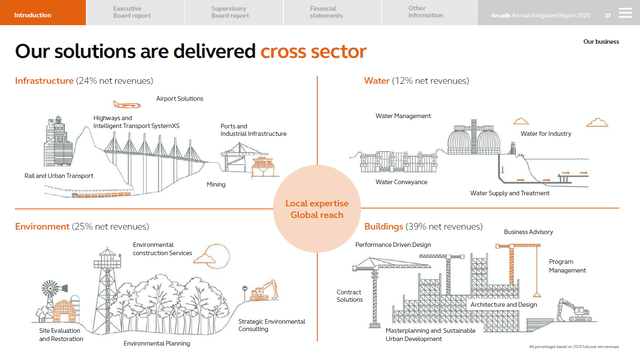 Their projects are very variegated, thus a bit more specific that normal construction projects which then might lead to some kind of increased margin, but keep in mind these projects usually go to the lowest bidder which has a big impact on the earnings potential of a company.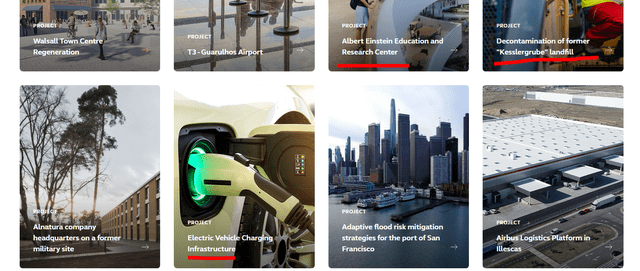 The company was founded in 1888 and over the last few decades grew by making acquisitions.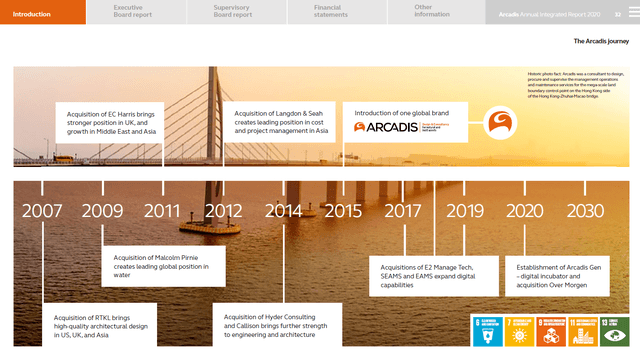 Let's take a look at the fundamentals to see if it is worth to cover this business or not.
Arcadis stock analysis – fundamentals
If I take a look at the numbers, I see no revenue growth, volatile margins, a stable dividend that will likely be reintroduced soon and positive cash flows of around 100 million EUR per year.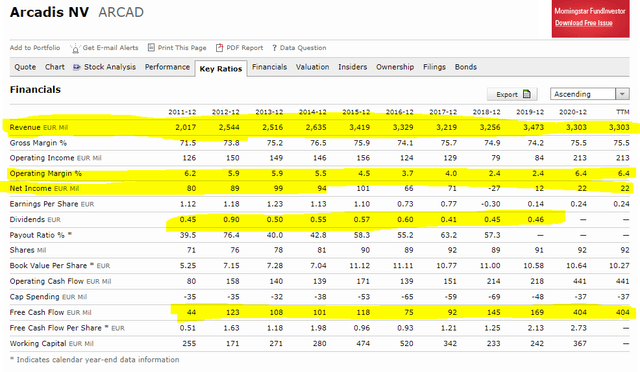 The balance sheet tells me that all the equity is in the form of goodwill due to the acquisitions which means there is nothing tangible of value.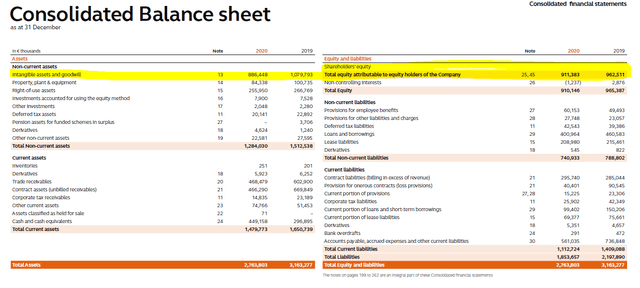 Ok, that is the nature of the business, but then the dividends should be strong. Let's make a valuation.
Arcadis stock valuation
Assuming 100 million EUR in value creation per year over the cycles and 5% business growth given that infrastructure will be the go to for governments to keep the perception of economic growth, I simply don't see the value with Arcadis.

Arcadis stock valuation – Source: Sven Carlin Stock Market Research Template (free download)
Even with 5% steady growth ahead, a on very positive 100 million EUR value creation estimation as prior years were not that good (2019-14 million, 2020-21 million) I get to a fair value for the business of 2.28 billion EUR, assuming a 25 multiple on 2030 earnings and a 10% required rate of return.
If I change my discount rate to 5%, then the company looks like it could be fairly valued at the moment, but I am not happy with such a low expected return. Therefore, I'll leave Arcadis to pension funds.

Arcadis stock valuation – Source: Sven Carlin Stock Market Research Template (free download)
Arcadis stock investment conclusion
I will not include Arcadis in my comparative table because I am really not even interested in following this over time. It looks like an interesting business, but I prefer sectors where one can develop some kind of competitive edge. Plus, at the moment Arcadis is too expensive for individual investors. Just to show you why I think there is better, if I use Arcadis dividend of 0.6 EUR per share to do a valuation, use my comparative 10% discount rate, expecting the market to be happy with a 4% dividend down the road, the intrinsic value of the stock is 13.66 EUR.
Arcadis stock valuation – Source: Sven Carlin Stock Market Research Template (free download)
As the current Arcadis stock price is 36, the ratio of value versus price would be at 0.37 which puts Arcadis among the most expensive stocks out there. Comparing to other Dutch stocks that I have analyzed publicly, even ASML, APERAM, AKZO NOBEL and Aedifica look like better investments. (don't forget you can download the below table here for free, compare investment options and play around with the valuation models)
If you enjoyed this article and wish to be notified when new ones are published within a weekly or biweekly overview, subscribe to my newsletter below.
About the author: Sven Carlin Ph.D. is a dedicated investing educator and stock market researcher focused on finding investment opportunities with a value investing perspective. His research is summarized on the Sven Carlin Research Platform where he covers many stocks and shows his portfolios. The educational part is shared on YouTube and the Free Stock Market Investing Course.