Ams AG Stock Analysis – Delusions of Greatness With OSRAM Acquisition
The AMS AG stock analysis is part of my full analysis, stock by stock of all the stocks listed on the Austrian Stock Exchange. Austria is one of the cheapest stock markets globally at the moment so please check the Austria Stock List for interesting investments.
Ams AG stock Overview
Ams Ag stock represents ams AG, formerly known as Austriamicrosystems AG and still known as AMS. Ams AG designs and manufactures sensors for small form factor, low power, highest sensitivity and multi-sensor applications. The company is actually mainly listed in Switzerland, but also in Austria so it fits our Austria stock analysis list.
AMS ag stock quotes:
SWX: AMS
Vienna: AMS
OTCPK: AMSSY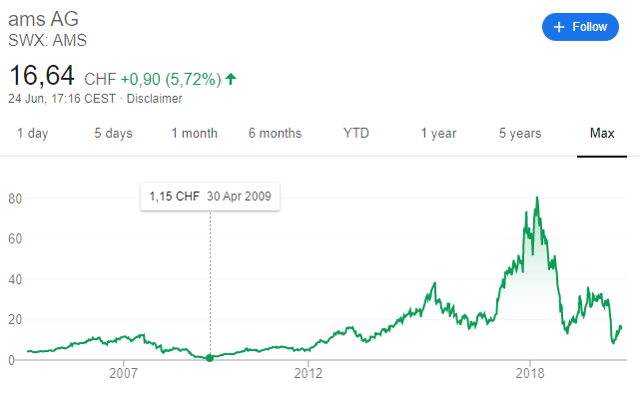 AMS AG stock analysis – dilution and OSRAM takeover
Issued shares issues – I don't personally like it where there is a lot of dilution but the following has been going on:
84.4 million shares outstanding on 31 Dec 2019. There have been a few corporate activities so I continue with the related facts:
2017 issue of convertible bond in an aggregate nominal amount of USD 350 million with a 5-year maturity and a conversion premium of 50%, resulting in a conversion price of USD 106.91 per share
2018 convertible bond in an aggregate nominal amount of EUR 600 million with a 7-year maturity and a conversion premium of 45%, resulting in a conversion price of EUR 136.04 per share. The convertible bond has 4,410,412 new ordinary no-par bearer shares
On April 3, 2020 – ordinary share capital increase raising gross proceeds of CHF 1.75 billion – As a result of the ordinary share capital increase, the registered share capital of ams amounts to EUR 274,289,280 divided into 274,289,280 non-par value bearer shares. As part of the Offering, 15,023,697 shares were successfully placed with investors at a price of CHF 9.20, equivalent to the issue price of the Rights Issue.
So, actually, AMS AG stock market capitalization at the rights issue for the OSRAM acquisition was around 800 million and they are taking over a 4 billion company. It is higher after the rights have been issued.
From what I can figure, they issued shares to finance the OSRAM acquisition at the worst possible moment in the COVID crisis significantly diluting existing shareholders. Further, they will need a lot of debt to finance the all cash takeover. They also have a fully committed acquisition bridge facility of up to EUR 4.4 billion.
Ams Ag stock has boomed in 2018, but consequently crashed.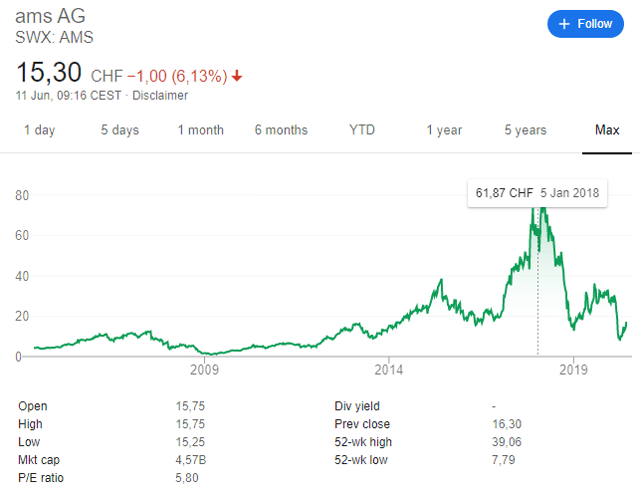 Their current market cap is at 4.5 billion CHF and they are trying to take over OSRAM, with a market cap of 4 billion EUR, paying approximately 20 times EBITDA.
Ams AG stock analysis – business overview
Their core business are sensors. This might sound exciting, but it is also extremely competitive and everybody out there is trying to do it better and also cheaper which makes it a tough industry to invest in. A thing to keep in mind.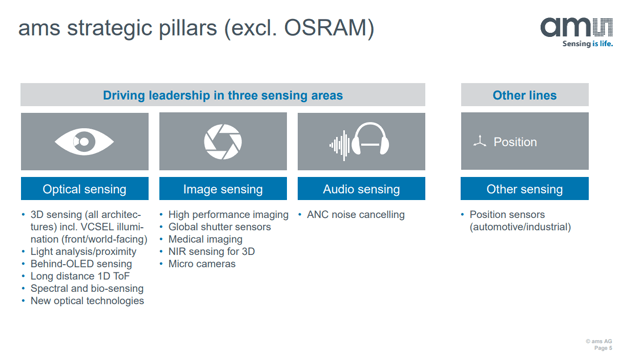 The best way to learn more about a company like this is to read the annual report. The annual report usually has interesting insights you will rarely find elsewhere, both on the upside but also on the risk side.
Ams Ag stock analysis – Annual report 2019
Ams Ag stock analysis – Annual report 2019
Ams Ag had an exceptional 2019 year and also the growth has been stellar in previous years.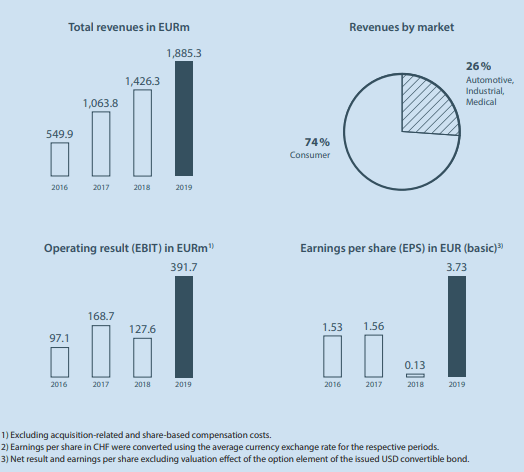 In 2019 they acquired OSRAM Licht AG, and the transaction should be closed by the middle of this year. Their goal is to create the global leader in sensor solutions and photonics. The acquisition also marks the largest M&A deal in Austria. Their goal is also to jointly be able to offer market-leading coverage of light emitting technologies, light detecting and sensing, optics, as well as related hardware, software and algorithms.
However, to do the acquisition they have completed a capital right issue. "With a direct shareholding of 23.4%, we are already the largest shareholder of OSRAM and expect to hold around 68% after closing of our successful tender offer. In order to re-finance a portion of the acquisition financing we completed a rights issue capital increase of EUR 1.65bn earlier this year"
When it comes to such crazy acquisitions, you never know what will the synergies be and whether there will be synergies. Plus, you always overpay for cash flows which might be an issue down the road.
When it comes to the company, it is all about technology and how will that technology be used in the future.
Ams is a leader in optical sensors. Withing the sector, 3D sensing is the key and it was first adopted in the consumer market but now is expanding in the automotive sector and other sector. Consequently, the company's revenue is 82% consumer related and 18% automotive, industrial and medical for now.
There are many things they are doing:
VCSEL illumination solutions
ASV technology last year with a first smartphone implementation.
near-infrared (NIR) image sensing for 3D applications.
Automotive LIDAR
behind OLED (BOLED) sensing analyzes the smallest amounts of light passing the display, allowing OEMs to ad – vance large screen designs. (Utilizing our BOLED expertise for innovation in 3D sensing, we have developed a breakthrough technology that enables OEMs to move front-facing 3D sensing for face recognition invisibly behind the display. This innovation will offer the high security and strong convenience of 3D face recognition without visible components on the device front, a very attractive proposition for consumer OEMs.)
In the promising area of optical biosensing, we address the trend to monitor personal health and bring diagnostics closer to the point-of-care. Our personal health solution measures blood pressure, an important health indicator, at up to medical grade accuracy together with heart rate, vein elas – ticity, vagal tone, and pulse transit time.
active noise cancellation (ANC) technologies.
Ams AG stock fundamentals
Even before this mumbo jumbo acquisition story, their balance sheet was already pretty leveraged.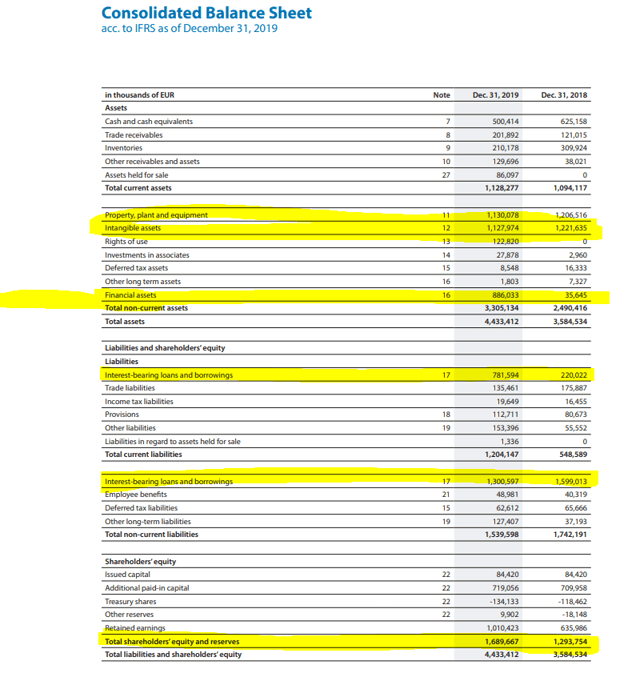 High leverage puts a lot of pressure on the business, the management and doesn't allow for flexibility in difficult times like the current COVID situation.
Ams AG Stock Investing Strategy & Conclusion
The decline in the stock price is for various reasons, the OSRAM acquisition that hasn't been seen as positive by many, the suspension of the dividend and the buybacks (used for employee benefits – not nice), the dilution and of course, the COVID crisis.
When a small company is taking over a larger one, it is pure financial engineering and likely some delusion of grandness, so I prefer avoiding such crazy bets. OSRAM is a big and old company, I don't see how are they going to transform it into something new and spectacular but perhaps they know what they are doing. In any case, not for me.
The AMS Stock Analysis is part of the full Austrian Stock Market Analysis make by Sven Carlin for the Sven Carlin Stock Market Research Platform.
If you wish to receive such analyses to your inbox, please subscribe to my newsletter: