AMAG Austria Metall Stock Analysis – Depends On Aluminium
AMAG Austria Metall Stock Analysis – AMAG Austria Metall AG – WBO: AMAG
OTCPK: AAMGF
This analysis is part of my full analysis, stock by stock of all the stocks listed on the Austrian Stock Exchange. Austria is one of the cheapest stock markets globally at the moment so please check the Austria Stock List for interesting investments.
AMAG Austria Metall stock analysis discusses AMAG Austria Metall AG. The biggest company in the Austrian Aluminium industry sector. It is situated in the village of Ranshofen, which is in Braunau am Inn.
AMAG Austria Metall stock price exploded in 2017, quickly fell to previous levels in 2019 but we can see an upward trend over the long-term which can indicate towards good returns on invested capital.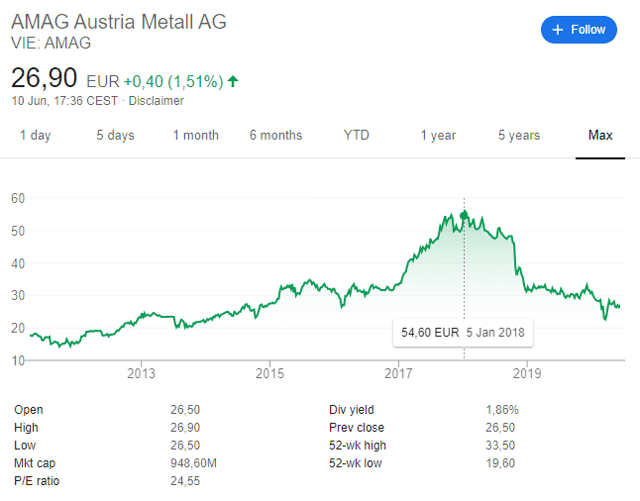 AMAG Austria Metall Stock Analysis – Business Overview
AMAG's business is all about aluminium with most of the revenue coming from rolling products.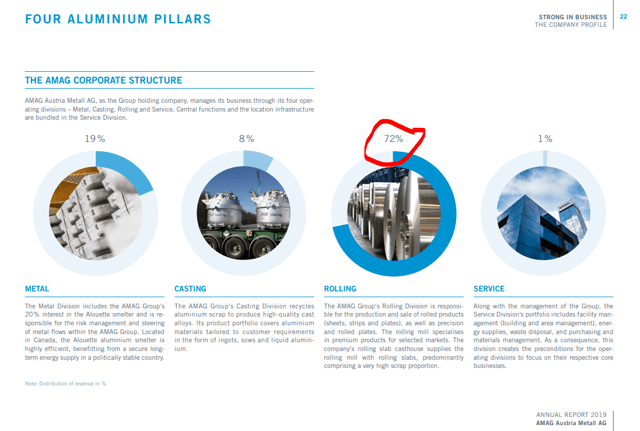 Over the last years, the company constantly grew and added to production.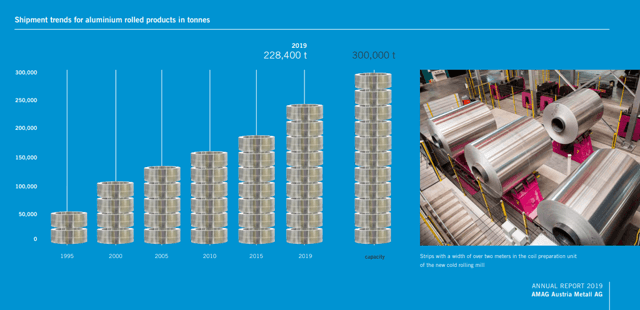 AMAG Austrian Metall Stock Analysis – Aluminium is key
Its performance will mostly be related to aluminium prices. Aluminium is a commodity where it is hard to have a real advantage. So, if there is overproduction globally, you end up with lower prices, lower margins and finally lower cash flows.
However, despite the lower aluminium prices, Austria Metall managed to keep EBITDA stable thanks to lower scrap prices and higher shipment volumes.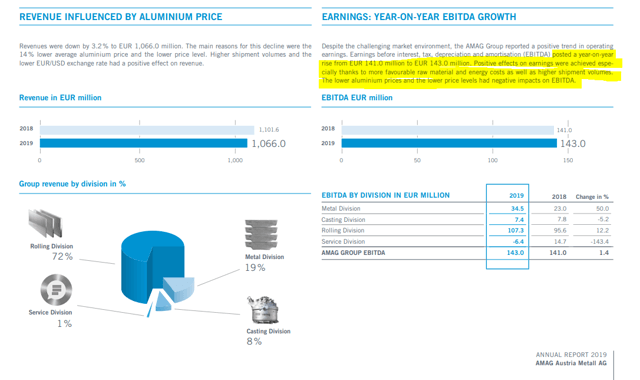 However, there is lots of competition and aluminium prices haven't done well in the last years. There have been booms in 2007, 2011 and a small one in 2018, but apart from those, the industry is a dark place to be in due to no barrier to entry, low interest rates that make most projects profitable and a big dependence on demand.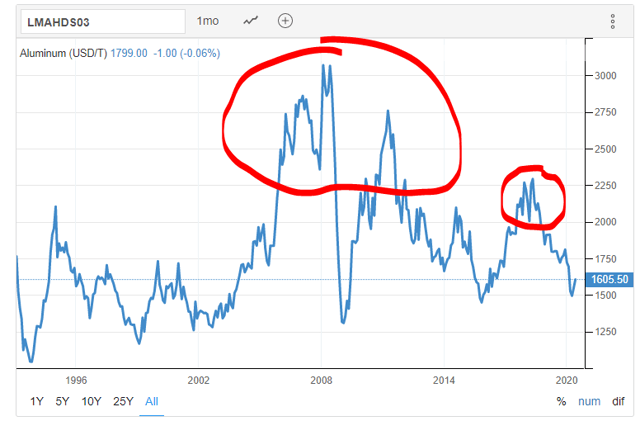 All the above, doesn't create a great environment for Austria Metall stock and the past fundamentals show it.
AMAG Austria Metall stock fundamentals
Over the past 10 years, revenues did grow, but we have too keep in mind the Euro also depreciated and that aluminium prices are measured in USD. Net income has been declining as aluminium prices declined, book value per share didn't increase and free cash flows haven't done anything special expect in a few years with high aluminium prices.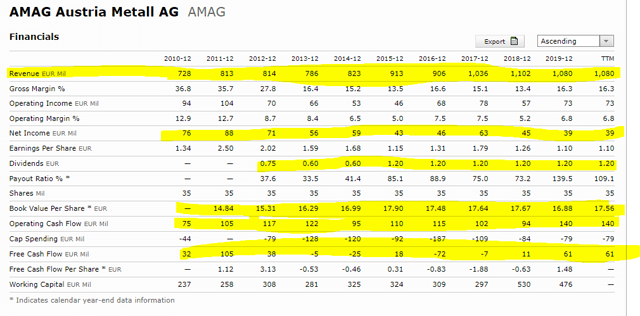 They have been paying out a dividend over the last years, but that is most likely from the cash flow they can get out, I don't think there has actually been a positive return on investment over the years. Let me explain, if you invest 1 billion into something and you get a 100 million out over the next 10 years, that isn't a 10% return like many would think, you are actually losing money hand over fist. We are looking for businesses that have invested 100 million and that will keep delivering forever.
Given the above, I would say the business is nothing special – it is a no growth industry, especially in Europe, the competition is high and the return on invested capital is low while the company has been constantly increasing its leverage. This means they are taking more and more debt to keep the dividend there.
Return on invested capital is lower than the cost of capital.

Also, the stockholder's equity to debt ratio has been going down steadily which means the company isn't creating much value.

AMAG Austria Metall Stock Investing Strategy
The hope for Austria Metall stock as an investment is to see a boom in aluminium prices. But, given the environment, I don't think any boom would be sustainable as it also wasn't sustainable in the last booms. Anybody can create more production and consequently ruin the party for all.
I personally prefer investments where there is a margin of safety in the form of some competitive advantage which I don't see in Austria Metal stock. I might be wrong, but that is not investing for me, that is betting and we don't do that here.
The AMAG Austria Metall Stock Analysis is part of the full Austrian Stock Market Analysis make by Sven Carlin for the Sven Carlin Stock Market Research Platform.
If you wish to receive such analyses to your inbox, please subscribe to my newsletter: