Micron stock analysis
To invest in Micron, one has to understand the industry's cycle.
A PE ratio of 2.5, doesn't mean much as it shows the past, not the future.
It is better to look at book value, the actual value of the owned PP&E, ROIC, industry cycles, Micron's moat and the competition.
The fact that Micron Technology (MU) is one of the most followed and owned stocks is intriguing by itself. To invest in MU one should understand the semiconductor industry properly to take advantage of its inherent cycles. A look at MU's stock chart shows how investors clearly don't understand the memory industry cycle as periods of market exuberance are quickly replaced by sheer depression.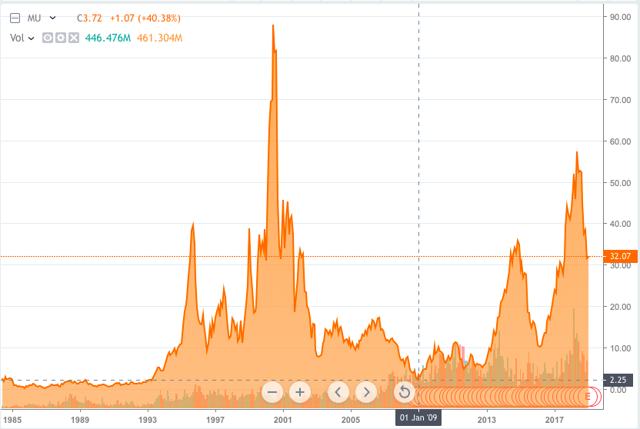 Source: SeekingAlpha MU
I sit down with an industry insider, Yaokai Yiang and discuss his investment thesis, investment activity and general view on MU. Enjoy the video.
Video content:
0:00 Micron stock analysis introduction
2:06 Micron short thesis
4:20 Memory industry overview
5:00 Earnings prediction for MU
6:24 Short thesis
7:15 Book value and business value
8:00 Micron stock and its fair value
9:00 Competition and moat for Micron
9:50 Can Micron go bust?
11:00 Next memory industry cycle
13:30 Dividends
14:00 The only moat in the industry is time
15:15 Investment strategy & risk and reward
20:18 Recession risk and impact on MU
22:15 Conclusion