CTPNV Stock Analysis – Fast Growing Logistics (e-commerce) Play
This CTPNV stock analysis is part of my complete research on the Amsterdam stock exchange, stock by stock (you can check many more analyses there). My goal is to learn about as many businesses that I can find and then select those that I think can offer interesting, low risk and high reward investment opportunities over time. I run a Stock Market Research Platform where my job is to follow and cover the best businesses out there and to find the best times to invest in those. CTPNV is a good stock but for now I have better, I will check here and there on it to maybe find an even better time to invest into it. Here is the rationale.
CTPNV Stock Price Overview – AMS:CPT
CTPNV stock is a recent IPO but the stock already exploded since it went public and we are 50% higher. Nevertheless, let's see what is CTP about.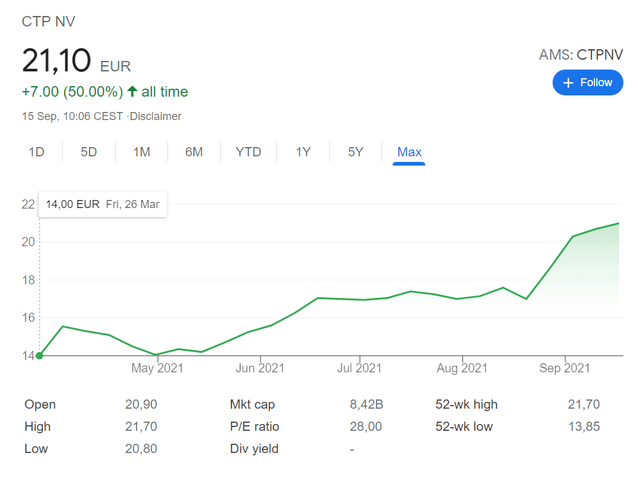 CTP was founded by its CEO 25 years ago and was 100% owner up to 2019. When it comes to recent IPOs it is also important to check the lock-up period, why the IPO has been done and what will the proceeds be used for (is the money for the company or for the CEO).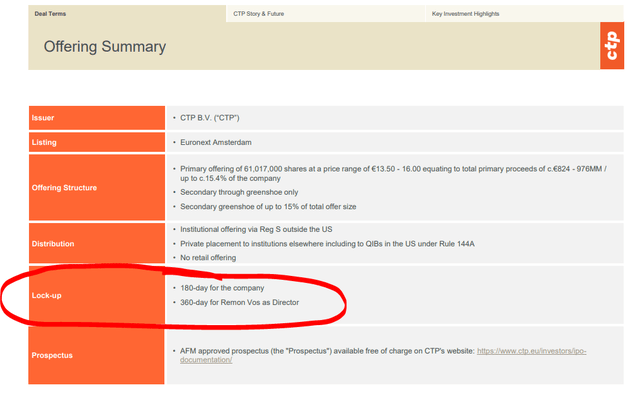 A good thing with CTP is that the IPO money will be used for development and growth.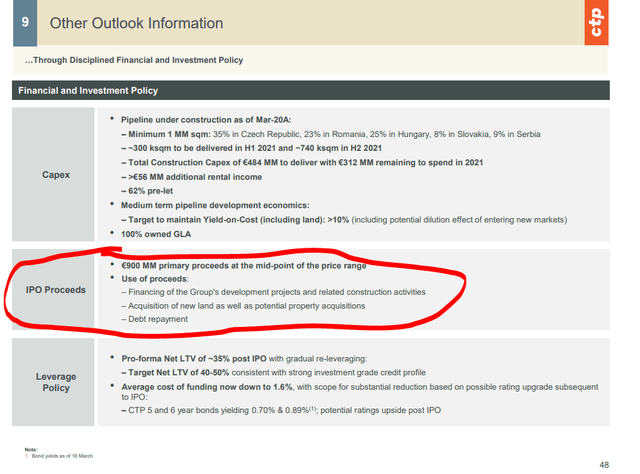 CTPNV Stock Analysis – Business Overview
CTP is a real estate business focused on logistics properties.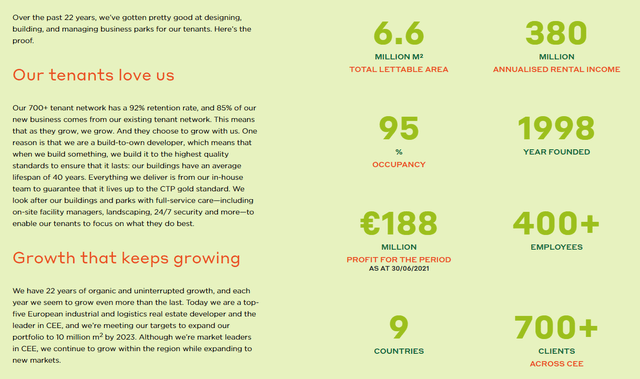 The target is to grow to 10 million square meters of area by 2023 which implies 50% growth over the next few years. CTP is in the top 5 European logistics property companies.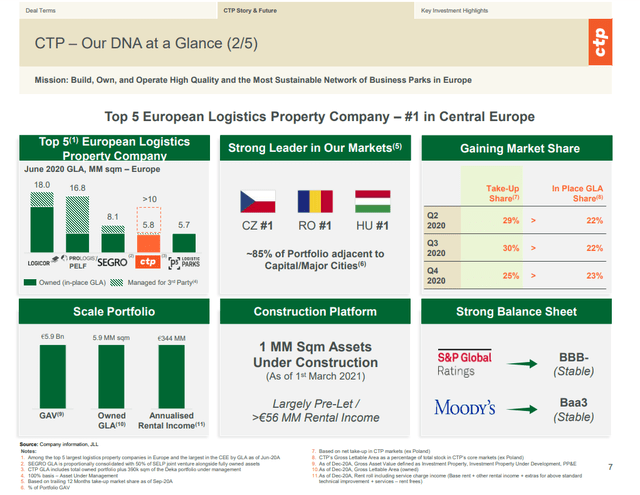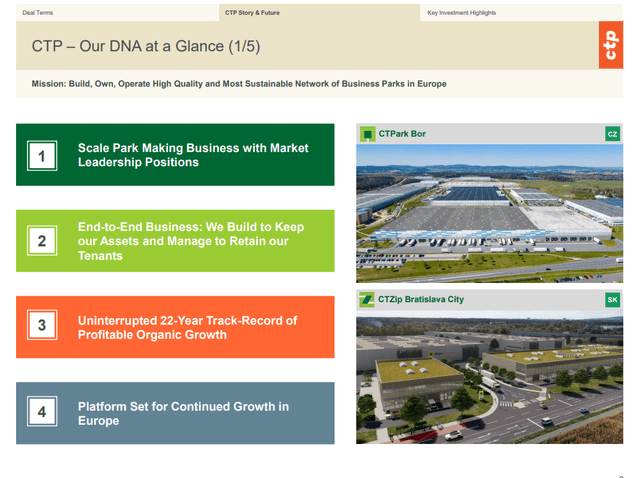 The geo focus is on the Netherlands, German and Eastern European countries.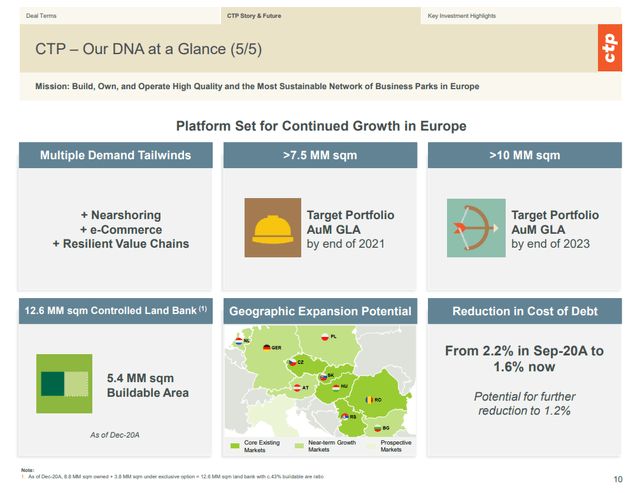 It all started 22 years ago in the Czech Republic and the CEO must have done a great job as he retained 100% of ownership all the time.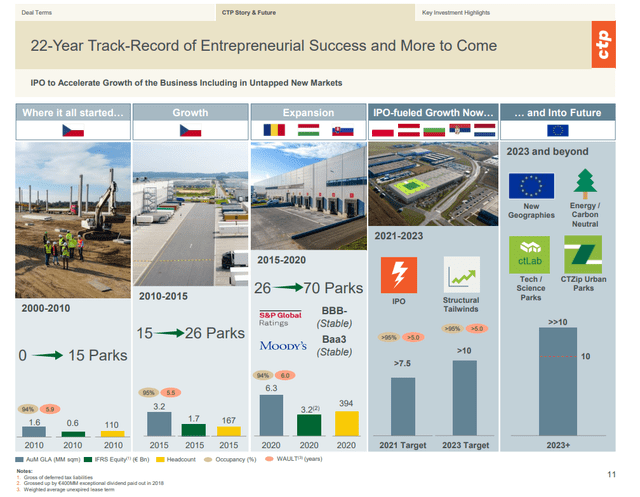 Most of the properties are in the Czech Republic and in Romania.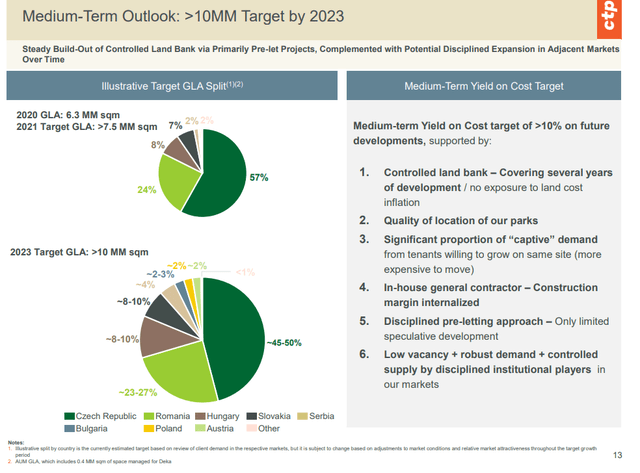 CTP IPO Presentation – Source: CTP Investor Relations
Here is a nice overview of how it all looks like.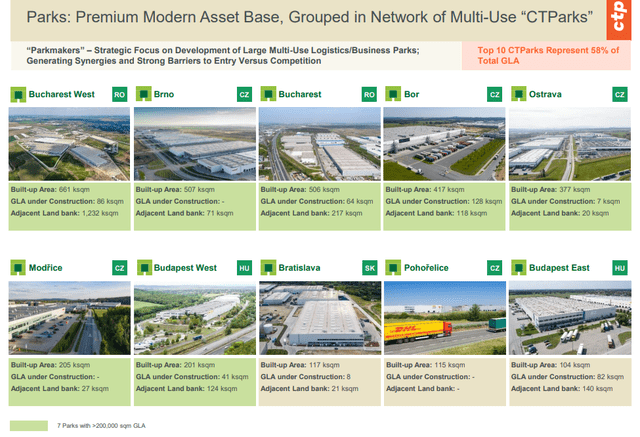 The tenants are diversified.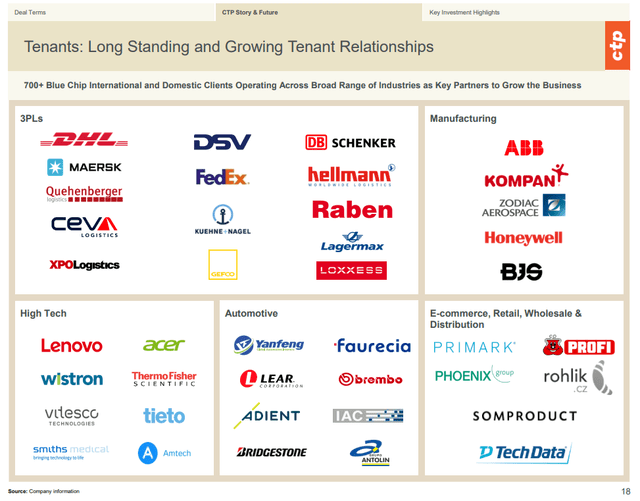 If they can continue to grow at historical rates and reach high returns on capital while being leveraged at 1.6%, thus borrowing money at European rates and investing into higher yielding real estate in Eastern Europe, this can be a good long-term investment.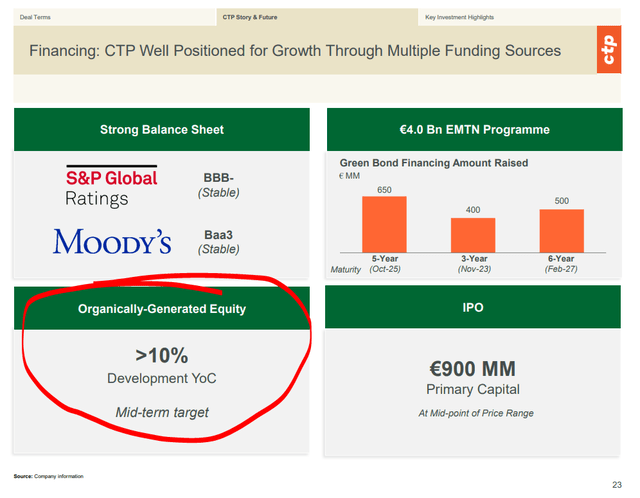 If the yield in Eastern Europe goes down, then the value of the assets owned will go up, while the debt cost would further decline.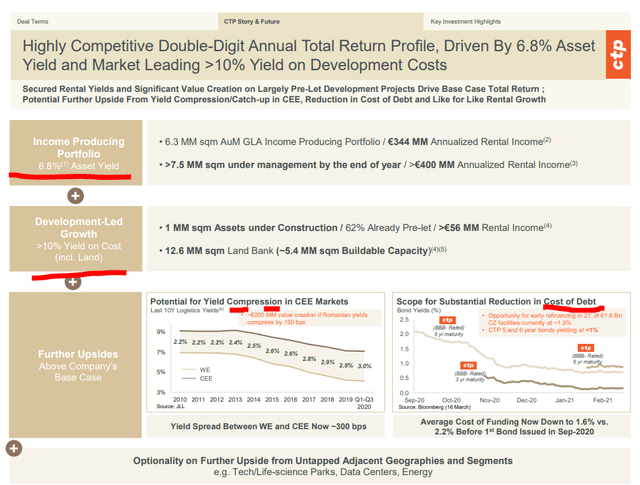 In summary: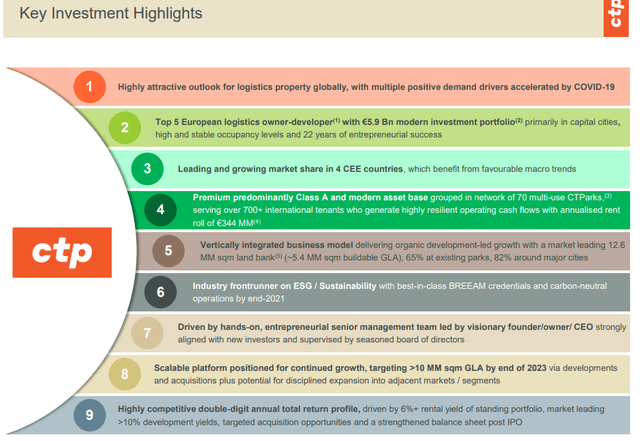 The main trend benefiting logistics is of course e-commerce acceleration thanks to covid. E-commerce sales are growing at 13% in Western Europe and 23% in Eastern Europe.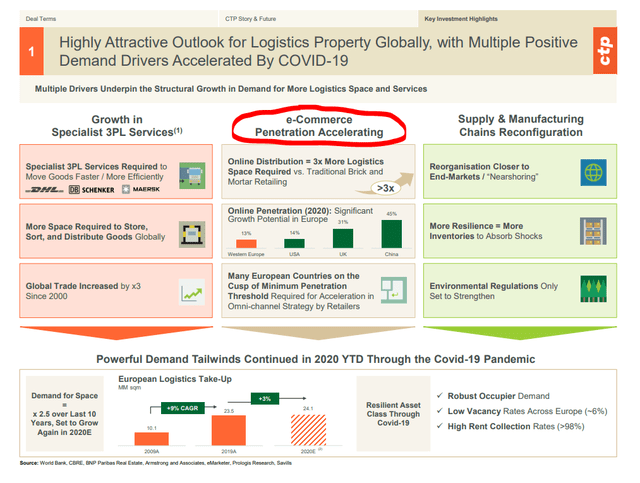 The goal is to deliver returns above 10% and they have been doing that for a while now, so it is possible to see it continue. Let's see about the next key things when it comes to investing; fundamentals and valuation.
CTPNV Stock Analysis – Fundamentals
When it comes to real estate investments, it all evolves around; a) the value of the assets, that again depends on the interest rates used for valuation and the yields, b) the leverage and c) the valuation.
With CTP, leverage is high as it is a real estate company, but not that high. Equity is 3.2 billion EUR compared to total assets of 7 bilion.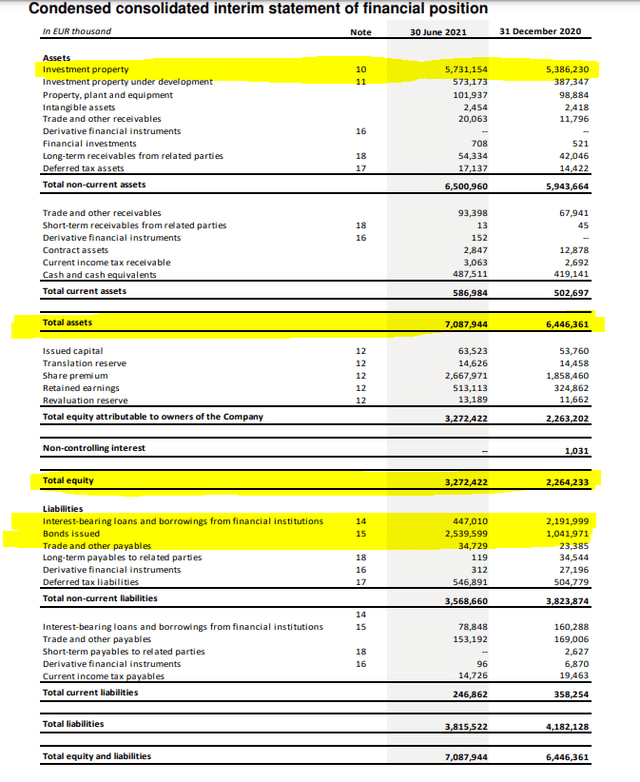 The next thing is valuation.
CTPNV Stock Valuation
CTP has a lot of things that impact reported income as real estate companies always make revaluations. As an absolute value investor I focus only on rental income and leave the revaluations as a bonus because if interest rates change, revaluations might also reverse and then things might look ugly from a net income perspective, but that is irrelevant if you focus on business ownership and rental incomes.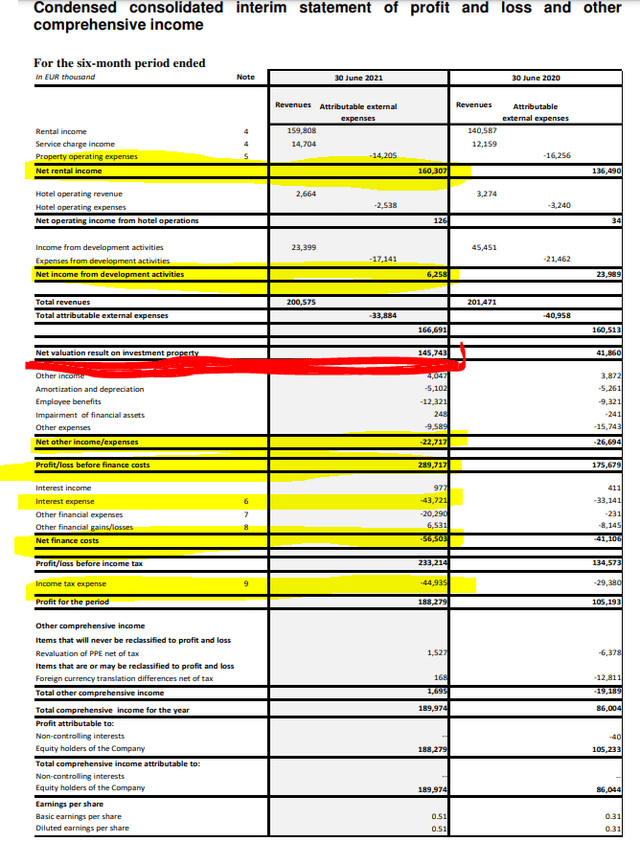 Net rental income for the first 6 months of 2021 was 160 million EUR, net valuation result was 145 million that I will not take into consideration. From the rental income I have to deduct employee benefits, other expenses, interest expenses adjusted for one off costs.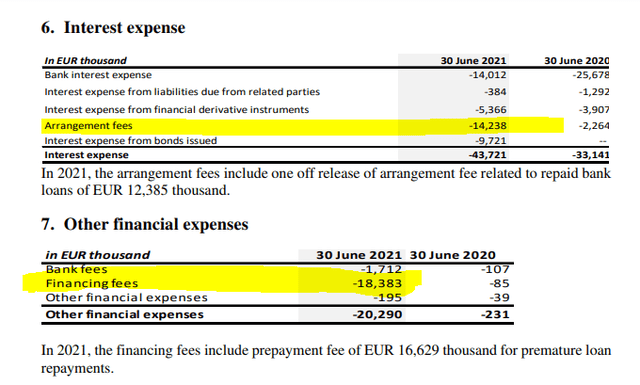 CTPNV stock analysis – income statement – Source: CTP Investor relations
One off costs in 2021 were related to premature loan closures and other fees that are in the range of 32 million.
So, we have 160 million of rental income, minus 22 million of other expenses, minus 25 million of interest costs, minus 9 million of taxes and not 44 because you will pay those taxes only if you sell the revalued property.
So, the company made approximately 160-22-25-9 = 104 million EUR in the first 6 months of 2021. Let's use that for valuation.
CTPNV Stock Valuation
CTP creates 210 million EUR of cash per year, is expected to grow at 50% in the next 3 years and then more as we can estimate more growth over the long-term.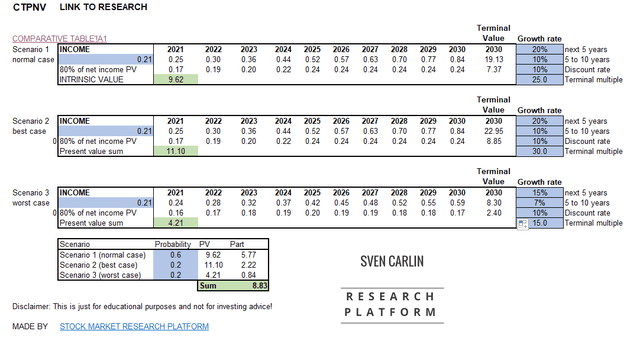 CTPNV stock valuation – Source: Sven Carlin Research Platform (free download here)
If the company continues to grow fast and increases cash flows, the fair intrinsic value for a 10% return is 9.62 billion EUR with an 75% free cash flow payout as dividends.
CTPNV Dividend
The focus of the company is to pay a good dividend.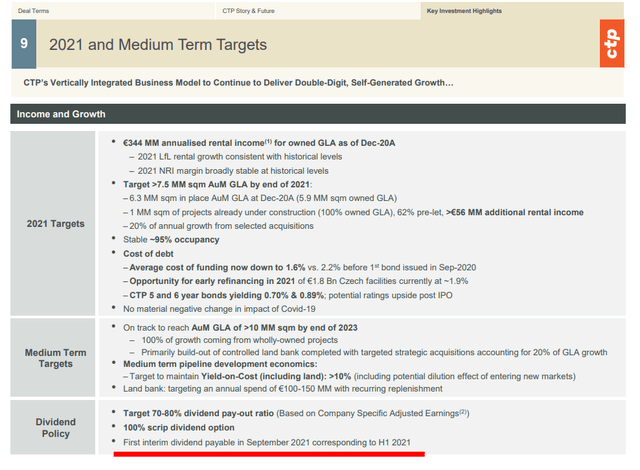 The 1H dividend is of 0.17 EUR per share, that would be 0.34 for the year which gives a yield of 1.6%. Of course, that is not much, but as the focus in on growth, one could expect more in the future.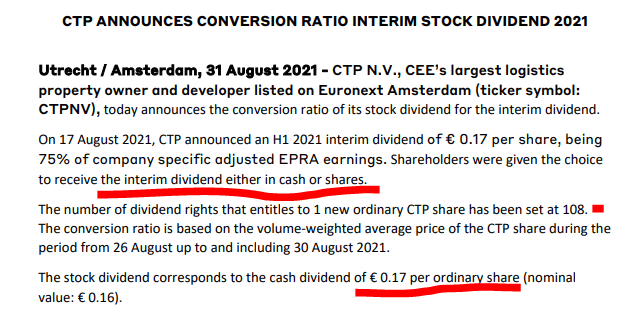 92% of the owners have decided to receive the dividend in shares (thus the CEO is doubling down).
CTPNV Stock Investment Thesis
As would Peter Lynch say, the stock will follow earnings. If earnings continue to grow as it is projected and then even more beyond 2023 (talking about hyperbolic discounting), the CTPNV stock might remain valued at a PE ratio of 40 and a dividend yield below 2%. In that case, the stock will go up as the business grows.
However, as value investors, we also want a margin of safety in the form of this remaining a good investment no matter what happens related to real estate values and interest rates or even economic activity.
The main risks are related to the growth rate and interest rates. If economic activity in centra/east Europe declines, interest rates increase, the question is whether we are happy with the current there and not the promises.
Without future promises, we are still looking at a dividend yield of 1.6% and an earnings value creation of around 3% on the current market capitalization.
To conclude on CTPNV stock, I will personally put is somewhere where I will check it here and there, I will not cover it in detail on my platform, but will follow it over the long-term and you never know, maybe in 2026 it will give an opportunity with a margin of safety.
If and when the dividend gets to 5%, on stable business and uncertain shot term outlook, something the market will hate, the stock might be a really good buy.
For an overview of all the stocks that I follow, my portfolios and more in depth premium research, check my Research Platform.