Berkshire did not underperform the S&P 500 despite returning 'only' 9% yearly vs 12% since 2008
Whenever I discuss Warren Buffett and Berkshire there is multitude of comments on how Warren Buffett underperformed the S&P 500 over the last decade underpinning the thesis that he is old and not sharp enough for the current investing environment. Usually added is how Buffett has been sitting on $142 billion cash for years, missing on huge opportunities by doing nothing and how he is making more and more investment blunders, IBM and KHC being an example. Let's check the facts and then I'll argue that Buffett actually performed better than the S&P 500 index over the period.
Berkshire stock vs S&P 500 performance
If we check the facts, over the last market cycle, the SPY index returned 200% from March 2008 while BRK achieved 170%. Thus, the index returned approximately 10.3% p.a. while BRK returned 9.3%. If we add an average dividend yield of 2% to the S&P 500 returns, we get to 12.3% per year which is already a significant difference, especially over a longer period.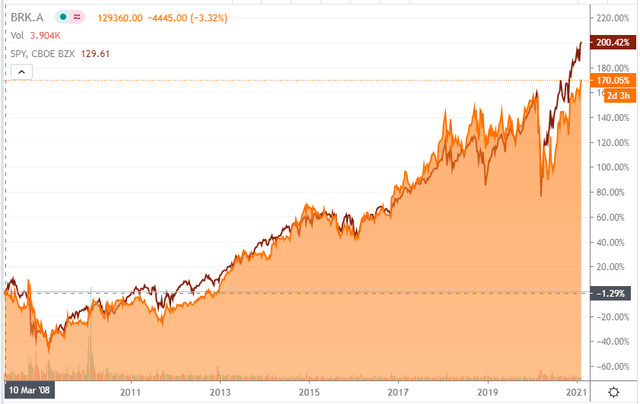 Now, you might be thinking that I am smoking something given cannabis is being slowly legalized across the globe, but I am not and please let me elaborate on my thesis.
Stock price performance and investment returns are just one measure of performance, a simple measure that pleases the eye but real investors measure other things too. Real investors as a measure of performance:
Focus on risk first,
Look at the investment strategy,
Analyze business development and,
The key factors that impact the stock's performance, think valuation.
On all on the above fields, Buffett outperformed the S&P 500. Let me elaborate and then I'll leave you to decide whether you are a real investor weighting the key drivers of long-term investment returns or, you are just an investor that believes stocks always go up no matter what, that the market is efficient and that the stock market always correctly reflects available information.
1) Berkshire did 9% with minimal risk
If we look at BRK's cash position over the last decades, Buffett achieved his return by constantly having a huge amount of cash where he actually only lowered it to invest heavily during and after the last financial crisis.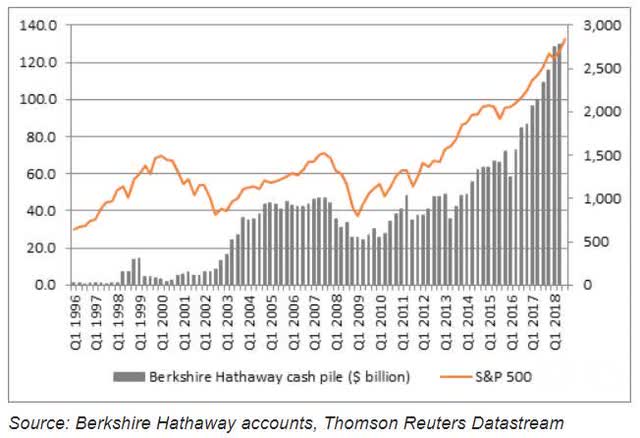 On the other hand, S&P 500 companies spent more than 100% of their earnings on dividends and buybacks.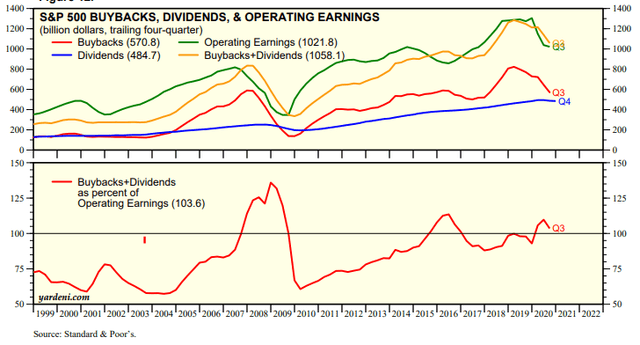 Buybacks also tell us a great story about the different investment strategy between Berkshire and the S&P 500.
2) Berkshire's strategy is the opposite to corporate America's
If we look at buyback activity for the S&P 500, it is almost perfectly correlated with stock prices.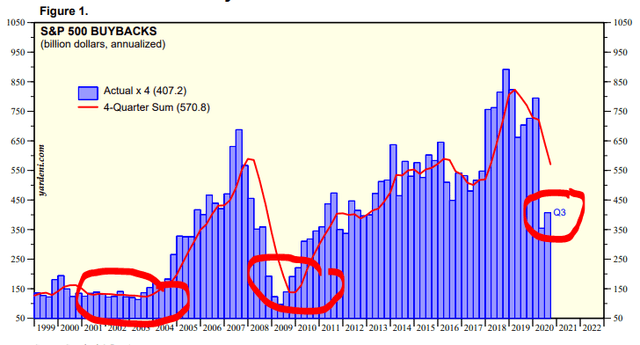 Unfortunately for investors, pension fund owners and others long the S&P 500, companies prefer to spend cash when their respective stock prices and the index levels are high. When stock prices drop, companies refrain from repurchasing their shares even if logic dictates lower prices increase the buyback yield.
Of course, Buffett does the opposite.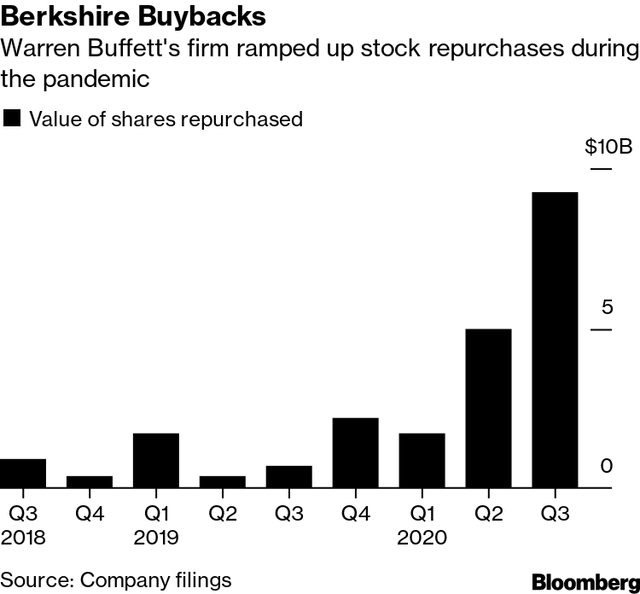 Also, in 2009, Buffett acquired Burlington and had been making many preferred share deals with various institutions that led to nice rewards with minimal risk.
We could say the S&P 500 buys high while Buffett buys low.
3) Berkshire earnings growth is better
Berkshire's earnings were around $14 billion in 2007 while the current ones, including the hidden, not accounted earnings from its stock portfolio, were $32 billion in 2019.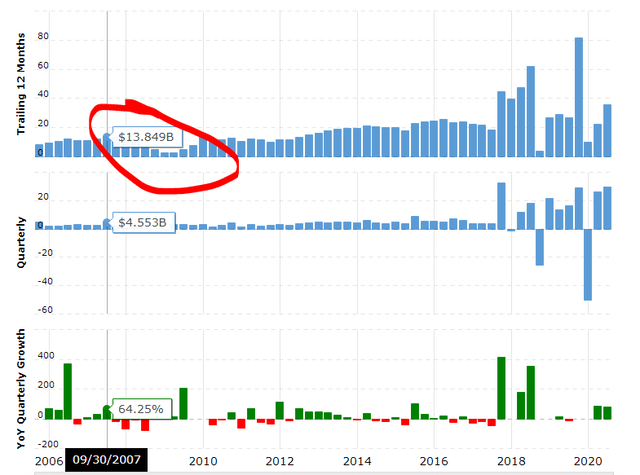 S&P 500 earnings went from 90 points in 2007 to 160 in 2019.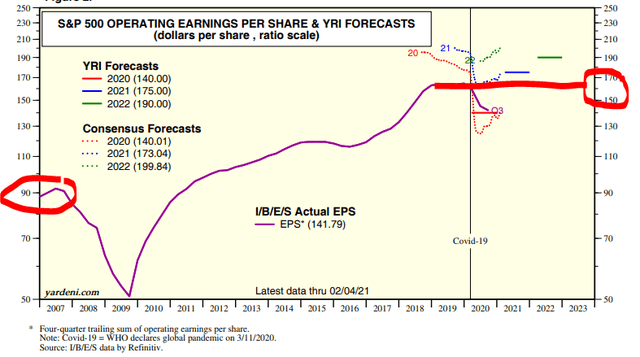 From an earnings growth, business development perspective, Berkshire outperformed the S&P 500 while taking much less risk and having a huge call option in the form of its cash pile.
4) PE ratio comparison – the reason the S&P 500 did better
Unfortunately, earnings were not the key driver for the amazing S&P 500 performance over the last years. The key driver has been an increase in valuations for the S&P 500 where the PE ratio went from 18 to 27 just prior to the COVID crisis. If I would multiply the 160 points S&P 500 earnings with a PE ratio of 18, I would get to a level of 2,800 for the index or 25% below current levels.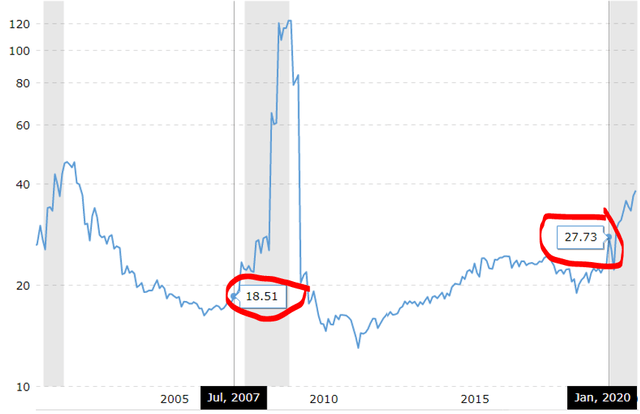 Berkshire's earnings were $14 billion in 2007 while the market cap was around $200 billion for a PE ratio of 14.28. Today, we have a market capitalization of around $550 billion with earnings around $32 billion for a PE ratio of 17.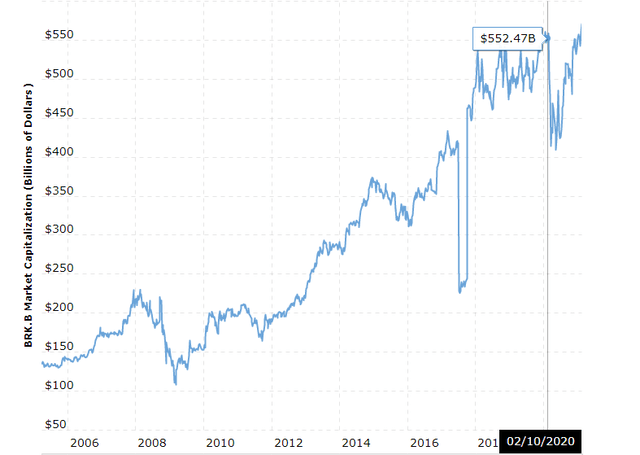 Thus, the contribution to BRK's performance was minimal from a valuation perspective while it was huge for the S&P 500. If interest rates go up, market valuations will revert to the mean and Berkshire will make more and more money on its cash pile and agglomeration of business that have pricing power.
Conclusion – what kind of investor are you?
We can go in circles for ages in the comment section but I think the key question here is related to what kind of an investor you are and how do you measure performance.
If you are focused on fundamentals, business earnings and risk, you'll likely agree with me and therefore consider subscribing as this is the kind of investing I prefer. Value investing is focused on risk first, looks at business cash flows over time and accounts for absolute returns while relative returns don't really matter. If the market crashes 30% and I am down 25%, I don't consider it a success.
If you think there is a justification for the higher and growing S&P 500 multiple because the market is efficient, I wish you all the best and I am sure you will not subscribe to see more of my content.
For me, investing is that easy and I really wanted to put this out before Buffett publishes his letter and Berkshire's earnings come out because I know there will be a lot of chatter about performance.
If you enjoyed this article and the investing mindset, please consider subscribing to one of the following:
YouTube – Value Investing With Sven Carlin
FREE Comprehensive Investing Educational Course
Stock Market Research Platform – detailed analysis and coverage of stocks where others don't look
Newsletter: