Basic Fit Stock Analysis – Very Risky Business Model
Basic Fit (AMS:BFIT) went public 5 years ago, did really well up till the Covid situation when there was a bankruptcy scare like stock crash there but things soon rebounded. The market capitalization is 2.23 billion EUR.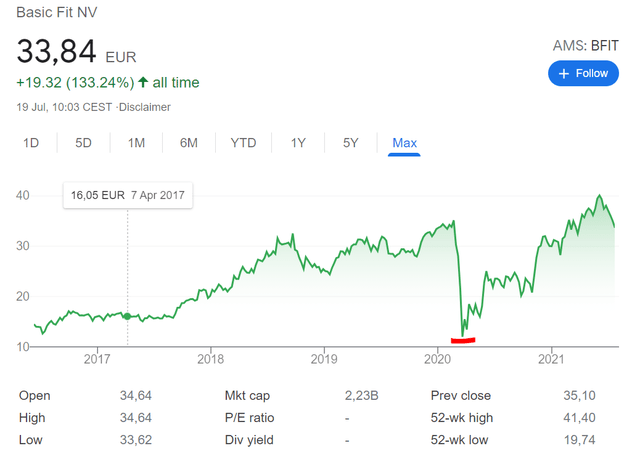 Let us look at the business, fundamentals and conclude with an investment thesis. I have included it into my stocks to short video that you can watch here:
Basic Fit Stock Analysis – Business Overview
Basic Fit is a fast-growing European gym chain focusing on the Benelux, France and Spain.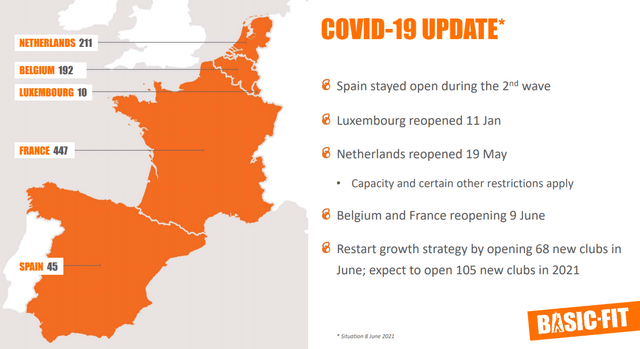 Then below chart shows the upside from the growth story ahead but also the risk. The previous brand the management started did not do really well, despite the growth it had up to 2012.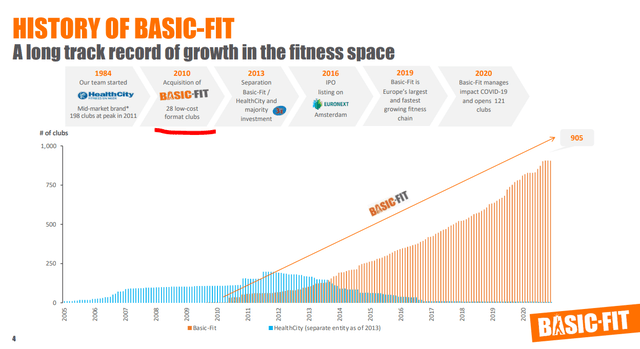 At first look, the company has found a good business model and it is scaling it across Europe.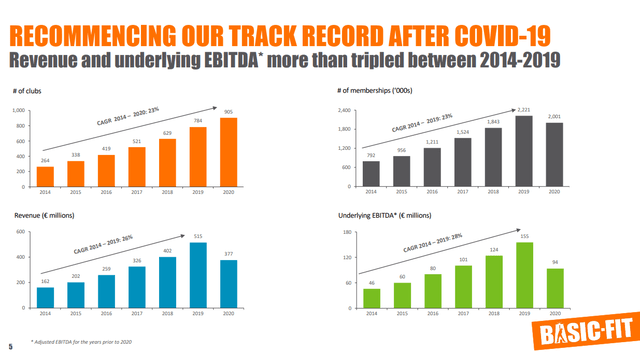 The business model thesis is that Europe should reach the same gym membership penetration as the US has.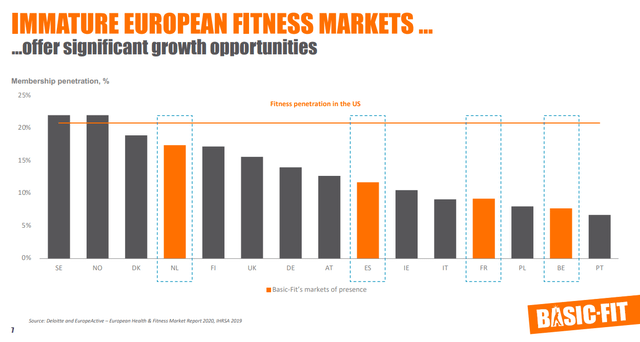 The growth strategy is based on being the low-cost provider of fitness services with value added sales on top.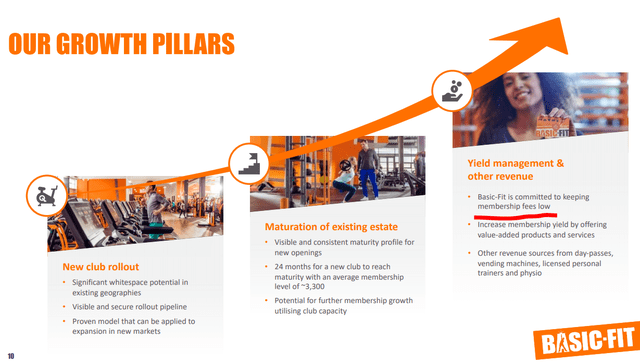 The growth plan is to grow 50% in Benelux and France and scale to 450 clubs in Spain. The current number of clubs is below 1,000 and their goal is to have 2,000.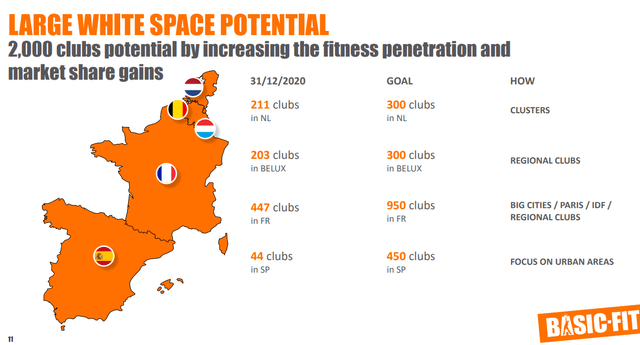 When a club reaches maturity, it is profitable according to the company.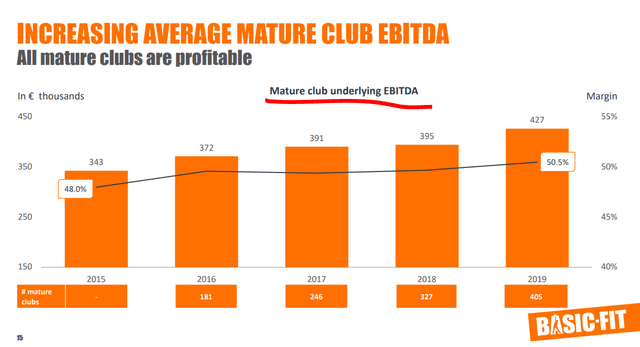 My issue with these businesses is that you must constantly find new customers. Length of stay is 22 months on average.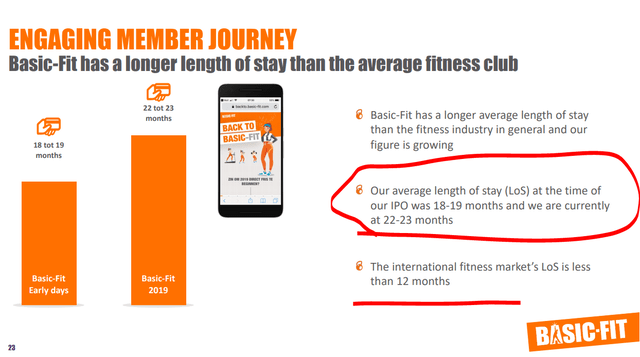 As the gym trend gets replaced by something else, things might not look as stellar. Nevertheless, they have nice targets when it comes to investing. Return on invested capital is expected to be above 30% per year. If it is necessary to invest around 1.2 million for a club, that is net income of 400 million which is a great result. But wait, they don't calculate net income, they use EBITDA for ROIC calculation ?!?!?!?!!

ROIC formula – Source: Investopedia
When management uses financial metrics wrongly, this is a big red warning flag because EBTIDA used in such way is usually 'bullshit' earnings as would Charlie Munger call this. You will see later how the 'manipulate' that number. Nothing illegal, but not really something to count on as an investor.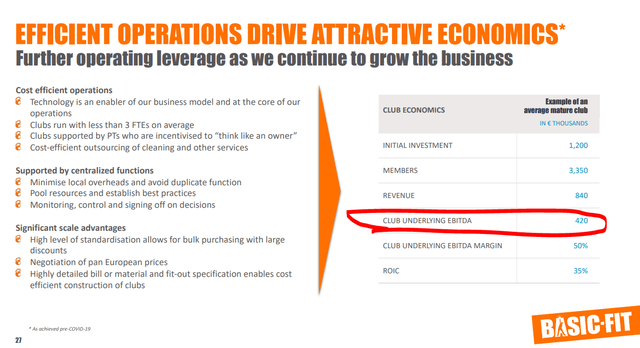 Therefore, I really would be careful in looking at these stories.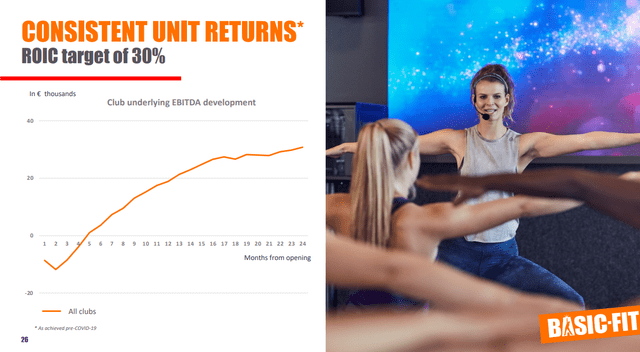 Let's take a look at the financials and see what the reality behind the above 'stellar' metrics is.
Basic Fit Stock Analysis – Financials
I have looked at 2019 cash flows to have a stable year eliminating Covid impact. The biggest factor impacting profits is depreciation.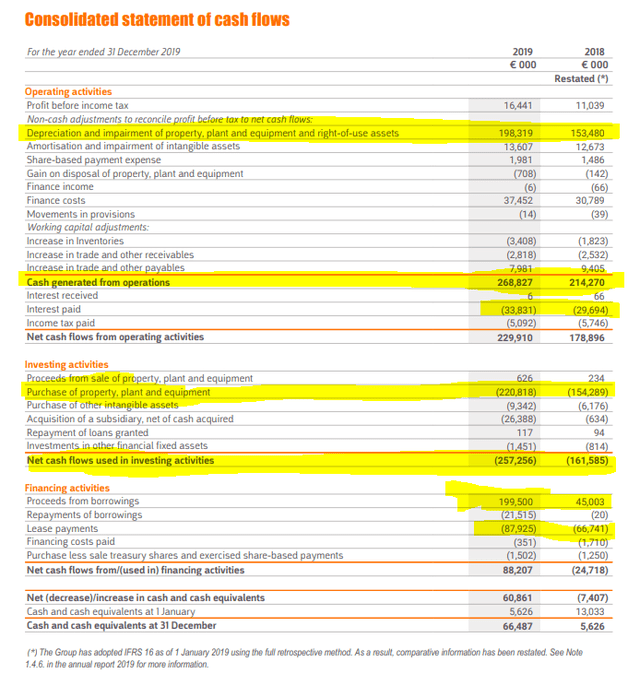 Then you have to look at what is calculated there, and the biggest factor is leases, which is not for equipment and for me is an operating cost, not depreciation.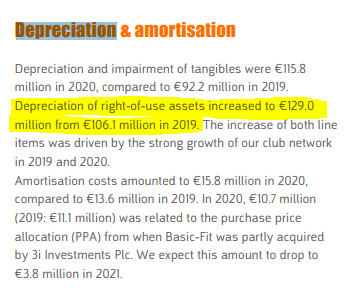 On top of the second accounting divergence of opinion I have with them, debt on the balance sheet is almost at revenue level or even higher when adding the latest bridge facility.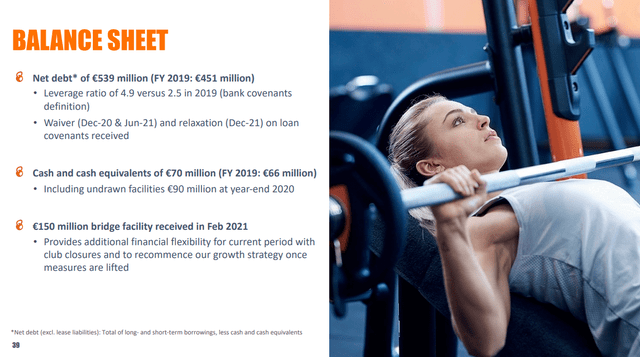 When you cannot make money in a normal accounting way, you must constantly adjust things to make your business look better.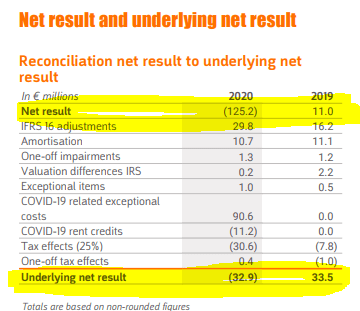 I thought there might be some value in the equipment depreciation, but after 8 years you must refurbish your gym, so not much value left.

Or you can sell it to your even cheaper competitor to get some value – haha.
Growth ahead could be 10 to 15% as they hope to double their market and number of clubs, but I wonder if the same economics for gyms hold in Spain and the Netherlands (Think weather).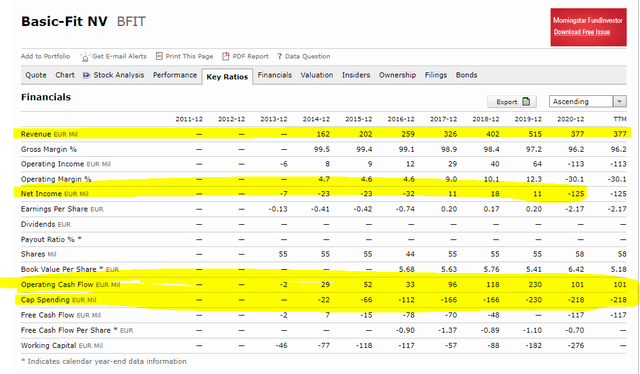 Anyway, these guys are burning cash for business as usual even if they call it growth and investment, they depreciate assets that is just a cost called rent so the operating cash flow they use to calculate EBITDA and ROIC is just smoke for naïve investors.
Basic Fit Stock Analysis – Investment Conclusion
Even if I take 2019 numbers and assume a best-case scenario, the stock is trading at 5 times sales, net income has been minimal and capex spending is 50% of revenue. That is an extremely risky business model for me especially as there is no moat, competitors can enter the market freely and thus this is just a numbers game, a speed game. My point being, that when the numbers turn, and those will sooner or later for various reasons, the following happens.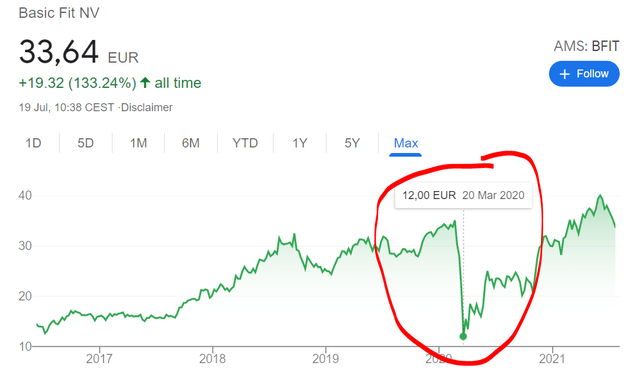 If I would discuss a best-case scenario, they should go to 2 billion in revenue, reach $200 million in pure profits to justify the current valuation.
Too risky for me!
Is this a short?
Going short something implies knowing the direction of where the stock will go, which is something I have no idea about. If they double the number of clubs and the market is happy about that, the stock can triple easily. Going short gives me unlimited downside and limited upside as I can only make 100%.
Plus, I might be right on the business model and it might collapse, but I can't know when that will happen. Thus again, holding a short for years is also extremely costly, just ask all the 'smart' people that have been short Tesla over the last decade. More discussion on shorting in the video.