Barrick Gold Stock With Gold At $1,500, $2,000 And $3,000 (Portfolio Gold Exposure)
Gold mining stocks
In 2018 I have analyzed many gold stocks for my Stock Market Research Platform and I am surprised at how prescient I was when it comes to estimating gold miner stock prices in case of gold reaching $2,000. I also estimated what could happen if gold reaches $800, something that didn't happen but explains the risks of investing in gold mining stocks and is good to keep in mind.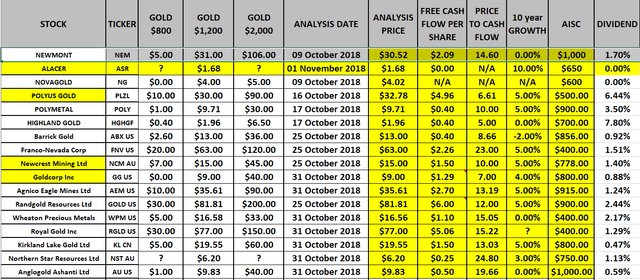 For Barrick Gold stock (NYSE: GOLD), formerly ABX, the current stock price is $29 while I assumed $36 if gold reaches $2,000. I missed on Newmont (NYSE: NEM), one to take a deeper look into because it might be undervalued, but many others are within the ballpark.
Barrick Gold video analysis, article continues below.
Barrick Gold stock analysis
A lot has happened since 2018, from mergers to significantly higher gold prices, so it is a good time to analyze gold miners in order to see whether there is value within the sector, or to identify those businesses that might offer value at certain levels because I can guarantee you that gold prices, and especially gold stock prices, will always be volatile. I'll analyze gold mining stocks and value them based on the assumption of average gold prices at $1,500, $2,000 and $3,000 over the long term. This should give an excellent understanding of the risk and reward of investing in gold miners today.
Barrick Gold stock analysis content:
Barrick gold stock price action
Business overview
Barrick gold stock fundamentals
Investing valuation
Portfolio strategy
Barrick Gold stock price action
As a gold mining stock, Barrick Gold's stock price depends on gold price movements. Barrick Gold stock peaked in 2011 when it went above $50, only to fall 85% to the 2015 lows around $7. Since it has rebounded significantly to current levels of $29. Note: apart from dividends and spinoffs, there was no added value since 1994 for Barrick Gold shareholders.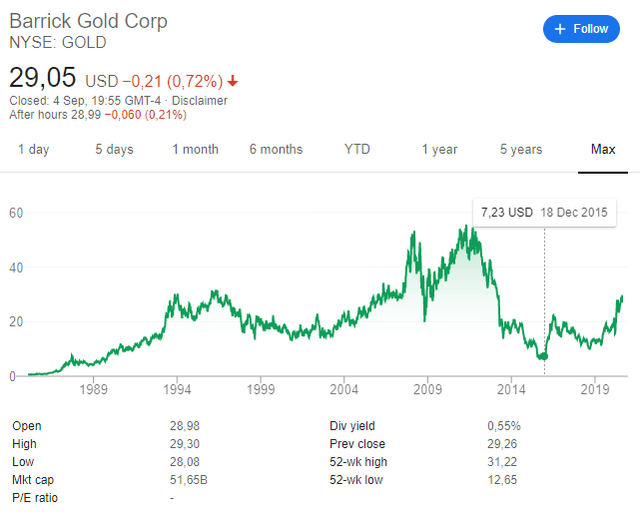 Gold mining stocks are much more volatile than gold itself because of margin expansion. Let's say that with gold at $1,200 a miner like Barrick has a profit margin of $200 per ounce. With gold at $2,000, that profit margin increases not to $1,000 because of higher taxes royalties etc., but let's say it goes to $600. Thus, the margin/value of a miner tripled while the price of gold less than doubled. This is why I personally prefer gold miners to just gold when I wish to have gold exposure for my portfolio.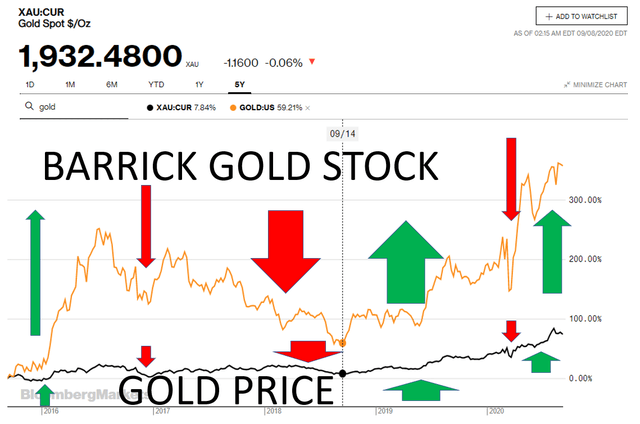 Let's take a look at the business, fundamentals in order to value Barrick Gold.
Barrick Gold business overview
When it comes to miners, the key factors to focus are:
Life of mine – for how long can keep up the current production?
Mining costs and margins – the higher the mining costs the higher will be the stock volatility.
Jurisdiction – mining is a global business and every country has its own rules where rules often change.
Growth perspectives – with higher gold prices, many projects suddenly become valuable.
Cash flows; operating cash flows, capex and free cash flows.
Barrick Gold mining
Barrick Gold merged with Randgold in 2019. Randgold added growth opportunities and reserves which is what Barrick needed.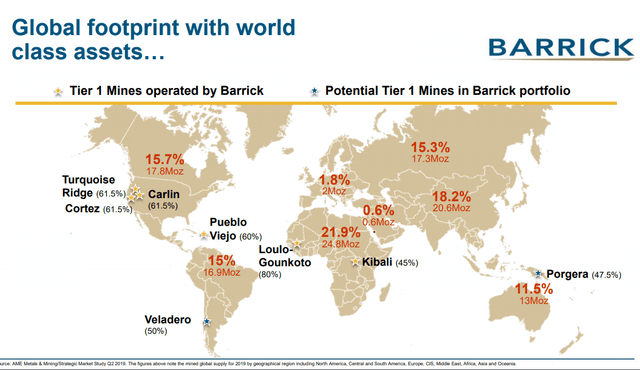 Barrick Gold is expected to have stable production in the future if they don't start expanding like crazy catering to Wall Street's everlasting hunger for growth, but it seems they learnt their lesson since 2011 as the CEO, Mark Bristow, said how "the $1,200 is the new $1,000" for making investment decision in the last conference call. In 2011, during the gold mania, miners expanded thinking how gold prices will only go up and that backfired. Consequently, Barrick's stock fell 85% form 2011 to 2015.
Barrick's 5-year outlook is a good base to make an analysis of the business. Production is expected to be stable at around 5 million ounces of gold. Cost of sales (1 – yellow number in below figure) is expect to be around $1,000 per ounce, (2) All in sustaining costs should decline from around $950 to $830, (4) cash costs should remain stable around $625 and capital investments (3) are expected to be at $1.5 billion in 2020 and in 2021 to consequently decline to $1 billion in 2024. This are the numbers we will use in the valuation part.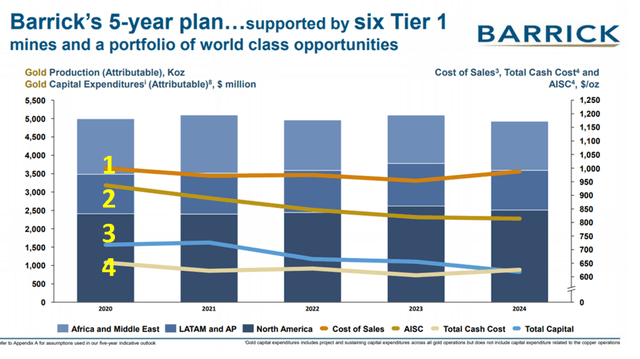 Looking at the reserves, economically mineable ore, Barrick has 14 years of mining ahead at current rates of 5 million ounces with 71 million ounces of reserves.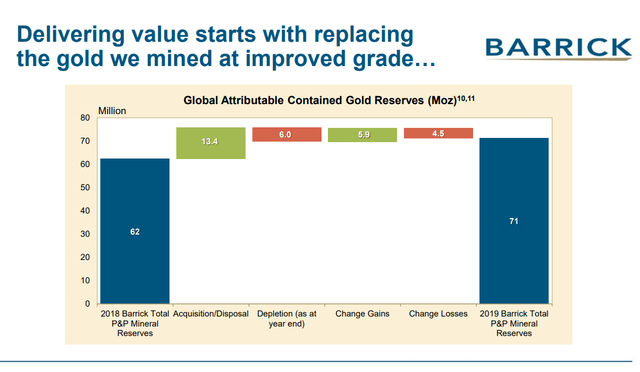 Given that the current reserves are measured at low gold prices close to $1,200 and reserves and resources (likely to be economical) stand at 170 million ounces, I think the below 10-year production chart is sustainable over the next 20 years if gold prices stay above $1,500 and thus the current situation can be used in our valuation models.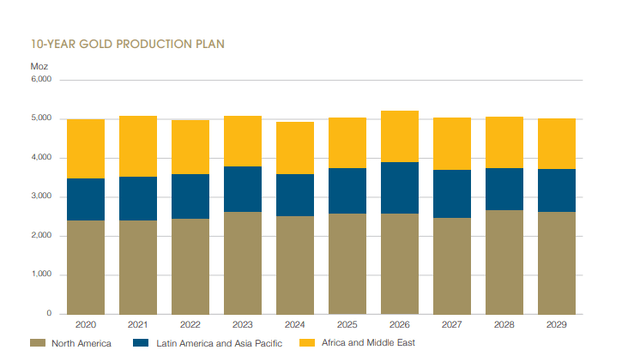 Further, the many exploration targets and potential mine expansions will likely bring to new ore bodies down the road, to be exploited when profitable.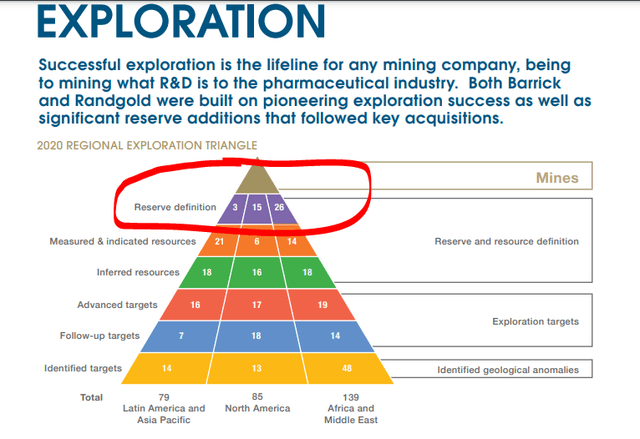 On top of the new possible projects, that they have sold quite a few over the last months for amounts between $5 million and $15 million, many mines have adjacent ore bodies that are always a great bonus if proven profitable. The benefit of such situations is that you have a mine that is already built and therefore the cost of mining is much lower as all you need is to bring the ore to the mill. A great example of that is the Carlin mine in Nevada.
Barrick Gold Carlin Nevada
With such a name, Carlin, the mine can only be of top quality. It is currently producing around 1 million ounces per year, it has been producing gold since 1965 and given the strength of the Carlin brand, sorry, trend, it is likely it will continue to do so for the foreseeable future, especially with gold prices so high.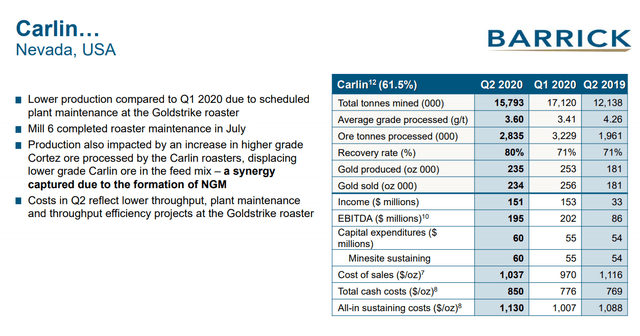 Even after 55 years of mining, the Carlin trend keeps delivering and surprising with new discoveries.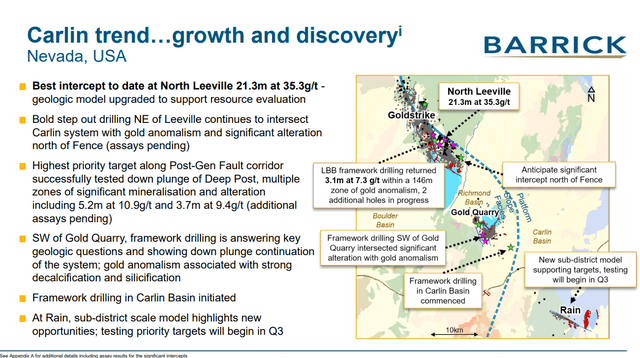 Aditionally, the potential new tier-1 projects like the Veladero mine in Argentina offer many options for the future expansions and longer term production. Of course, depending on gold prices.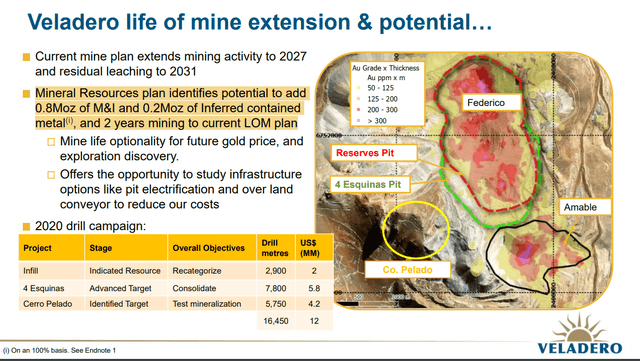 All in all, Barrick Gold is a stable gold producer, well diversified and one from which you can expect stable long-term production ahead and perhaps even some growth if gold prices justify higher investments in some of the interesting projects they own. There will always be issues like the ones they recently had in Tanzania or DRC, but that is normal in the business of mining gold.
Barrick offers big mines that will keep delivering and also new projects that can maybe deliver. The problem with new projects is that until it is in production, you can never know whether it will be profitable or not.
Barrick Gold stock fundamentals
The balance sheet looks strong with a high cash position and consequently low net debt. Also, with $3 billion in free cash flow per year, the $5 billion in debt with no significant maturities before 2033 is not an issue.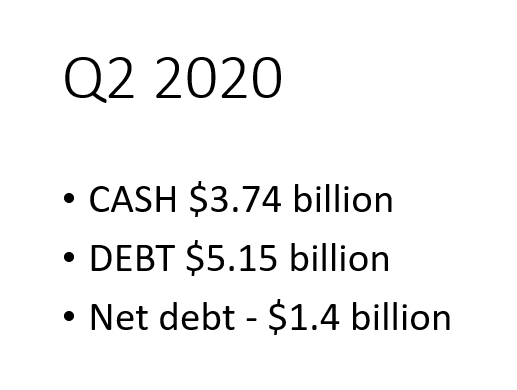 Barrick Gold debt
We can easily say the fundamental value of Barrick is made from the 170 million ounces of gold that are in the ground at the low production costs expected. All in all, no significant issues with Barrick's fundamentals and given the cash position, if gold prices stay around $2,000, the dividend will likely grow.
Barrick Gold dividend
As gold prices increase, Barrick is increasing its dividend and will likely continue to do so.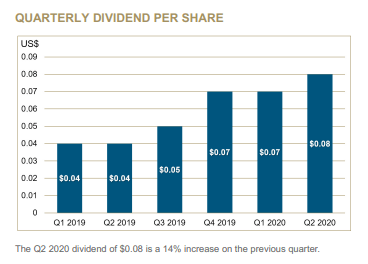 Barrick Gold stock valuation with gold at $2,000, $1,500 and $3,000
With attributable production around 5 million ounces, gold prices at $2,000, total revenues are $10 billion. Cost of sales is around $1,000 so we are at gross profits of $5 billion. From the $5 billion we have to deduct the $1.5 billion in capital expenditures, taxes and other costs and we come to $3 billion in yearly cash flows if gold prices stay at $2,000.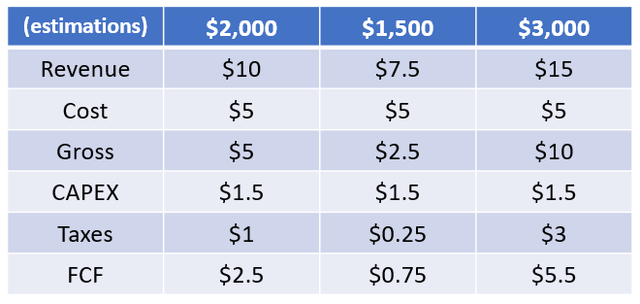 With gold prices at $1,500, we can assume free cash flows of around $1 billion while with gold prices at $3,000 cash flows could be around $5 to $6 billion.
The current market capitalization is $51.6 billion which means that only at gold prices above $3,000 one could expect a free cash flow yield in double digits.
At current gold prices, the cash flow yield is still good at 5.8%, especially compared to current interest rates and the gold hedge card Barrick could add to your portfolio.
However, and now I'll say the most obvious thing when it comes to investing in gold mining stocks; returns depend on where gold prices go. As that is impossible to know, we can analyze the possible outcomes and then create a strategy for investing in gold miners if you feel such an exposure would add value to your portfolio.
Gold price outlook
There is one certainty when it comes to gold prices; things will always be volatile.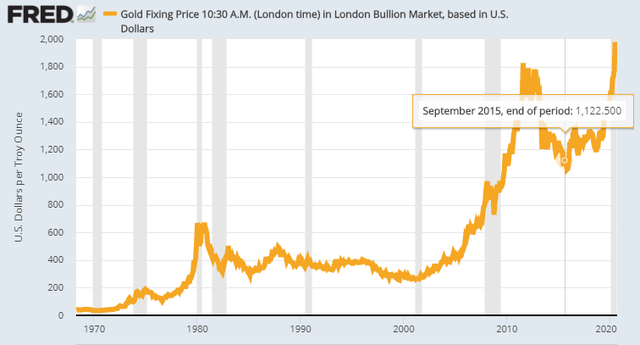 There have been some booms, like it was the case in the early 1980s, from 2008 to 2012 and the recent boom that started end 2018. But, when it comes to gold prices, one must know how prices went nowhere from 1981 to 2008, from 2012 to 2020. Thus, there is a possibility that gold prices don't go any higher for the next decade. When it comes to gold, it is all speculation and what we as investors have to see is how that speculation fits our portfolio.
By listening to conference calls, miners haven't adjusted their long-term gold price projections much and also Barrick just increased the projections from $1,000 to $1,200. Also, gold prices depend on supply and demand, nothing else. So, as long as there are more buyers than sellers, prices might continue to go up and vice versa. It is all about sentiment at this point in time.
Gold is a purely speculative play and I don't think there is any variable that one can use to predict. We can create many rationales in order to look smart. For example, if I compare gold prices with the FED's balance sheet, one can find some correlation.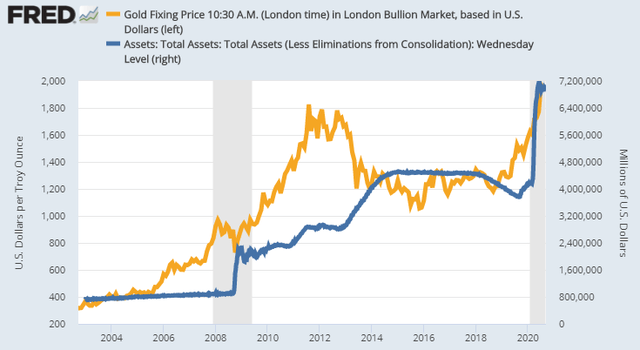 However, gold prices also anticipate a lot. Prices started to increase significantly in 2005, perhaps as people diversified during good times expecting rainy days ahead, then prices really exploded in exuberance when things 'finally' went wrong within the economic system, what gold bugs always hope for, but then it takes a lot of time for that exuberance to be justified by actual price levels and valuations.
The smartest thing to do when it comes to gold and gold miners, is to have a clear strategy.
Gold mining stocks portfolio investing strategy
We have seen how gold prices are always volatile and how gold mining stocks are even more volatile. Therefore, one can set up a portfolio strategy that sets a fixed exposure to gold or gold miners as a hedge and then trades around. Perhaps this one works best with gold miners because of more volatility where Barrick Gold is perhaps one of the best to do that because it offers business stability, diversification, positive cash flows at any gold price but is much more volatile than gold.
Holding a fixed percentage of your portfolio in gold or gold stocks is very difficult because you have to sell part of your holding when it looks like all is going great for gold and buy more when nobody likes gold at all. Something you should be ready for because gold prices are unpredictable.
I wouldn't invest in gold miners on current prices because the risk is high. If gold drops to $1,500, it will be ugly for miners and I wouldn't exclude declines of 50% or even more. On the other hand, anything can happen but before investing one has to understand the risk and reward scenarios.
For miners, with average gold mining costs at $1,000 or lower, the margin expansion if gold prices go to $3,000 isn't as big as it was the case from $1,000 to $2,000.Therefore, the upside is limited compared to the downside.
If, gold prices go to $5,000, miners will do great but that all depends on where will the market push gold. Longer term it also depends on what happens with the economies, deficits, what central banks do, the confidence people have in currencies etc.
As for gold portfolio exposure, I see it like this:
If you are a gold bug, you are probably overexposed and hopefully, you made your money! Think of diversifying with better fundamental things because over the last two years gold has gone from low risk high potential reward to high risk, medium potential reward!
If you are thinking of diversifying with gold, the best strategy is just to put 10% in gold stocks, if it goes to 5% you push it up to 10% and if it goes to 20%, you push it down to 10%, that is about it.
Barrick Gold is one of the most stable, best diversified gold miners out there and that is about it with Barrick. It is up to you to see how it fits your portfolio strategy.
If you wish to get notified when I make a new gold stock analysis or other stock analyses, please subscribe to my newsletter: