Bam Groep Stock Analysis – UGLY
This Bam Groep Stock Analysis (AMS: BAMNB) is part of my full analysis of every stock traded on the Amsterdam Stock Exchange. My goal is to find stocks to invest in that offer 10-bagger potential, so as would Buffett say; I start with the As and we are already on the Bs.
Bam Groep Stock Price Overview – AMS: BAMNB
BAMNB stock has not been making investors happy over the last decade. The stock never recovered from the financial crisis and the 2000s exuberance was exactly that: exuberance, likely based on emerging markets booming forever that didn't develop as planned.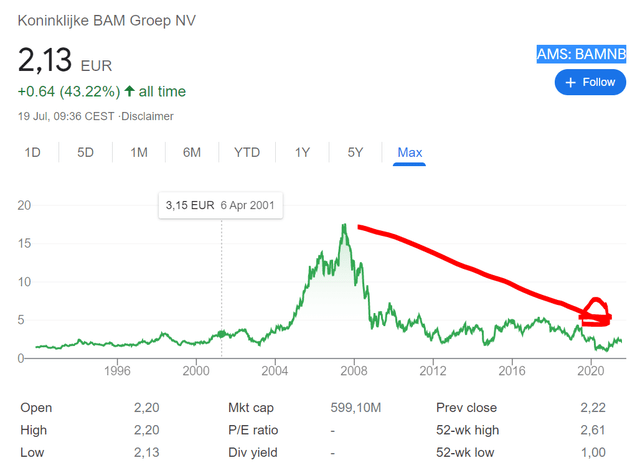 Lower lows and lower highs over more than a decade indicate there must be many business issues that plague the stock. But, the market capitalization now is just 600 million EUR while the book value is at par with it. Let us see about the business to understand more about the investment story.
Bam Groep Stock Analysis – Business
Revenues have been stable over the last decade, but earnings have been negative on average, dividends have been cut twice and book value has more than halved.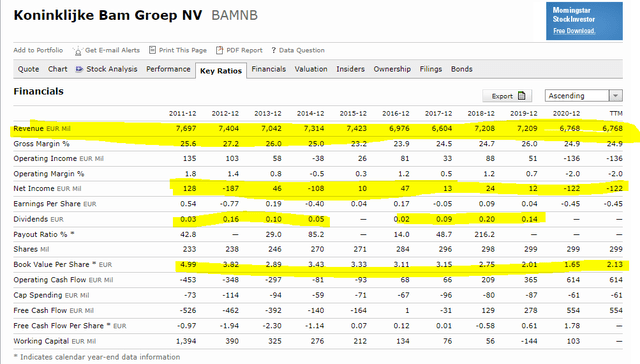 If you open Bam's investor presentation, the first page is immediately about a new strategic plan.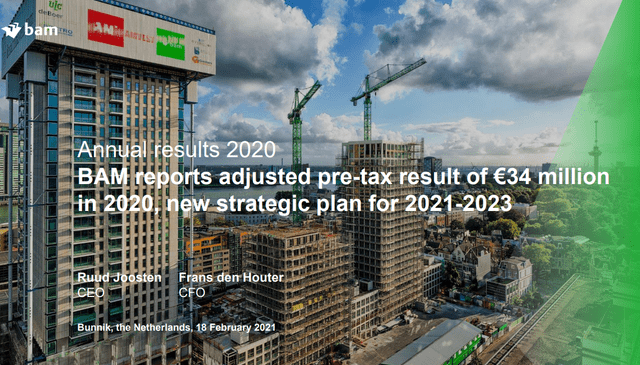 The new strategy puts BAM into the turnaround investment category but the main question is will things ever change for BAM. Revenues are at 6 billion EUR so the stock is trading at 0.1 price to sales (compare that to price to sales ratios of 50 that are common these days).
Backlog is strong and thus there should not be any fears related to the business as a going concern.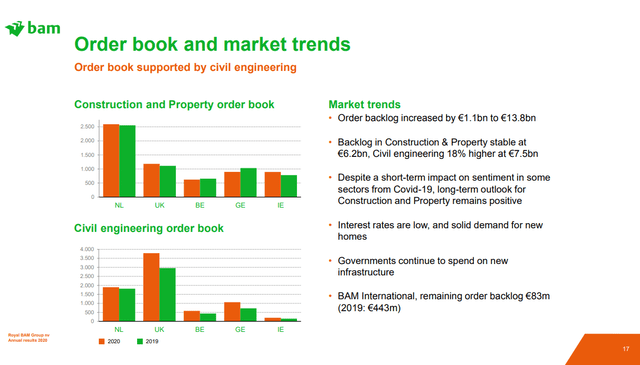 But the question is will they ever reach profitability again, or even better, sustained profitability. There are always issues arising from some of the many projects and investments they have.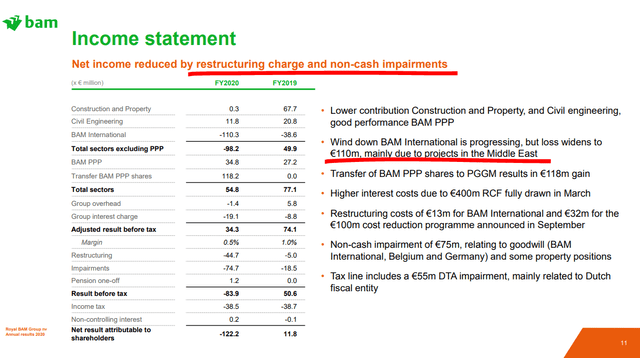 The problem might be BAM's size – the company must take on projects that they know are not profitable just to keep employees and the company alive – not something you want to have as a shareholder. Plus, these projects always go to the lowest bidder, which is not a business I would like to operate in.
Their target is 10% ROCE, but how are they going to achieve it remains a mystery – especially as the charges and impairments come after most of the business is completed.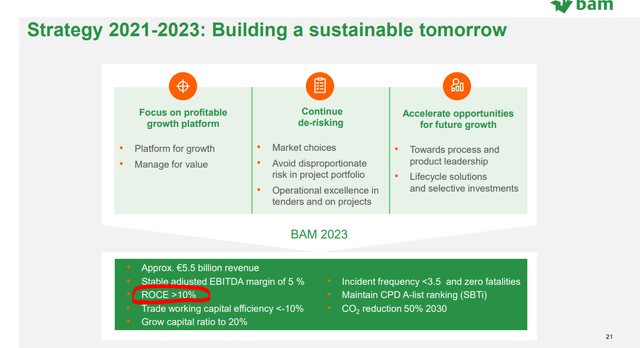 And the above bad numbers are from a period of intense construction – imagine what would the company look like if there would be a bad period like a recession.
BAM stock investment thesis
If the company manages to turn around its business, only engage in profitable projects and reinstate a dividend, the stock could easily double. But, why would I invest in such ugly businesses where issues always surface from somewhere, profits depend on competition and general economic activity where to get a contract you usually have to be the lowest bidder (not a great way to make money).
I hope BAM employees keep their jobs and that is pretty much it when it comes to the reason for existence with such companies. Plus, I have the feeling that if I would start to dig deeper into BAM, I would only find more and more issues. For example, I sincerely hope the below dilution of 10% of the company is not for rewarding management because with a stock down 90% over a decade, if they are still rewarding themselves, I know enough.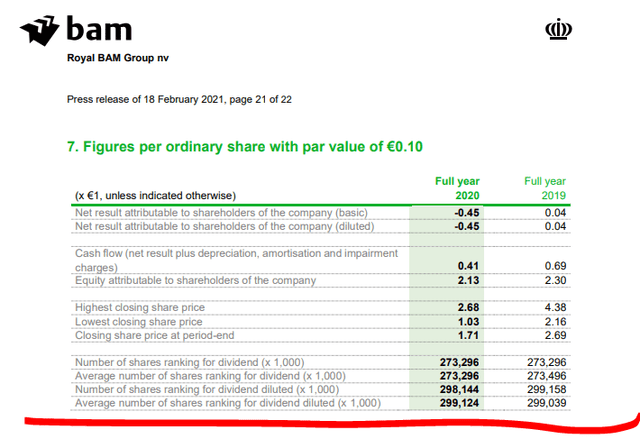 Let me go to other businesses on the Amsterdam stock exchange, as there are beautiful businesses there. Perhaps what my friend, that works in sector in the Netherlands, says sums it best for BAM: "the management there are all a**holes and nobody wants to work with them". Sometimes, something like that tells you enough about a potential investment, no matter the price.
Too risky and ugly for me to consider, I prefer beautiful businesses.