Allfunds Group Stock Analysis – AMS: ALLFG – ! AVOID !
Allfunds Group stock is a very recent IPO. It is a Spanish company, headquartered in the UK that has listed in Amsterdam.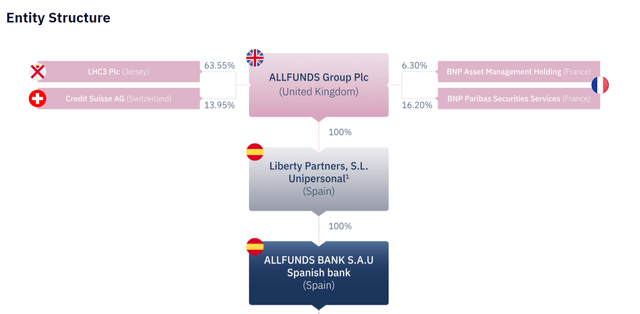 If it is a good business like other recent IPO's we covered, namely Adyen or Alfen, it could be interesting.
This Allfunds Group stock analysis is part of my full analysis of every stock traded on the Amsterdam Stock Exchange. My goal is to find stocks to invest in that offer 10-bagger potential, so as would Buffett say; I start with the As.
Allfunds Group stock price overview
For now, Allfunds stock is slightly below the IPO launch price in April of 2021.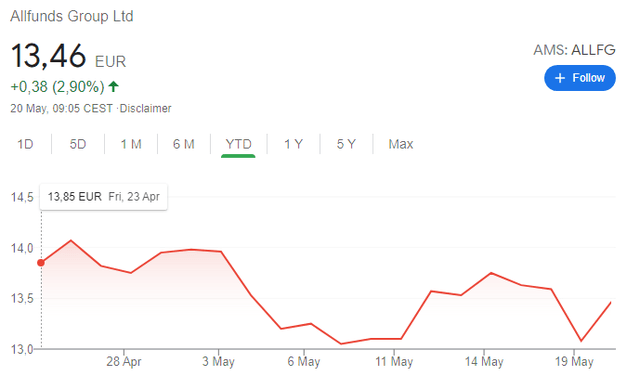 However, if it really is a great business, then the prior owners would not make an IPO to sell a big chunk of their stake. Then you issue shares and reinvest the proceeds into the business, you don't rush to sell your stake, and around 33% of it from what I see below.

Why would you every sell a great business? Well, maybe it isn't.
Allfunds Group stock analysis – business overview
Allfunds Group is a B2B platform for fund managers where they try to integrate all the needs a fund manager might have.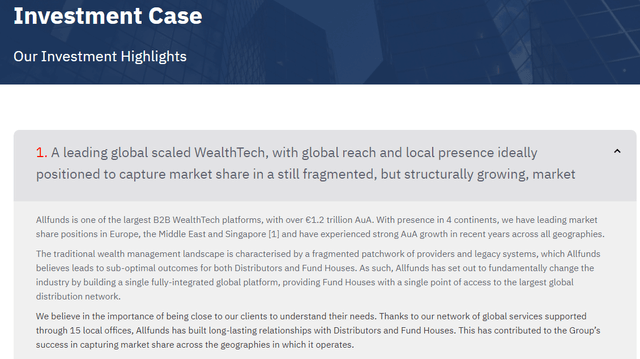 They have made an acquisition from BNP Paribas that further increased EBITDA and adjusted profits.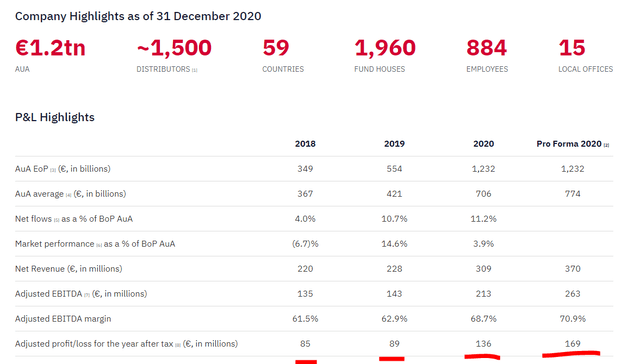 If I look at real profits, those are negative, albeit declining which is a positive.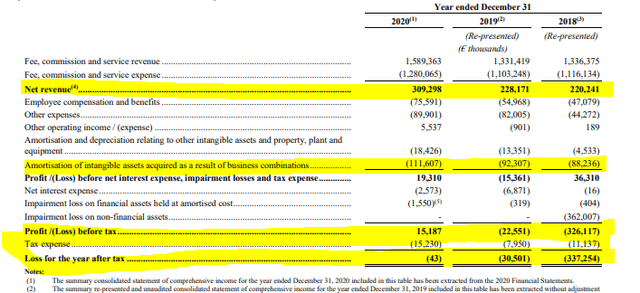 However, this company impaired 362 million of assets in 2018 which tells me business is risky and not that easy, plus they are losing money in general. If there is a slow year with funds, it can get ugly.
Plus, just before the IPO, the company declared a dividend of 185 million for the previous shareholders.

With around 629,399,029 shares issues, and a price of 13, the market capitalization is 8.1 billion EUR. Revenues were around 320 million without any profits. With a profit margin of 100%, the dividend would be just close to 4% which is a ridiculous number. Even if they keep growing at 20% per year, it will take a lot of time to reach a sensible return on the market capitalization.
So, my feeling is that given the current hot market for IPOs, the fact that index funds simply buy everything up, the owners have very smartly decided to do and IPO and have Blackrock, Janus and others spend 1.8 billion of likely your money that is invested through pension funds, to cash out on their business venture that is not really profitable. So, the management is definitely extremely smart.

Plus, they paid themselves a dividend of 180 million without breaking a profit over the last 3 years. Another very smart thing.
Allfunds Group stock analysis – investment conclusion
I'll simply avoid Allfunds stock as these kind of bets are not for my taste. I will leave this to BlackRock that has so much money that they have to buy up parts of everything.
Perhaps the smartest investment I could do is to launch an IPO. Ticker: AMS: SVEN. I will own 99.9% of 1,000 shares, and I'll ask you to buy 10 shares for 1,000,000 EUR per share. That would put the market capitalization at 1 billion and Blackrock would be happy to invest 50 million to own 5% of it.
So, we invest 10 million to buy 10 shares from me, push the market cap higher and Blackrock then buys 50 million EUR of new shares that we as a company issue. That is a great investment, we need to invest 10 to get 50…… ahahahahaha – seems funny but it is how it is done. I hope it is not the case with Allfunds, but definitely not an investment I am interested in.
Anyway, if you are an investor looking for slow and steady value investment opportunities, please subscribe to my newsletter where you will be notified when new analyses are made.
About the author: Sven Carlin Ph.D. is a dedicated investing educator and stock market researcher focused on finding investment opportunities with a value investing perspective. His research is summarized on the Sven Carlin Research Platform where he covers many stocks and shows his portfolios. The educational part is shared on YouTube and the Free Stock Market Investing Course.