Aedifica Stock Analysis – 'We Are Getting Older' REIT Investment
This Aedifica stock analysis is part of my full analysis of every stock traded on the Amsterdam Stock Exchange. My goal is to find stocks to invest in that offer 10-bagger potential, so as would Buffett say; I start with the As.
Aedifica is a real estate investment trust (REIT) specialized in healthcare projects and focused on a diversified portfolio of rental incomes that caters to a strong trend these days, population aging.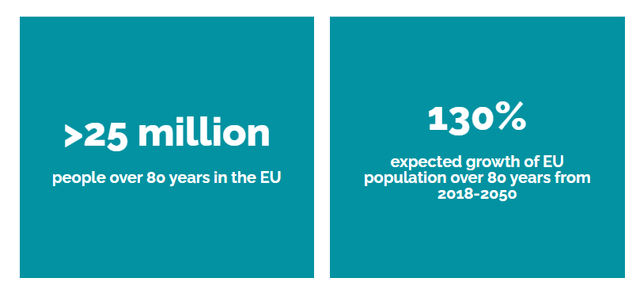 Aedifica stock price overview – stable stock price
Aedifica stock – EBR: AED – traded on Euronext Brussels and Euronext Amsterdam (ISIN: BE0003851681)
The first that strikes when looking at Aedifica's stock price is the stability of it. Except for the spike and quick decline around the Covid-19 2020 crash, everything else seems more like a bond than other.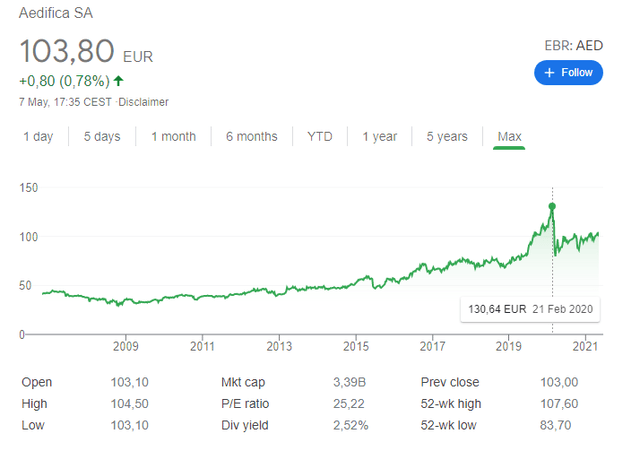 The market capitalization is 3.39 billion EUR, the PE ratio is 25 but that is not something to focus on when it comes to investing in REITs because accounting for building depreciation lowers earnings but the real value of the real estate properties doesn't actually decline. So, we'll have to check for funds from operations to value Aedifica or what we focus on in Europe, EPRA earnings. Before that, let's check the business.
Aedifica stock analysis – business overview – strong aging trend in Europe
Aedifica has 496 properties in Northern Europe, the estimated fair value is 3.67 billion EUR, the annual rental income is 209 million EUR for a gross rental yield of 5.8%.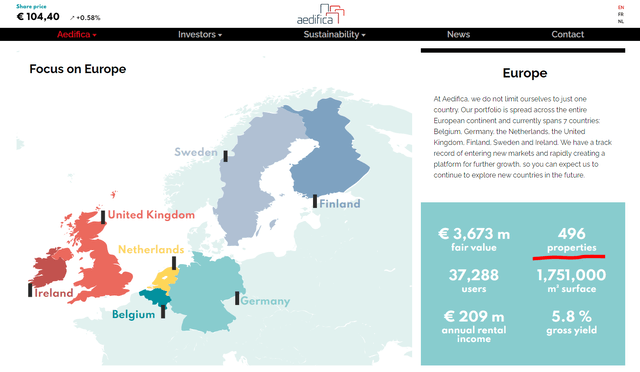 The business model seems very stable which also explains the stability of the stock price. Occupancy is 100%, all with long-term leases and mostly focused on elderly care homes.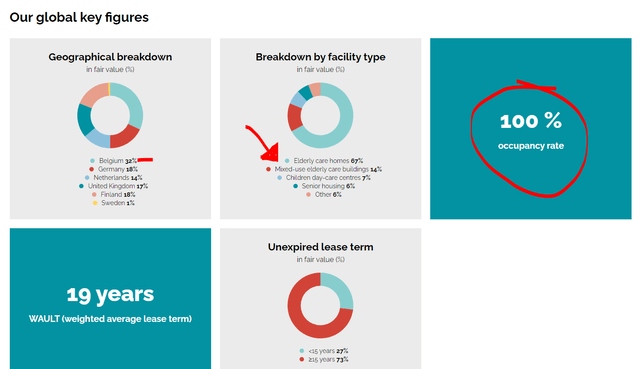 The company is busy with expanding and focused on growth by doing acquisitions and developing new properties.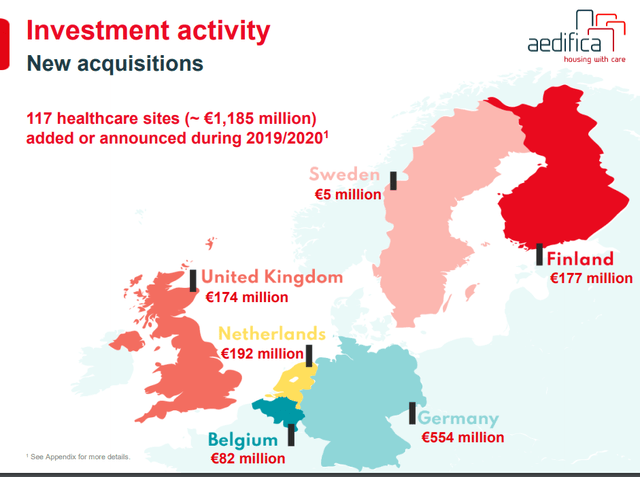 From the end of 2020 till the 24th of February 2021 when the last presentation has been published, they acquired 8 properties for a total of 79 million EUR. (one in the village I used to live – Blaricum which is still to be developed and will take another 8 million to finish)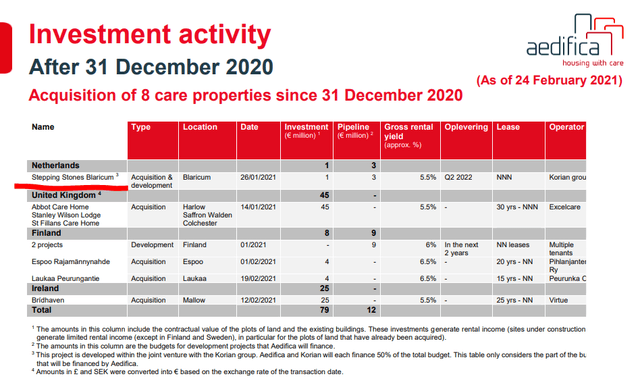 I am mentioning this project because I want you to check the gross rental yield of 5.5% which is in line with the rest of the projects with the yield being a bit higher in Finland. Keep it in mind for later when we compare to interest costs.
The fast growth comes also thanks to the capital increase the company made recently of 459 million EUR.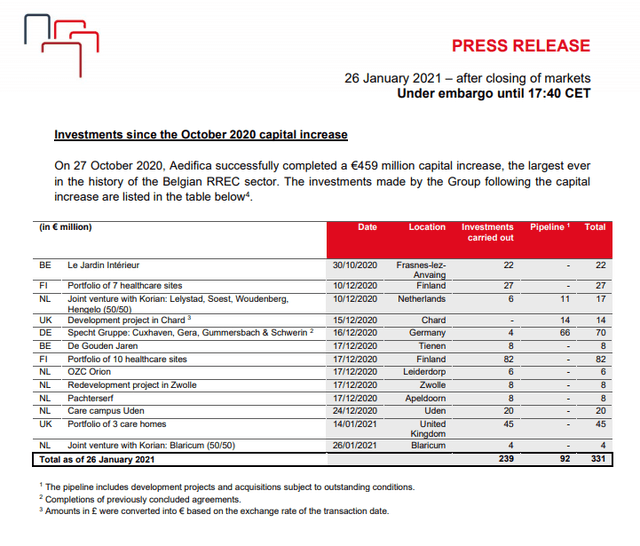 All in all, we could say this REIT is a fast-growing REIT in a fast-growing trend.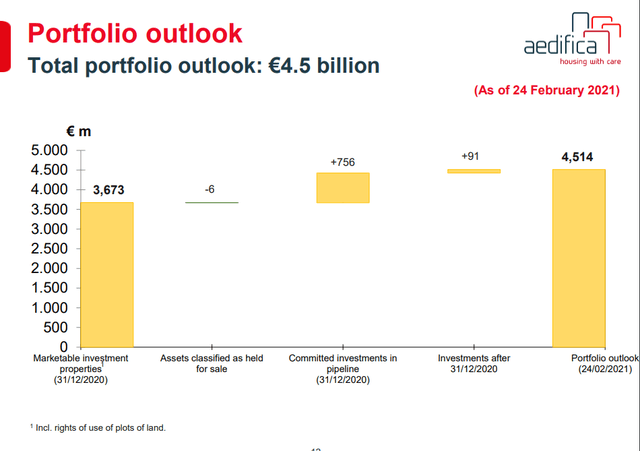 Their plan is to just keep growing and to also enter new markets.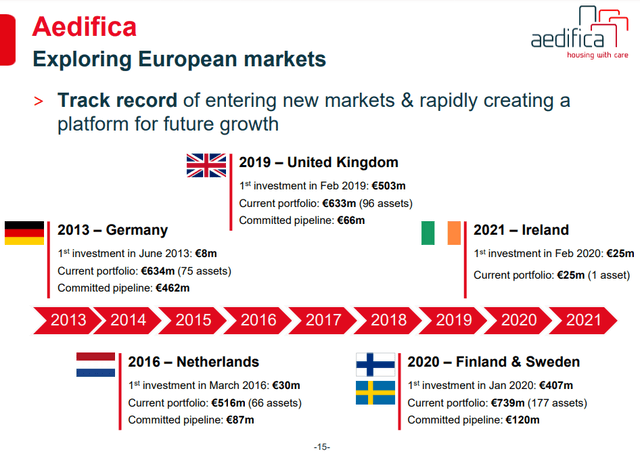 The above growth is based on the fact that we are all getting older and that one day we will be the target customer. I will do my best on the educational and research side of investing, so that one day you don't have to read my articles from an Aedifica home, but from a coastal villa with private elderly care.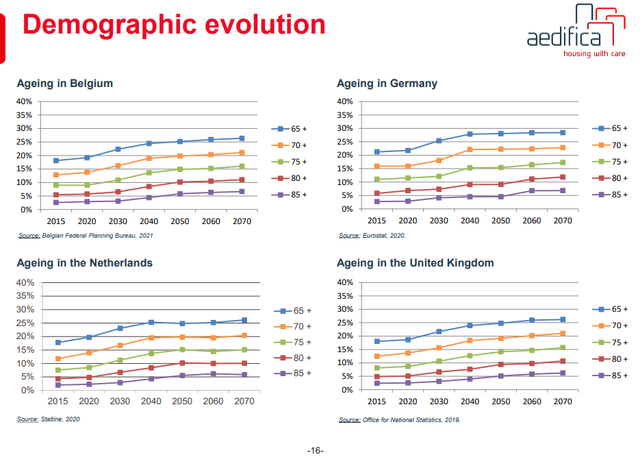 Nevertheless, investing with a strong structural trend as a tailwind is never a bad idea. Plus, Aedifica's growth track record is really staggering.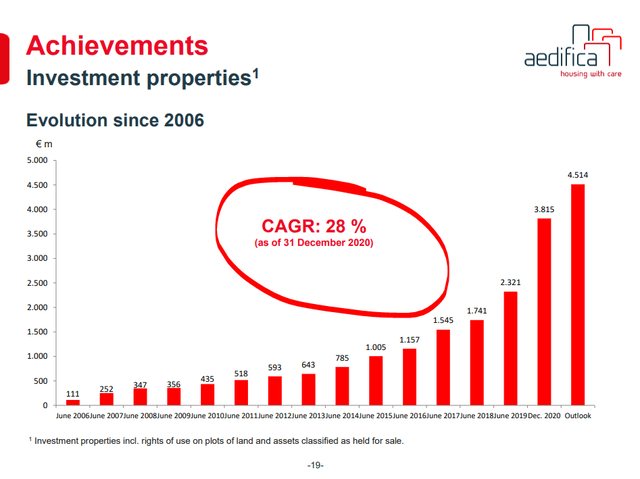 Let's take a look at the financials to see what is the price we have to pay for the above growth and trend exposure.
Aedifica stock analysis – financials
The company is growing fast, but it is also issuing a lot of shares to finance the growth.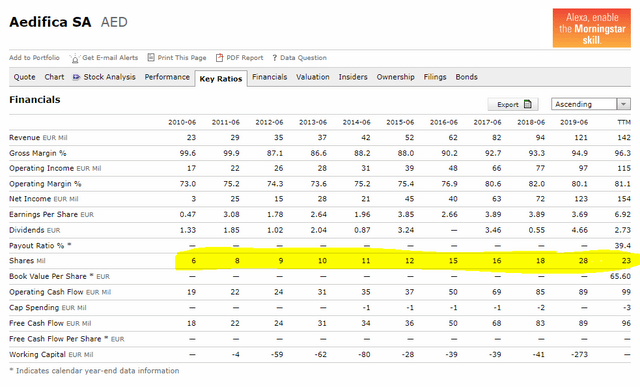 The key for investing is to look at per share factors and the developments there, we'll focus on the dividend in a moment.
The debt to assets ratio is 46% which is not bad for a company like this.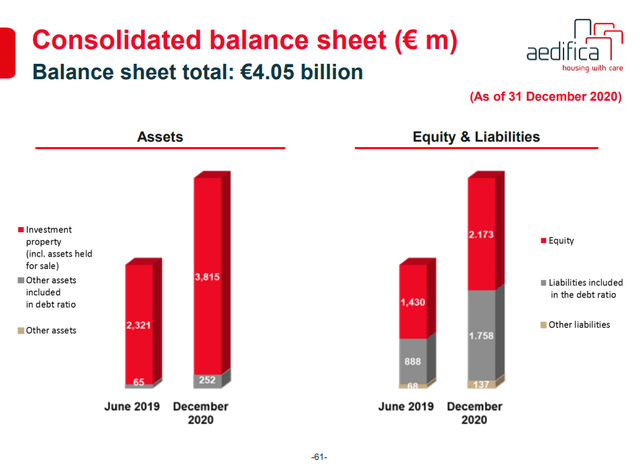 The debt to assets ratio is allowed to go up to 60% before breaching bank covenants.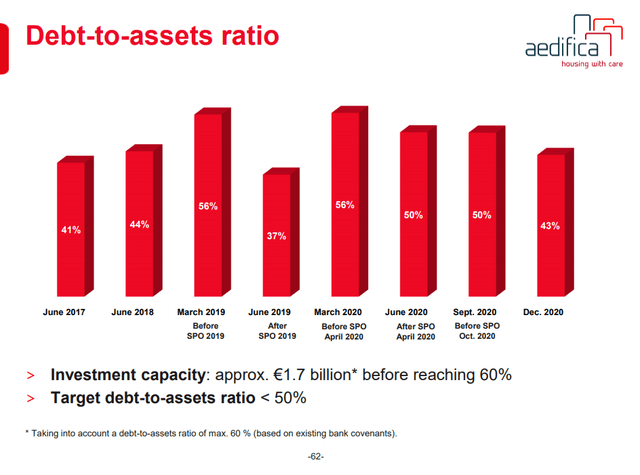 Aedifica stock analysis – balance sheet – Source: Aedifica
They are keeping things stable also by issuing rights or stocks.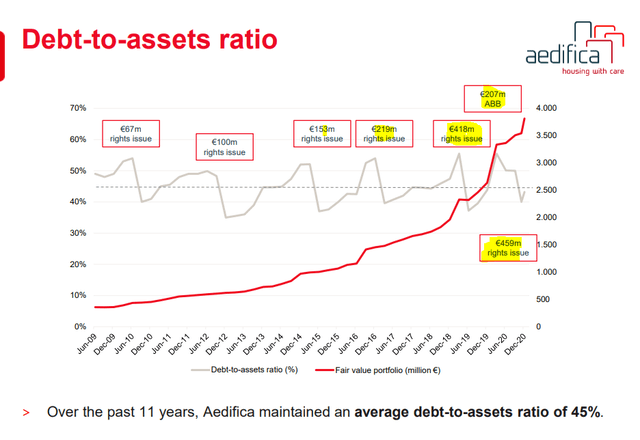 Total debt is 2.2 billion with an average maturity of 4 years. That is a short period because it means you accept interest rate risks.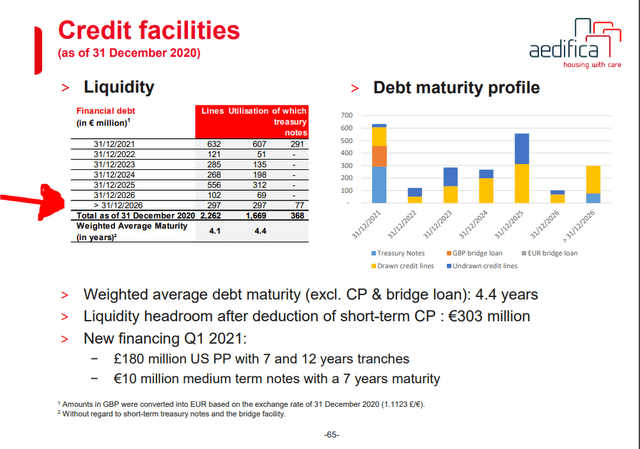 But, the interest rates are really low with last credit having a fixed rate of 1.2% to 1.46% for 7 years.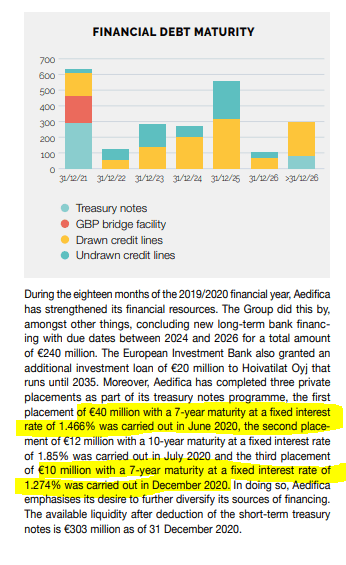 If you can borrow at 1.4% and invest in projects that offer a 5.8% yield, then you know you have a good business model.
However, that also indicates the key risk for Aedifica – interest rates.
If interest rates go up, the cost of debt will go up while the fair value of the projects will go down because as Buffett says: "interest are to asset prices like gravity is to matter". Investors will demand higher gross yields from the properties.
If interest rates go up, that spread can narrow and the fair value of the assets would go down that would also maybe breach some of the bank covenants. So, that is the subtle balance with REITs that one must always keep in mind.
I don't think the chance of terrible things happening is big, but it is good to keep in mind the key risk. Let's look at the dividend which should be the key reward.
Aedifica dividend
Aedifica's dividend policy is set and the positive there is the lowered 15% withholding tax on healthcare REITs compared to usual European withholding taxes.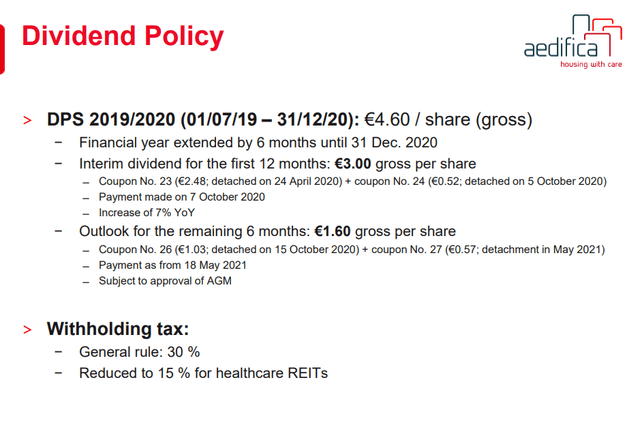 Now, the dividend per share track record shows what is the real growth behind the company's efforts, beyond debt and shares issues. Since the IPO we can say they managed to double the dividend which implies a growth rate of around 5% per year. That is not bad, especially when you add the growth on top of the dividend that you receive. Sum the two and that is to be the likely investment return you can expect.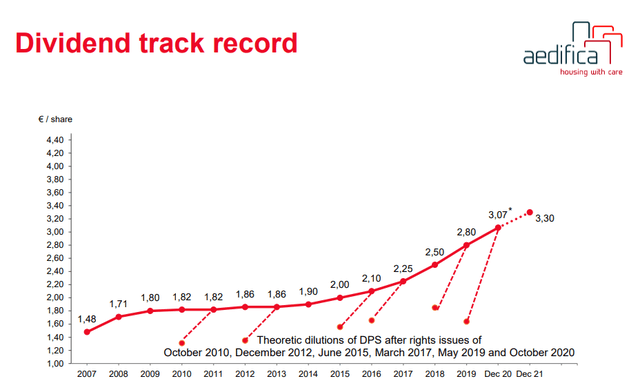 If the company keeps on increasing the dividend per share at a rate of 5%, where the increases have been even faster over the past few years, that should add to the growth of the stock price alongside giving you a dividend. The current Aedifica dividend yield is around 3%, add 5% growth on top of that, and if all things remain equal in the future (interest rates), your investment return should be around 8% which is not bad at all.
However, if the growth slows down, then you fall to what the company currently makes.
Aedifica stock valuation
I have made a quick valuation using the dividend and expecting a 10% return from my investment. With a 5% dividend growth rate ahead, the intrinsic value would be 69 EUR.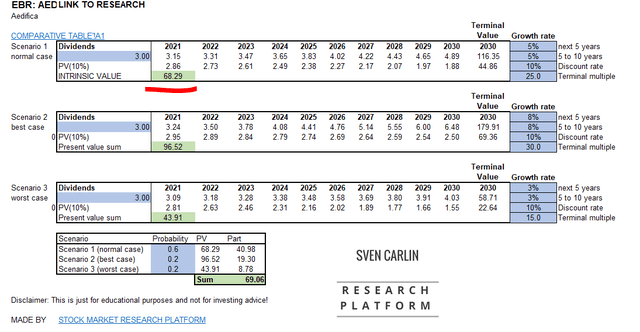 Aedifica stock valuation – Source: Sven Carlin Research Platform (downloadable template)
If I push the dividend growth to 8%, and have the market still happy with a 3% yield in 10 years (terminal multiple 30 – 100/30=3.3%), then the valuation justifies the current price for a 10% return. You can download the template and change the discount rate if you are happy holding this with a lower expected return.
Aedifica stock investment conclusion
The stock price has been constantly going up because REITs are not bad investments. Those offer stability, predictable cash flows and even growth. The main factor impacting valuations there are interest rates but I feel one should approach things from an absolute investing perspective, not a relative one like the market does.
From an absolute investing perspective, Aedifica offers a 3% dividend yield and promises of future growth. Over the last 40 years, REITs have been nothing but going up and if interest rates stay at zero, that story might continue. However, at some point in time, things will change, spreads will narrow and it will get ugly for REITs. I don't know when it will happen but when it happens you have to be happy with what you own, excluding future expectations of growth.
Without access to cheap capital markets, Aedifica can't grow as fast and thus the absolute return remaining is the dividend. Keep that in mind.
Nevertheless, if I compare Aedifica to the rest of the stocks that I have recently analyzed, we could say it is fairly priced, but nothing special. For higher yields and returns you need to look at emerging markets.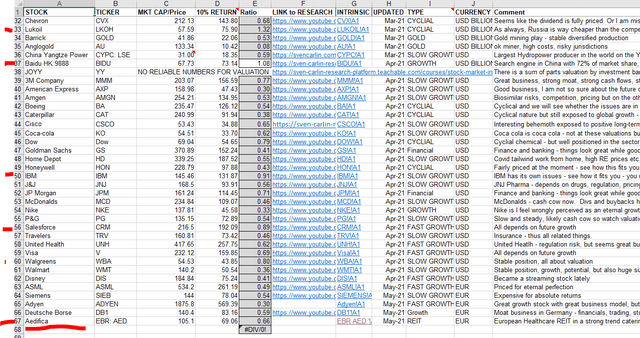 Aedifica comparative stock valuation – Source: Sven Carlin Research Platform (downloadable template)
I fell the key with Aedifica stock is to see whether it fits your portfolio. For me, a potential high single digit return is not enough but it might be something great for many of you out there. I hope you enjoyed the analysis and if you did, please consider subscribing to my newsletter for updates.
About the author: Sven Carlin Ph.D. is a dedicated investing educator and stock market researcher focused on finding investment opportunities with a value investing perspective. His research is summarized on the Sven Carlin Research Platform where he covers many stocks and shows his portfolios. The educational part is shared on YouTube and the Free Stock Market Investing Course.