Adux stock analysis – EPA: ADUX – Microcap
Adux stock analysis – EPA: ADUX
This Adux stock analysis is part of my full, stock by stock analysis of all the stocks listed on the Amsterdam stock exchange. I am looking for businesses with 10 bagger potential, thus business that are profitable, offer growth potential and have some kind of business advantage, a so called moat.
This is what I do for a living, I look at business after business to find the few opportunities that do actually arise here and there. My motto in life is that you get what you seek, so I seek great investments. If you want to follow my stock analyses, please subscribe to my newsletter.
Let's look at Adux's stock price, fundamentals, business outlook and conclude with an investment thesis.
Adux stock price overview
Adux stock is actually listed on the C-market in Paris and also in Amsterdam. However, the performance has been terrible and Adux is a surviving example of the dot-com bust given its stock highs date to 20 years ago.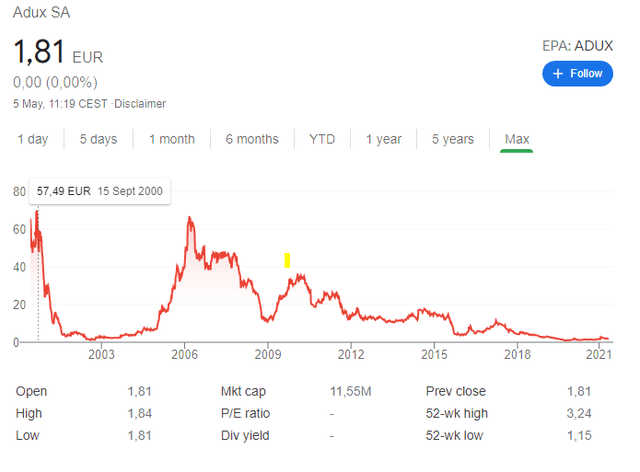 With such forgotten stocks, anything can happen. The market capitalization is ridiculously low and if the market gets curious or hopeful again, the stock can jump fast. However, we must consider this a micro-cap stock which includes many risks that are not considered with companies like Apple or Google.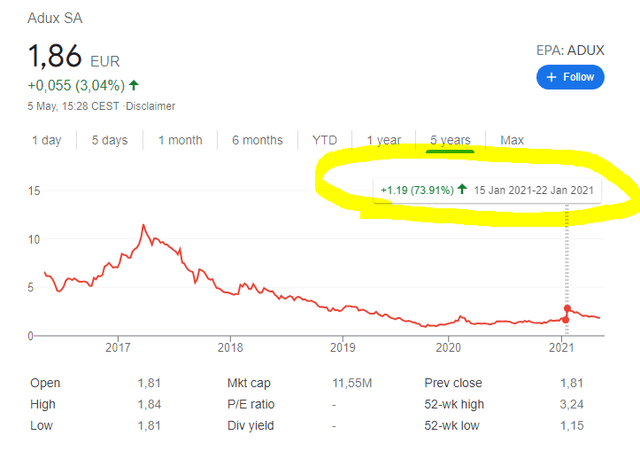 Apart from the obvious business risk, you must also take account of the management's intentions, look at the subtle moves and insider actions because with a market cap of 11.55 million EUR, if there is some value or there will be in the future, it is very easy that the management would simply buy it out at a 25% premium. If they don't do it, then the value is also to be questioned.
Anyway, as a value investor, I want to invest in quality, not promises.
Adux stock analysis – business overview
Adux is in the business of digital advertising, but despite the sector booming over the last two decades, the business didn't get far. I really didn't go and look whether there were diversitures or the company simply made bad investments or lost contracts, but I am focusing on the last years and those don't look good.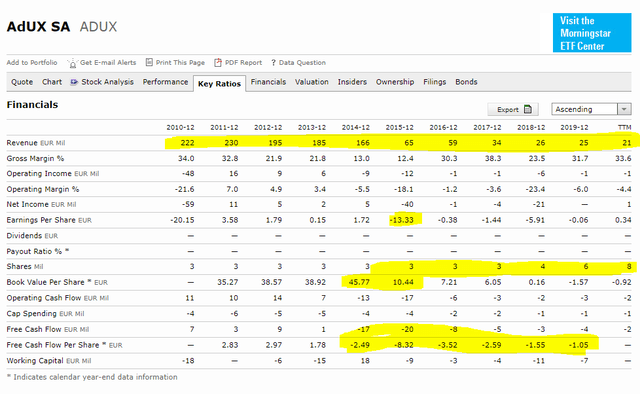 Revenues have been constantly declining and the company has been burning money year over year. Since 2017 the number of stocks issued has gone from 3 to 8 million, and from taking a look at the last report, I don't see any signs that would indicate a possible recovery. I might be missing something, but even if I miss, that is ok. We are looking for good or even better, great businesses, not possible rebound stories.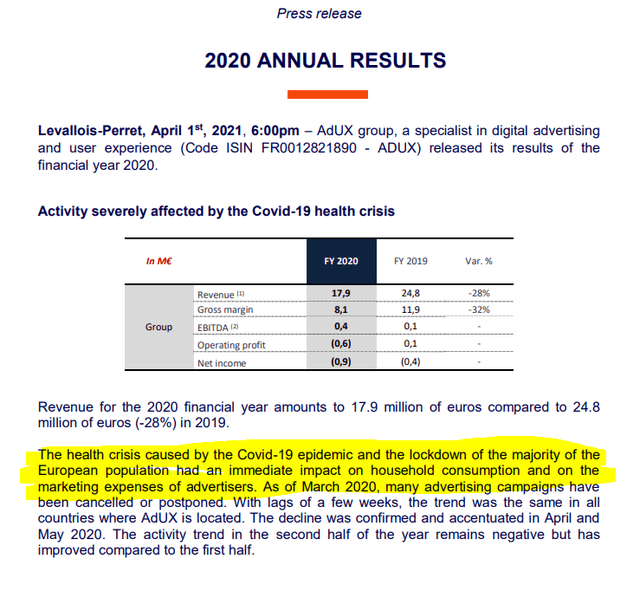 In my book, 2020 was excellent for digital advertisers and all companies have shown great earnings. So, there must be a fault in Adux's business model.
I am off to the next one!
If you enjoyed my analysis approach, please consider subscribing to my newsletter where I update on stock analyses. If you wish to immediately see the core of my work, check out my Stock Market Research Platform.